Yamaha PSR-170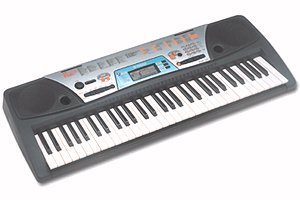 I didn't expect to get so many features in a keyboard with such a low numeric ranking,but this one didn't fail to impress me. It has full size keys,LCD display.MIDI IN and OUT,a full complement of 100 voices,styles and even songs,stereo speakers and even a 7 step learning mode which is brilliant for beginners. There is even a chord dictionary built in.
Voices
The PSR170 has 100 voices covering the usual ranges - but has two DJ voices which seem to be similar to the excellent DJX and therefore is more suited to today's player. Some of the voices control the vibrato and sustain selection rather than having a separate button,and there is a stereo sampled piano which is accessible via its own button. There is also a DJ button for faster access to all the scratch mixes and vocal samples.
Harmony,Keyboard Splitting and Layering are all accomplished by choosing a voice number and there is no separate control. There is also an ECHO mode which adds a small number of repeats and saves you buying an echo unit!
Rhythms
The Rhythm list is a bit more modern than usual,sporting Techno and 5 DJ styles as well as the old [not very] favourites among the 100 on board.
The drums are triggered on Channel 10 as opposed to 16,making the 170 compatible with recent MIDI keyboards rather than the older ones.
The Drums are legended just above the keyboard.
There is a programmable metronome on board,whose time signature can be altered - making it easier for beginners to get in time.
The auto accomp covers a large array of styles and the relative volume can be adjusted using the "overall " control. The choice of multipads can be changed there too. A particularly impressive backing is the "Pianist" mode [81-100] which can make you sound like Bobby Crush and/or Scott Joplin!
Songs
There are 100 on board songs made up of 5 demo songs and the rest "lessons" - which comprise Piano/Classical,World,Christmas and DJ Game. The songs and styles can be controlled by tape recorder style controls,which double as the drum fill-ins. A neat feature is the tap-tempo- which changes the BPM according to how fast you tap the TEMPO key.
There are also 4 multipads which alter what sound is on them according to the auto - accompaniment setting,which also double up for "DJ Game". The Chord Dictionary is accessed on its own button near the 7 lesson "two hands" buttons on the left side of the facia. The chord TYPE and ROOT are chosen with two keys from the legends above the keyboard,the LCD display then shows how to play that chord.
MIDI
The PSR 170 only responds on channels 1-7 and 10 making it a tad awkward to fit into a MIDI scheme,considering though that the DJX sends drum signals out on channels other than 10,this may make it compatible with that model. There are no fancy "MIDI hidden controls and settings", so this is a simple multi channel device.
Good Points: even though the 170 is not touch sensitive itself,it responds to touch sensitivity and so is a good add-on for higher model keyboards.Given it's similar DJ voices to the DJX it might well suit being controlled by that model. The thick chunky push buttons are apt not to wear out as my PSS480's did. The speakers have bass boost which helps the sound.There are screw fittings and cut outs in the base for stands and cut outs for a music stand. There is also a sustain jack for adding a sustain pedal.
A nice feature is the battery box - which has individual boxes for each battery -making it less likely that all the batteries come tumbling out when you open the cover.
Niggles: The 170 lacks a pitch bender and touch sensitivity - but you don't expect these at this end of the number ranking. Having the sustain and vibrato in chosen voices without having control buttons is slightly annoying,but it simplifies the facia layout and is easier for beginners.
There is really not a lot wrong with this unit - it is solid,reliable,lightweight,good keyboard action and solid controls, I was unexpectedly impressed.
Note that the PDF Guide for the PSR170 is available from Yamaha online as a download.