Yamaha QX21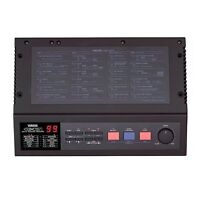 The QX21 is a two track overdubbing sequencer. Control is done via a "Jobs" list which conveniently (unless you have an RX sat on top) is shown on the top of the unit.
The Rear panel has MIDI In,Out and Thru as well as the power switch,foot switch jack and cassette DIN socket for tape backup.
SYSx is also supported for storage to a PC. Step and Real time recording is possible and a metronome indicates the current tempo. Editing only goes down to measure level,and recording more than two tracks is done by overdubbing and exchanging data between the two tracks.
The unit stores 6-8,000 notes depending on whether velocity is being stored and one of the jobs will tell you how much memory you have left.
The manual for this unit can be found at [templarseries.atspace.com/qx.html]
Niggles: The two digit LED display,whilst viable doesn't show as much information as the QX5 - not that it is particularly needed. It is sometimes necessary to decypher what some of the indicators mean.
Good points: The two tracks simple to record and overdub- compared with the more sophisticated QX5. The rotary tempo control is much easier than the digital switch version on the QX5.
The QX21 sports SYSx backup,so you can store patterns on a PC.
Expect to pay: £30-40