Yamaha RX17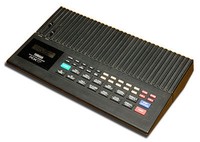 The RX17 seems to have concatenated the drum sounds from the RX21 and RX21L,having 2 drum sounds on each of 13 keys. There is a 0-9 key set,yes/no and two cursor keys plus the job buttons,as well as accent and stop/start on the front panel. Volume and tempo are controlled by 2 sliders on the top.
The rear panel has MIDI In,Out but no Thru,2 output jacks for left and right as well as a headphone jack. The Power terminal is for 9v centre polarity and there is a power switch. A cassette DIN port exists for tape backup.
Patterns can be entered in real or step time using one or other of the two sets of drums,so you have to choose which set you are going to record.
As with other units of this type the LCD is a tad limiting to display what is going on - especially when displaying what has been recorded - but miles better than a two digit LED. There is no backlight though.
The RX can transmit the drums as MIDI note numbers - some other drum machines do this - the Casio RZ1 for instance - but the notes are fixed on other units - the RX allows assigning a note to a drum - so you can choose which drums sound on external units - or notes - so you have a cut-down sequencer t'boot.
The drums are punchy and perhaps better than the PCM samples used on Casio MT series.
The manual gives the memory capacity as 10 songs of 999 parts - total song memory 1200 parts. I believe the patterns 50 onwards are factory set so can be used as start off rhythms to get you going.

The user manual for this unit can be found online at Yamaha's site.
Niggles: The LCD is not backlit [though replacement backlit displays are on ebay cheap and relatively easy to fit.]
Good Points: The ability to move the drum notes under MIDI to specific notes effectively makes this a sequencer as well as a drum machine. The LCD display and menu is intuitive and SYSx backup is a plus. The ECHO BACK feature is sported - allowing the OUT to become a THRU- helpful when recording.
Expect to Pay: £25-40