Yamaha TX7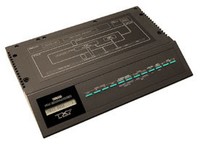 The TX7 is basically a DX7 in a box,that is all the voicing components (6 operators) that the DX7 uses without the keyboard.
There are 32 voice memories and 32 function memories. The 12 front facia buttons,as Yamaha seem to do operate with doubling-up "Shift" functions enabling more operations than seems likely with the number of buttons. The rear panel sports MIDI In,Out and Thru as well as a cassette interface and the power switch which controls the mains supply to the unit. There is also the main output jack and a headphone jack.
As with other modules on this series the layout is printted on the top panel- which has enough room to stick an RX drum machine on thus blocking out any chance of reading it. The idea is that the TX7 is an extension to the DX series and relies on the DX to program it- as it is - downloading DX7 System Exclusive Dumps using MIDI-ox or some other SYSx librarian allows instant reprogramming with any 6-operator SYSx information.
The internal sounds and functions can be saved either to SYSx or via cassette.
The sounds are as one might imagine,the same as the DX7 having the same metallic "clang" as the DX series,and whilst it is in principle possible to alter the sounds on the unit itself- I suspect using a DX is a lot simpler than trying to edit the SYSx on a PC.
Niggles: Not easy to program,even the diagram on the top recommends connecting to a DX7. Since the RX,QX and TX are all built around the same design,it is a tad odd that all 3 cannot sit one upon another,not without bolts anyway.
Good Points: Built like a tank,will probably survive WW3. Classy archive box of tricks,even better with an RX sat on top.
Expect to Pay: £45+