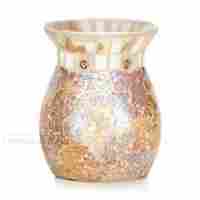 Paste a YouTube Video URL
Review
I recently purchased a yankee candle burner and i am over the moon with it. The tealight candle did not appear to be able to heat the candles but they did very well and scent from the yankee candle fills the house and it says it lasts for 8 hours but I have been burning my candle for over 12 hours and it still has plenty left I would recommend a candle burner to anyone who loves yankee candles as they are another way to enjoy the different scents and they are cheaper than the large glass jar candles.
Some tips on how to get the best from your products:
A great candle tool to prevent tunneling and to promote a clean, even burn that uses every inch of wax is the Illuma-Lid. The Illuma-Lid sits on top of the large or medium Housewarmer jar and helps to steady the flame so that an even wax pool is formed. The specially designed shape of the Illuma-Lid also helps to keep the heat of the flame inside the jar rather than escaping. That ensures a clean, even burn that will provide a full wax pool. The result is a jar that burns clean, even, and when used with a well-maintained wick, can prevent excess sooting. All while allowing superb distribution of the fragrance.