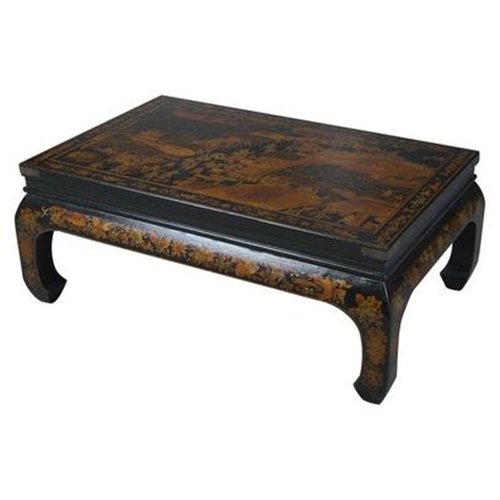 A quintessential piece of furniture in any lounge is the coffee table. Providing an ideal space to place beverages and to gather around to talk, the coffee table has risen as an important piece of furniture in the modern world. Though only a category of furniture that has existed for a hundred and fifty years, there is already a wealth of antique tables that have been produced. This buying guide will explore purchasing antique coffee tables by providing information on the following topics: the history of the coffee table, a look at the components that make up a coffee table, the different styles or genres of coffee tables, factors that should be considered when purchasing a coffee table, and ways to best maintain antique coffee tables.
History of the Coffee Table
One of the earliest examples of the coffee table was a low table created in England by E.W. Godwin in 1868. These early coffee tables rose much higher, around 70 centimeters, than contemporary coffee tables. Subsequent coffee table designs altered this into the long, low style that is more familiar in modern times. Competing theories of where this alteration came from suggest that it may have the influence of tables found either in the tea gardens of the Ottoman Empire or low tables common in Japan in the 1870s.
Though there is some evidence of similar tables being used by the Romans, the coffee table is considered a relatively new development in the history of furniture. In 1938, furniture historian Joseph Aronson defined a coffee table as, "a low wide table now used before a sofa or couch". Specifically noting its newness as a type of furniture he continued, "there is no historical precedent". The advent of the coffee table as a furniture category coincided with the beginning of industrialisation and modernity, and reflected changes occurring in homes and home life.
Discover Antique Coffee Tables
The coffee table has become a central item in developing both a comfortable and functional lounge, and choosing the right coffee table can contribute heavily to the style of the room. An antique coffee table can add a lot of sophistication. The following sections will look at some of the diversity that exists in this category of antiques.
The possibilities of an antique table are endless, allowing buyers to find something that suits their taste and personality. Beyond just the different styles of coffee tables, a variety of different woods and materials have been used in their construction. Mahogany, rosewood, oak, bronze, metal, and glass have all been used in the production of coffee tables, increasing the diverse range of appearances and textures of antiques now available.
Parts of an Antique Coffee Table
Coffee tables share a few similar components with all other tables. Below is a list of the components that make up a table:
| Part | Description |
| --- | --- |
| Top | The flat surface or top of a table. |
| Apron or skirt | The under framing of the table that connects the legs to the top. |
| Leg | The piece that supports the top and raises it vertically off of the floor. |
| Knee | The upper portion of the leg. |
| Foot | The lowest portion of the leg that touches the floor. |
| Drop Leaf | A portion of the top that extends past the apron that can be hinged down the sides of the table. A drop leaf allows a table to be made bigger if required. |
| Stretcher | Cross piece that connects the legs together to add strength and stability. A few common stretcher configurations are: H stretcher, X stretcher and box stretcher. |
Styles of Antique Coffee Tables
Below are a few of the more popular styles of antique coffee tables available on eBay.
| Style | Description |
| --- | --- |
| Art Moderne | Developed in the 1930's as an extension of the Art Deco movement, this style emphasises curving forms and long horizontal lines. |
| Victorian | Known for using lavish materials Victorian era furnishings often reached back to other eras for inspiration. Reinventions of the gothic and Rococo revival style are examples. The coffee table was originally created during the Victorian era. |
| Art Deco | Art Deco is characterised by an assertive, futuristic style drawing on symmetry and rectilinear as opposed curvilinear. |
| Queen Anne | The queen Anne style exemplified cabriole legs, padded feet on the bottoms of tables and an emphasis on the line of the table, as opposed to ornamentation. |
| Regency | Regency furniture was often elaborate and took a revived interest in Egyptian design and often incorporated rosettes and metal paw feet on the legs of tables. |
Factors to Consider When Buying an Antique Coffee Table
The following list outlines some important factors to consider when purchasing an antique coffee table.
Contemporary Antique versus Reproductions - Contemporary antiques have aged naturally while faux antiques have been chemically treated to appear aged. Most antiques in their real condition, even if slightly worn down, are more valuable than their more recent counterparts. Buyers should research the age and make of any table they are interested in, to ascertain its origin.
Aging - On antiques, signs of wear and tear can be a good thing, as long as the overall condition is good. Antiques will have some signs of age and marking, and normally some degeneration of the paint and wood, but this can signify that it a true antique. Buyers should also look at the wood colour as if the table is an antique the colour should not be completely uniform or consistent. If more information is needed on the history of the table, or any alterations or repairs, buyers should ask the seller for any details necessary.
The history of the coffee table - The lineage of the antique, or provenance as it is called, is important, and often interesting, to try to discover. If the seller has information, preferably written evidence, of the item's previous owners, it can help to officially date the table. With an authenticated timeline an antique coffee table's real value can be more accurately determined.
Look for damage - Though antiques should show signs of age, they shouldn't have rot or structural damage. Look for deep cracks and scratches in the original material, as well as saw marks, and wormholes or rotting on any wood surfaces or joints. Evidence of sever damage can greatly devalue an antique.
How to Care for an Antique Coffee Table
With regular maintenance, there is no reason that an antique cannot stay in good condition for many years. Below are a few suggestions for best maintaining an antique coffee table:
General cleanliness of the table is important. Dust regularly using a soft cloth. Polish the wood surfaces at least twice a year. When polishing never use a spray polish, especially ones that contain silicone, as they can deplete the natural oils found in the wood, drying the table out and depreciating its value faster.
The coffee table should be stored or located in an area where the temperature and humidity are regulated. There should not be rapid fluctuations of either, or periods of extremely high or low humidity. The table should also not be located where a lot of sunlight will shine on to it. Constant sunlight can dry out the wood and deteriorate the paint on the table.
Popular Makers of Antique Coffee Tables
Gillows of Lancaster
P. E Gane
Ray Hille
James Schoolbred and Co
Morant and Co
Accessories for Antique Coffee Tables
A few ideas for accessories, to complement or clean a coffee table include.
Soft Clothes and brushes for cleaning.
Furniture polish
Lamps – contemporary or antique
Plants
Coffee table books and magazines
Other antiques
Finding Antique Coffee Tables on eBay
Once you determine the type of Antique Coffee Table you want to purchase, visit the Antiques portal on eBay, click on Tables, then start searching item listings. The Categories list on the left-hand side of the eBay page helps to narrow the search.
Searching for Antique Coffee Tables on eBay
Search eBay listing titles for specific words when shopping for antique coffee tables. For example, to find an antique Victorian coffee table, type 'Antique Victorian Coffee Table' into the search box, and then click the Advanced button to customise the results. Also visit eBay's Search Tips page for more advice on searching for antique coffee tables with keywords. If you can't find the exact antique coffee table you want, try shopping eBay Stores..
Conclusion
There is a wealth of different types and styles of antique coffee tables available for purchase on eBay. As with all antiques, one of the most important considerations before purchasing an antique coffee table is to find one that fits well with personal tastes and existing décor. Understanding the history of these authentic pieces, as well as learning more about the various types and styles can help buyers narrow down the choices to purchase. It is also important to consider the various factors that may affect the value of the item as well. A little research can help buyers in discovering the history behind an antique coffee table, including its age and maker. Once you have collected this information, you can buy an antique coffee table safely and securely on eBay.