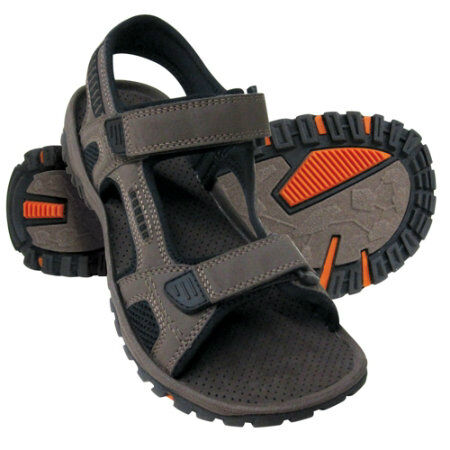 Sports sandals, unlike most other sandals, do not take after the latest trends and fashions. Instead, they are built to be functional, rather than aesthetic. Many people wear a pair of sports sandals when they have to walk distances or when they are walking over rugged terrain. The rubber soles of these sandals grip slippery and uneven surfaces. Sports sandals can be purchased in brick and mortar shoe stores, sporting goods retailers, as well as through online auction websites, such as eBay.
The majority of the sports sandals on the market are either open or have mesh linings. They are also characterised by moulded insoles to help balance the pressure points of the feet. There are several key features that a person can look for in a good pair of sports sandals. Some of the features to consider when buying sports sandals include the types of sandals, their use or purpose, and finding the correct size.
Types of Sports Sandals
Although there are many different brands of women's sports sandals, there are only two basic types of these sandals. There are sports sandals that are meant for hiking, everyday use, and those that are meant for the water. Each of the sandals have a slightly different design. These differences make them better suited for their purpose. The different types of sports sandals have a few things in common. One of the most common characteristics of these sandals is their ability to dry quickly. This makes them perfect for hiking through water, rainy days, and wearing them in place of water shoes.
Sports Sandals for Everyday Use
The sports sandal for everyday use is an open-toed sandal that has a strap that fits over the top of the foot and one that fits around the ankle. These straps are often velcro, but they are occasionally made with buckles. Like most sports sandals, the insole has the shape of the foot imprinted on it to prevent pressure point sores. This type of sports sandal offers the least amount of protection for the feet because they are so open. Many people who are on their feet for extended periods of time wear these sandals for comfort, rather than for sports.
Sports Sandals for Hiking
The sports sandals for hiking have a similar design to those from everyday use. The difference is in the fasteners over the foot. These sandals still have the same strap over the foot and around the ankle but they have a closed toe and contain mesh between the straps. Those that are meant for hiking also have a thicker sole and better support on the bottom of the foot. The insoles of these sandals also provide more cushioning than those for everyday use. The sandals are better suited for rougher terrain but not terrain so rough that it requires a hiking boot. The rubber soles often come up to cover a person's toes to keep debris from gathering in the toe of the sandal.
Sports Sandals for the Water
Sports sandals for use in the water serve two purposes. The first is to keep feet safe from rocks and debris in water. The second purpose it to wear them while swimming, rafting, or diving. These help to protect the feet. They also close with velcro, or slip on and have the same thick rubber insoles as the hiking and everyday versions of the sports sandal. Water sports sandals are mostly made from nylon mesh to allow water to escape easily while still protecting your feet.
Among the different types of sports sandals, there are subtypes. These subtypes are often meant for a specific terrain or outing. A lighter version of the sports sandal is specifically for short hikes on relatively even terrain and a heavier version that is meant for longer, more difficult hikes. The sports sandal is often used when boots are too warm, get and stay wet, or are impractical because of their weight.
Finding the Size of Sports Sandals
Like any shoe meant for extended wear in harsh conditions, the sports sandal needs to be the correct size. This is particularly important if they are meant to be submerged or worn wet part, or all, of the time. The presence of sand or water between the skin, and the shoe can cause chafing and blisters. Many of these shoes have adjustable velcro straps that make fitting a bit easier. Measuring the length of the sole is usually the best way to fit sports sandals. Since the insole is moulded like the bottom of a foot, a bad fit causes a number of problems with gait and chafing.
A person can find her size by putting each foot on a piece of paper and tracing it. It is important to measure both feet separately because one foot is often a slightly different size from the other. After the tracing is done, measure from the tip of the longest toe on the drawing to the edge of the heel. This gives you the length of the shoe. Since most of these sandals have velcro, or flexible, closures the width does not necessarily need to be measured. If you know that your feet are particularly wide or narrow then check the width by wrapping a tailor's tape measure around the widest part of the foot and use the length of the bottom of the foot as the width. Once the measuring is completed, the numbers are compared to a size chart to find the correct sandal size.
| | | | | | | | | | | |
| --- | --- | --- | --- | --- | --- | --- | --- | --- | --- | --- |
| UK Size | 3 | 4 | 5 | 6 | 7 | 8 | 9 | 10 | 11 | 21 |
| Length (cm) | 21.6 | 22.4 | 23.3 | 24 | 25 | 25.9 | 26.7 | 27.3 | 27.9 | 28.5 |
| Width N-AA (cm) | 7.1 | 7.5 | 7.8 | 8.1 | 8.4 | 8.7 | 9.0 | 9.4 | 9.7 | 10.0 |
| Width M (cm) | 8.1 | 8.4 | 8.7 | 9.0 | 9.4 | 9.7 | 10.0 | 10.3 | 10.6 | 10.9 |
| Width W (cm) | 9.0 | 9.4 | 9.7 | 10.0 | 10.3 | 10.6 | 10.9 | 11.3 | 11.6 | 11.9 |
| Width WW (cm) | 10.0 | 10.3 | 10.6 | 10.9 | 11.3 | 11.6 | 11.9 | 12.2 | 12.5 | 12.9 |
Although most sandals come in standard shoe sizes, some have a designation of small, medium, or large. If this is the case, use your best judgement or compare them to a pair of shoes that you already know fit the soles of your feet comfortably. Since these shoes should not be worn with socks, make sure that the measurements are taken without them.
In many cases, the women's sports sandal is not much different than the men's sports sandal. This is especially true of the water sports sandals. The purpose of these sports sandals has more to do with comfort than fashion. They are designed to cushion the wearer's feet during long walks on uneven terrain. The different varieties of these sandals are available in sporting goods stores, as well as online.
Buying Sports Sandals on eBay
You can find all types of sports sandals for sale on eBay. If you type in the search terms and click the search button it brings up listings for sports sandals. eBay is a great way to both purchase these items and browse through them to see what is available. Search for specific brands such as Adidas or Nike. By looking at the different listings, you can find the pair of sandals that suits your needs.
Shopping on eBay also gives buyers an advantage. Each seller has a star rating and feedback that you can view. This helps you decide whether the seller you are purchasing from is reputable and trustworthy. A high star rating and good feedback indicates a trustworthy seller. There are also sellers who have the designation of Top-Rated Seller. These sellers have consistently received positive feedback and conform to all of eBay's policies. Also, be sure to look at the product description on eBay. This gives you information on the seller's return policy and their shipping rates.
Conclusion
Sports sandals are a versatile part of any active person's wardrobe. They are a good alternative to heavy hiking boots. They dry much faster and are much lighter than the majority of the boots on the market. The different types of sports sandals can make walking, hiking, rafting, or kayaking more comfortable. There are many different versions of sports sandals available for purchase. Although many of these sandals are specialised, there are also some meant for multiple purposes. There are sports sandals that can be used for transitions to and from rocky and wet environments.
All of these can be found on the popular auction website, eBay. eBay is a great place to browse for sports sandals from the comfort of your home. Using the product descriptions, you can compare the different sandals to find a pair that suits both your needs and your budget. Pay close attention to the seller's return policy in case the sandals that you purchase do not fit well.