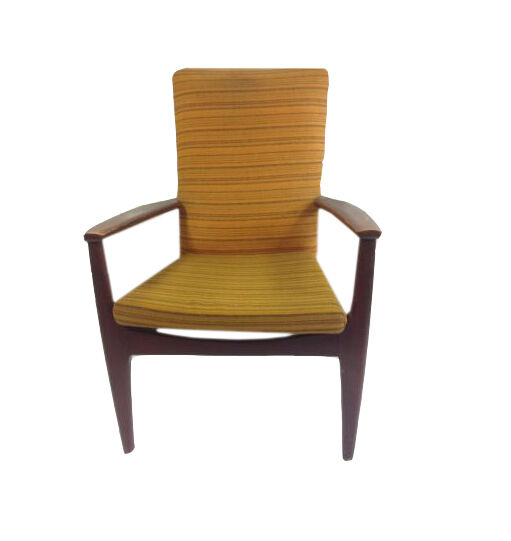 Many collectors and enthusiasts find themselves browsing the dynamic selection of chairs made during the twentieth century. With many styles, designs and influences, the period offers an exciting variety that is unique when compared to new, or even second-hand pieces. Before sitting down at a computer or heading out to the store to browse, a prospective buyer should consider a few important points contained in this guide. By considering what defines an antique, the variety of twentieth century antique chairs on the market, the methods necessary for their upkeep, and additional considerations, such as important manufacturers; a buyer is better prepared to bring a unique piece of history back into their home or collection.
History of 20th Century Antique Chairs
The turn of the twentieth century was an exciting time for creativity, with several eras that changed the course of chair design. With the ending of the Victorian era in the early 1900s, furniture designers were being influenced by new ways of thinking due to artistic movements that challenged the old century and ushered in the new. The gothic inspired, ornately carved furniture prominent during Queen Victoria's reign gave way to Art Nouveau (New Art), which lasted until around 1910. Art Nouveau replaced the complexity of previous chair designs with simpler composition. Art Nouveau designs then, in turn, gave way to the famous Art Deco movement that is said to have started at the Paris Exposition of Decorative Arts, in 1925. Art Deco took the practical simplicity of At Nouveau further, and infused it with sleek, geometric lines and strict adhesion to symmetry. Art Deco chairs were produced for around twenty years, beginning around 1925 and ending with the completion of the Second World War.
Discover 20th Century Antique Chairs
The chair designs mentioned above only occupy a fraction of the twentieth century, and this is a key point to note when considering antiques from this period. The term 'antique' is often debated, though it is generally agreed that any item over one hundred years old can be considered an antique. Some collectors and professionals consider 1930 to be the cut-off. This is due to the introduction of a US tariff in 1930 on imported goods. These goods did not include items of quality built before high-volume production. As a result of these two common definitions, most of the twentieth century is not yet considered to be of antique age.
This does not diminish the importance or beauty of a twentieth century antique chair, but simply limits its existence to 1930 or earlier. Buyers who are thinking of the future would be right to assume that many post-1930 chairs are soon to be antiques, but it is important for the distinction to be clear in the buyer's mind before they approach eBay's list of online sellers.
Movements within 20th Century Antique Chair Design
Twentieth century antique chairs are often set apart by their school of design.
| | |
| --- | --- |
| Design | Description |
| | Ornate woodwork and complexity of construction |
| Art Nouveau | Simpler designs, often wood, but departing from the ornate |
| Art Deco | Geometrical and symmetrical, employing veneer, glass and 'exotic' influences |
| Bauhaus | Light and minimal structures often using steel or bent wood |
| De Stijl | Minimalist Dutch originated design, with emphasis on vertical and horizontal form, using primary colours. It didn't originate until 1917. |
Types of 20th Century Antique Chairs
Below are listed a variety of common antique chairs that vary in functionality:
| | | | |
| --- | --- | --- | --- |
| Type | Description | Advantages | Considerations |
| | A chair with two elbow supports | * Comfortable | * Can be large and heavy |
| Occasional Chair | Smaller than an armchair, sometimes without armrests | * Light and easy to move | * Often less comfortable than an armchair |
| Stool | Small seat with minimal or no backrest and no armrests | * Very light and compact | * Lack of support can make it uncomfortable while sitting for long periods |
| Sofa | Wide and heavily padded chair built for more than one person | * Comfortable | * Often heavy and expensive |
| Chaise Longue | Upholstered chair long enough to support the legs | * A unique piece for a room or collection | * Can be viewed as less practical. |
| Daybed | Cross between a sofa and a bed | * Comfortable and unique | * Takes up a lot of space and is heavy to move |
| Rocking Chair | Generally an armchair or occasional chair with a base that allow it to rock back and forth | * Comfortable and often relaxing | * Generally bigger and needs space for movement |
Factors to Consider When Buying a 20th Century Antique Chair
Antiques are special and fragile items, and it is good to consider the below points before making a purchase.
* Beauty vs Comfort - Some of the more experimental De Stijl, Art Deco and Bauhaus designs may not be as comfortable as they are beautiful.
* Veneer - Many chairs from the beginning of the twentieth century will have a fine layer of wood, known as veneer, applied to the outside. This can be susceptible to damage.
* Suites - Some chairs mentioned above can also be sold together in matching suites of up to five pieces.
* Joins - Especially for wooden chairs, glue joins can weaken in antiques, leaving them very fragile.
* Moving - Transporting antiques is a delicate procedure; check the geographical location of a seller and plan accordingly.
Typical Features of 20th Century Antique Chairs
1. Upholstery
Upholstery is padding that is added to the structure of the chair and can be anything from coloured fabric through to springs and leather.
2. Ornate Woodwork
Many of the elements in an antique chair can be specially carved. These ornate designs in the woodwork can extend from the backrest through to the feet of the chair.
3. Wood Species
Antique chairs are often sought after for the quality of the wood that they were built from. This could refer to anything from oak through to mahogany. Different wood varieties will give the chair different qualities such as colour and weight.
How to Care for 20th Century Antique Chairs
Antique chairs require careful maintenance, no matter what their period. Though it may be the case that twentieth century antiques are in better condition that previous centuries, it is still good to ensure that they keep their appearance, quality and value for years to come.
The turn of the twentieth century saw the introduction of a variety of new materials in chair design that impact which maintenance is undertaken.
* Any glass, metals or veneer require individual maintenance. Glass damage, such as cracks or scratches, can often be restored through cutting a new piece to fit, though this may change the value. Elements such as chrome or aluminum need to be cleaned and also polished for maximum lustre. This can be done with the help of diluted dish soap, and metal polish.
* Leather must be cleaned of dirt and maintained, as it wears with age. Most leather upholstery cleaners are safe to use, though it is important to not allow the leather to get too wet during this process.
* If veneer is peeling or damaged, the owner can attempt to re-glue it to the chair through the use of an iron. Careful attention must be paid while doing this so as not to burn the veneer, and it is recommended that a piece of brown paper be used over the surface. If in doubt, consult a professional.
20th Century Antique Chair Manufacturers
There are many manufacturers of antique chairs, although a few noted names are listed below.
* Wolfgang Hoffmann
* Donald Deskey
* Brooks Manufacturing
* Weber Showcase & Fixture
* Tomlinson Chair Manufacturing
* Binghamton
* Kent Furniture and Coffin
* Gillow & Co.
* Barber Brothers Chair
* Berkley & Gay
Accessories and Add-ons for 20th Century Antique Chairs
Items may be purchased alongside any antique chairs to help with its upkeep and protection.
* Refinisher
* Stain Marker
* Furniture Polish
* Antique Furntiure Wax
* Upholstery Cleaner
Finding 20th Century Antique Chairs on eBay
Once you determine the type of twentieth century antique chair that you want to purchase, visit the Collectables portal on eBay, click on Antiques, then Antique Furniture and start searching item listings. The Categories list on the left-hand side of the eBay page helps to narrow the search.
Searching for 20th Century Antique Chairs on eBay
Search eBay listing titles for specific words when shopping for twentieth century antique chairs. For example, to find a 1920s Art Deco armchair, type '1920s Art Deco armchair' into the search box, and then click the Advanced button to customise the results. Also visit eBay's Search Tips page for more advice on searching for twentieth century antiques with keywords. If you can't find the exact antique you want, try shopping eBay Stores.
Conclusion
Twentieth century antique chairs, though new to the antique world, can be a varied and interesting addition to a collection, suiting any number of functions. With their rapid stylistic departure from the antiques that preceded them, these interesting, and often heavily artistic designs, can be both impressive to see and experience. With careful consideration of which twentieth century pieces qualify as antique, the styles available to a buyer, and the varying types of chairs within those styles, it is easier for you to ascertain exactly what piece suits your needs and tastes. Once you have collected this information, you can buy a twentieth century antique chair safely and securely on eBay.