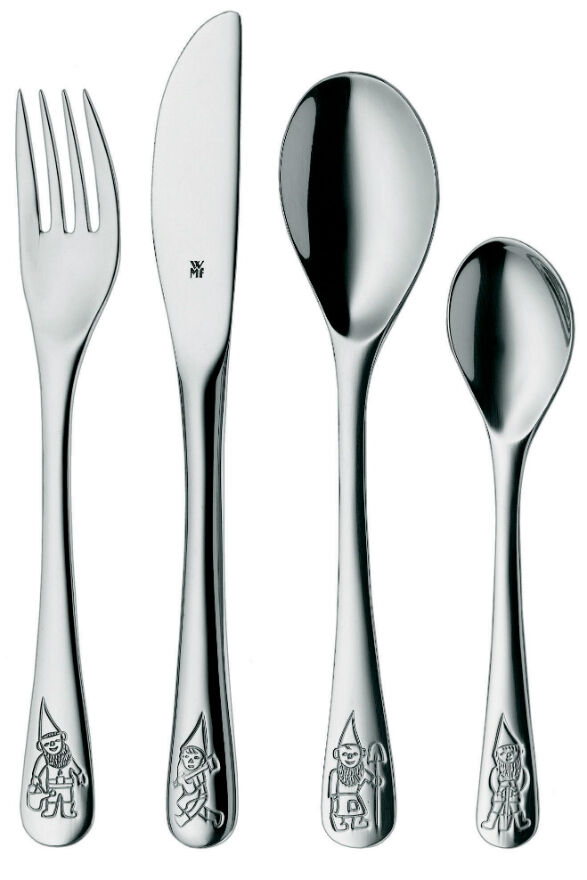 It is preferable that every home has at least one cutlery set. Cutlery sets are essential for the serving and eating of food, and can also help to improve the appearance of the dinner table. eBay can be extremely useful for buyers who are looking to purchase a cutlery set, either new or used, as it features a number of helpful research and buying tools to help anyone locate their most ideal set, and to go on to buy it at the right price.
About Cutlery Sets
Cutlery sets contain a combination of knives, forks, and spoons. The sets contain different numbers of each implement; more basic sets may contain only one knife, fork, and spoon per person, whereas more comprehensive family dining or fine dining sets may contain several different varieties of each implement.
Basic Cutlery Sets
Most families use a basic cutlery set to eat most of their daily meals. Such sets usually contain one knife, fork, and spoon per person. Basic cutlery sets can be used to eat any type of food, and are mainly used for meals that feature just one or two courses. The same size of cutlery is used to eat starters, main courses, and desserts. Buyers can browse a wide selection of basic cutlery sets available on eBay; they may be decorated with complex engravings, be of varying colours, and have different styles and types of handles. Basic cutlery sets are most commonly made from strong, hardwearing material such as stainless steel, which is cheap to manufacture and lasts a long time. Some varieties may have plastic handles to simulate horn, bone, or ivory. It is also possible to buy entirely plastic cutlery sets, which are particularly suitable for children, or outdoor use in the summer months.
Comprehensive Cutlery Sets
Comprehensive cutlery sets contain a wider variety of implements than do the basic cutlery sets, and they may contain several different sizes of the same implement. There are two main types of comprehensive cutlery set – family cutlery sets, and fine dining cutlery sets. The content of each set is likely to be similar, the main variation being the actual quality of the knives, forks, etc. Fine dining sets are usually heavier, and are made from expensive materials such as solid silver. As a result, cheaper family cutlery sets are used for family meals featuring several different courses, whereas fine dining cutlery sets are likely to be reserved for use only at the most prestigious of events, such as dinner parties, birthdays and anniversaries. Examples of some of the implements which might be found in a comprehensive cutlery set include starter knives and forks, main knives and forks, soup spoons, serving spoons, salad spoons and forks, steak knives, cake servers, and dessert spoons. Many sets come in a presentation box that can be used to store the cutlery and keep it in good condition.
How To Choose Cutlery Sets
Before researching cutlery sets on eBay, it is a very good idea to carefully review what type of cutlery set is needed. Consider things like what the set will be used for, how many people will be dining at one time, how much there is available to spend on the cutlery, and whether there is a particular style of cutlery to be looked for.
The Purpose of the Cutlery Set
The purpose of the cutlery set is one of the most important considerations. There is nothing worse than investing money into what seems to be an ideal solution, but which in practice proves to be most unsuitable. For example, if is to be used everyday and, therefore, needs to be dishwasher safe, a basic good quality stainless steel set should be ideal. On the other hand, if it is to be used only occasionally while camping or picnicking, a lightweight plastic set is more likely to be a good choice. For the customer who regularly hosts fancy dinner parties, then investing in a large, rather stylish cutlery set may be the best option.
The Number of Servings
Think carefully about the maximum number of people who will be using the cutlery at any one time. They must purchase a set that is comprehensive enough to provide everyone who lives in their home with the basic cutlery for each daily meal. There should also be some spare cutlery in the drawer for when guests drop in unexpectedly or some of the cutlery isn't washed. Basic cutlery sets can be bought relatively cheaply, therefore, it is always best to buy more cutlery than is required to cover every eventuality; however, it can be difficult to decide how many sets of cutlery to purchase if the cutlery is quite expensive. If a regular sized cutlery set will be sufficient for the majority of the time, and it will only be on the odd occasion that more place settings are required, it may be sufficient to supplement a more expensive family dining or fine dining set with some basic cutlery. This especially applies if there are young children present who will not bother if their cutlery does not actually match. This will help to save costs on buying several place settings of cutlery that will rarely, if ever, get used.
The Available Budget
Budget is a key consideration, as even a cutlery set that matches its purpose perfectly is no good if the customer cannot afford to buy it. Buyers must ensure that they decide on their budget before they start looking at cutlery, and then stick to it. Thankfully, due to the great choice of budget cutlery that is available on eBay, there is a style to suit everyone on any budget. The Auctions on eBay are also really good when considering budget. There is an automatic bidding function whereby the customer enters a maximum price, and bids will be sent automatically, but never exceeding the maximum price.
How To Research Cutlery Sets On eBay
One of the best ways to research cutlery sets before buying them is to use the options available on eBay. ebay has a comprehensive search tool to narrow down the type of cutlery sets and thereby compare similar ones quickly and easily, before making a decision on which is the most suitable. Potential buyers can carry out a general search on "cutlery sets", or they can search for a specific type of cutlery such as "family cutlery sets" to find suitable products. eBay also features a tick box system which appears on the left hand side of the page, that allows buyers to narrow down the search results depending on several factors, including whether items are new or used, what the items are made from, and whether they fit into a specific price bracket. Once all possible suitable cutlery sets have been found, just click the add to watch list button on the listing, which will then save the item to their watch list in My eBay. Once several items that may be of interest have been found, the watch list can be brought up and the items can be reviewed before committing to a purchase.
Using eBay's Buying Tools to Buy Cutlery Sets
Once a cutlery set has been found, or even several potential cutlery sets, then remember to check the seller's selling history by using eBay's feedback system. This allows buyers to view a 'feedback score' of the seller, between zero and 100 per cent, based on the previous feedback given. Buyers are also able to provide comments in relation to the product and delivery. If the seller has a high feedback score due to the amount of positive reviews left, then the purchase can be made in full confidence. Different listings have different buying options, the most common being online auctions, in which buyers place bids for an item to try to win it over other buyers. Whoever places the maximum bid by the end of the auction wins the item. Alternatively, some cutlery sets may have a buy it now price, which allows customers to buy the item immediately if they are happy to purchase it for the price set by the seller.
Finding Cutlery Sets on eBay
Buyers can either find cutlery sets by searching for "cutlery sets" in the search box on the home page. Alternatively, they can browse the cutlery set category, by selecting Home, Furniture & DIY, followed by Cookware Dining & Bar, followed by Cutlery, followed by Cutlery sets.
Conclusion
eBay has a useful selection of research and buying tools to help buyers find and buy suitable cutlery sets on eBay. Before committing to a purchase, eBay makes it easy to research and learn about a product, even asking the seller questions, to make an informed decision on the product. When buying items as essential as cutlery sets, such features are priceless.