As far as coin collecting is concerned, one of the most interesting British coins is the Crown. Dating back to the 16th century, it is certainly not the oldest coin, but it has had many incarnations over the centuries and is notable for its size of roughly 40 mm in diameter. Although once used as common currency, the British crown coin is now issued on special occasions for collectors.
Origins of British Crowns

Initially made of 22 karat gold, the English crown coin appeared during the reign of Henry VIII. The crown was not minted at all during Mary's reign, but it did reappear under Elizabeth I and continued to be minted in both gold and silver during the reigns of James I and Charles I. Gold crowns were discontinued in 1662, during the reign of Charles II. However, it is worth noting that his reign produced one of the rarest crown coins, the silver Petition Crown. The English crown officially became the British crown in 1707 with the union of Scotland and England. However, it gradually fell out of circulation and by the 19th century was only issued to commemorate special occasions, particularly coronations of new monarchs.
Victorian and 20th Century British Crowns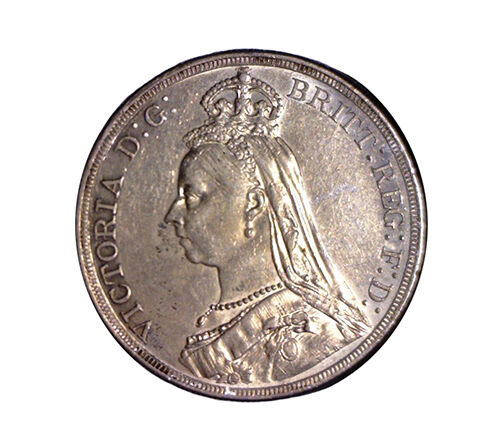 Victoria's lengthy reign saw four Queen Victoria crown designs: the "young" head with a youthful portrait of the Queen, a Gothic Revival design, a Golden Jubilee design, and the "old" or "widow" head design. Only issued in 1847 and 53—with the latter being a proof edition—the Gothic Revival is actually considered among the most beautiful crowns ever minted. The 1902 silver crown was struck for the coronation of Edward VII. George V was the first monarch since George IV in 1820 to not issue a crown for his coronation in 1911. In fact, a new crown would not be issued until 1927, with the Wreath crown design. Additional commemorative crowns were released in 1951 for the Festival of Britain and in 1965 to mark the death of Winston Churchill, the first non-royal to appear on British coinage. While historically significant, the Winston Churchill commemorative crown was struck in such high numbers that it is very common.
Post-decimalisation Crowns
With the decimalisation of British currency in 1971, crown coins fell in something of a state of limbo: A new 25-pence coin, equal to the decimal value of 5 shillings, appeared. It was considered the successor to the crown, though the denomination does not actually appear on the coins. In 1990, these crowns were revalued at 5 pounds. Most are made not from silver, but a mix of copper and nickel, though silver, platinum, and gold crown coins are also available. Coins were struck celebrating the Silver Jubilee, the marriage of Prince Charles and Princess Diana, and other special occasions.