Burlesque, in the contemporary form, is comedic, graceful, and titillating, and the costumes you wear as a burlesque performer are an integral part of the act. Burlesque knickers are an important element of the costume, and you can choose from vintage-style or contemporary. Options include long-legged, ruffled burlesque knickers, or revealing short ones with fewer frills. Knowing what style to choose and how to pick the perfect pair ensures your burlesque ensemble is attractive and authentic.
Vintage Burlesque Knickers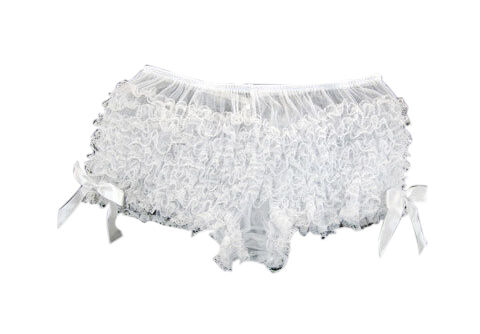 Vintage-style burlesque knickers are generally more demure than many contemporary styles. They feature higher waists and lower legs, and offer a less revealing option. Many vintage style burlesque knickers have lots of lace ruffles across the front and back, and many feature large lace bows on the back, or smaller lace bows at the hips. Ruffle knickers provide a classic, fun, cheeky retro look, available as tangas, shorts, boy shorts, and full briefs. With multiple layers of ruffles, these knickers keep you modestly covered, while still drawing the eye tantalizingly to your rear. Many feature longer legs, with some reaching just an inch or two down the thigh, while others are considerably longer, with legs reaching just above the knee. You can choose heavily embellished vintage-style models, complete with fur or feather trim, or opt for less trim and more colour. Garter knickers have stocking attachments already in place, allowing you to easily and securely add stockings to your burlesque ensemble.
Modern Burlesque Knickers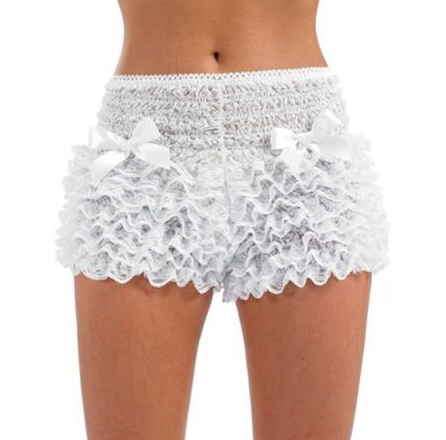 Contemporary burlesque knickers are often more revealing and risqué, featuring a lower waistband and higher legs. While lace is a very common option for contemporary burlesque knickers, leather is another option, offering a sleek, modern appearance and a tight fit. Choose from full brief-style, high leg, G-strings, thongs, boy shorts, and open-backed burlesque knickers, with a huge range of embellishment types to choose from, ranging from lots of tiny bows, to feathery tails, glitter, and rhinestones.
Fitting Burlesque Knickers
Getting the fit right is essential when you wear burlesque knickers. If the knickers are too large, they look baggy and unappealing and they are in danger of falling down as you move around the stage. If the knickers are too small, they pinch and chafe painfully as you walk, and cause unsightly bulges.
| Knicker Size | Waist Measurement (inches) | Waist Measurement (centimetres) |
| --- | --- | --- |
| 8 | 26 | 66 |
| 10 | 28 | 71 |
| 12 | 30 | 76 |
| 14 | 32 | 81 |
| 16 | 34 | 86 |
| 18 | 36 | 91 |
Measure around your waist, in inches, or centimetres, then use the chart above to ascertain the correct UK size you require. If you fall in between sizes, always opt for the next size up to ensure a comfortable fit.