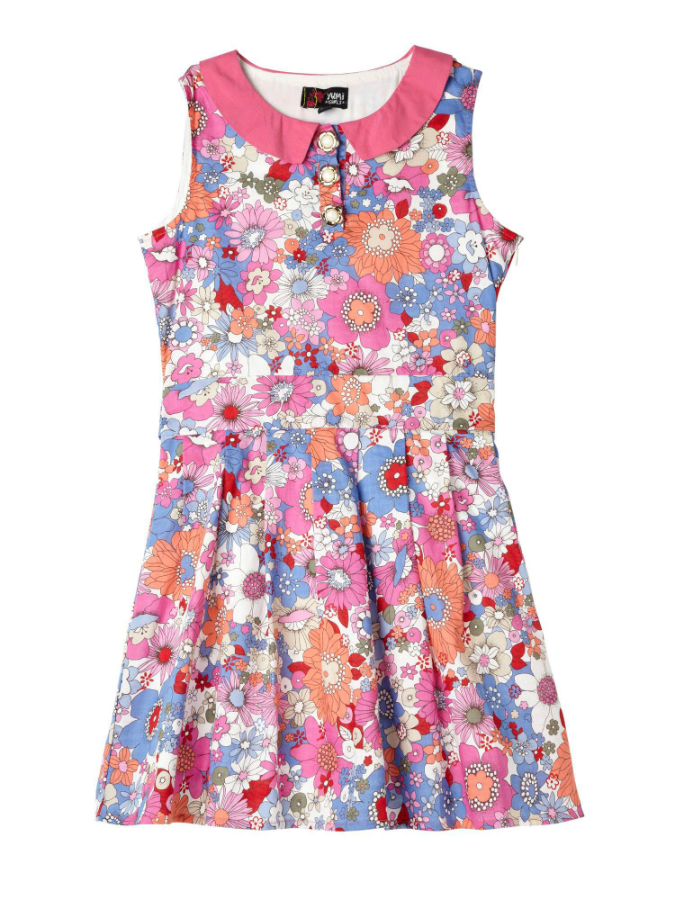 The 1960s ushered in more radical changes than any other decade that preceded it in modern history. Numerous political and social movements transformed music, art, and fashion. The civil rights movement, feminism, anti-war protests, and the explosion of rock and roll each introduced unique fashion statements that still reverberate through contemporary culture. In remembrance of the most influential decade, many people celebrate by throwing 1960s theme parties. The choice of costumes that men can wear to 1960s parties is as endless as the movements that defined the decade.
Men can find 1960s clothing and accessories at vintage clothing shops and resale shops. They should first take stock of what they own and shop for a 1960s-related costume. Men can also find excellent bargains online at the leading auction site, eBay. Before men shop for their 1960s costume, they should learn about the essential elements of a 1960s costume, the popular costume themes, and some tips that may help them find the right costume.
Essential Elements of Men's 1960s Costumes
Buying a 1960s inspired costume may seem like a daunting task, especially if men do not have access to vintage clothing or costume shops. However, the most significant hang up men face when buying 1960s costumes is the lack of knowledge concerning the essential elements of creating the costume. Men must put together a 1960s costume from four main areas.
1960s Costume Clothing
The clothes worn in 1960 were markedly different than the clothes worn just nine years later. As the decade unfolded, manufacturers produced more colourful shirts, trousers, and jackets. Men should look for bright, colourful shirts and trousers, as well as skinny and patterned ties. Bell bottoms and sandals defined men's clothing by the time Apollo 11 landed on the moon.
1960s Costume Accessories
Wide leather belts that held large buckles and multi-coloured sunglasses added flamboyance to men's attire during the 1960s. The large belt buckles led clothing designers to add different types of gems to the belts for panache. Men began to adopt the small, round sunglasses worn by John Lennon, which they accentuated by wearing peace sign necklaces and sparkling earrings.
1960s Costume Shoes
As with other articles of clothing, the conservative look of men's shoes early in the decade gave way to flashy, multi-toned shoes made of varied materials. Men wore zip-up boots that possessed pointed toes. The thicker, wider shoes complemented bell bottom trousers. Some men mimicked the fashion style promoted by the Rat Pack, in which the shoes punctuated the austere appearance of the entire outfit.
1960s Hair
All of the clothing changes of the 1960s pale in comparison to the radical change in men's hairstyles. The clean cut, cropped look that began the decade was a distant memory by the time the Vietnam War became front page news. Men can choose from a wide variety of hairstyles that permeated the 1960s culture, including the styles made popular by The Beatles.
Most Popular Men's 1960s Costumes
Many men may refer to Woodstock as the defining cultural moment of the 1960s, but a 1960s theme party can involve numerous other cultural images from the decade. In fact, the popularity of the cable television show "Mad Men" has inspired an entirely different costume that men wear to 1960s theme parties. While the ideas are almost limitless, men cannot go wrong with the following clothing themes.
1960s Beach Costume
Early in the decade, beach party films dominated the youth culture and the films gained even more relevance when the Beach Boys began cranking out albums. Men should wear surfer style, loose-fitting trunks that contain tropical-inspired prints. However, the key to a beach costume is not the swimming trunks but the accessories that accompany a man to the party. Bring along a surfboard, beach towel, or beach umbrella to lend credence to the costume.
Rat Pack Costume
While The Beatles are the poster boys for the 1960s, the Rat Pack do not fall far behind in terms of cultural significance. Frank, Dean, and Sammy inspired a generation of wannabe tough guys to wear dark suits, white shirts, and long, skinny ties. Most men also wear brimmed hats and sunglasses that became the definition of fashion chic.
1960s Mod Costume
"Yeah, baby!" The film character, Austin Powers, rejuvenated a fashion style that many men wore during the 1960s. After the British music invasion, men shunned the Rat Pack look for much brighter colours, such as orange and lime green. Psychedelic print shirts complemented solid, bright trousers colours. The trousers fit tight around the waist and thighs until they widened near the feet. Men also wore caps instead of brimmed hats.
1960s Hippie Costume
Still the most popular 1960s costume theme for men, hippie power involves more than finding a snug-fitting wig and a few peace slogan badges. The peace movement fashion statement also involves loose, flowing clothing, especially men's shirts. Men in the 1960s wore their shirts untucked and mostly unbuttoned. They also wore sandals everywhere, from the muddy pits of Woodstock to the sit-in peace protests on college campuses. Tie-dye designs dominated the hippie fashion world, as did faded jeans and aviator sunglasses.
1960s Political Costume
American President, John F. Kennedy, inspired a generation of young men to wear dark blue suits that included understated ties. Men combed their hair to the sides the same way as their icon, JFK. Another 1960s American President, Richard Nixon, prompted a line of masks that men can wear to 1960s theme parties. Nothing beats wearing a Nixon mask, holding up both hands, and claiming, "I am not a crook!"
Outside of the Box 1960s Costumes
Men can play it safe and "Peace Out", or they can wear a costume that captures many other images that pervaded the 1960s. The Black Panthers, Vietnam soldiers, astronauts, and James Bond are just some of the alternative costume ideas. Other 1960s cultural icons for men to emulate at a 1960s theme party include, Martin Luther King Jr., Andy Warhol, and Jimi Hendrix.
1960s Men's Costume Buying Tips
Keep three things in mind when buying a 1960s-inspired costume. Research the genre, stay true to the fashion, and utilise the articles of clothing and accessories that you already own.
Research
As long as the baby boomers continue to age gracefully, there cannot be a dearth of resources for men to refer to for designing their 1960s costumes. Start researching movies, such as the 1960s classics "Woodstock", "To Sir with Love", "A Hard Day's Night", and "Beach Blanket Bingo". Then, watch the films that followed during subsequent decades. Some of the better film resources include "JFK", "Forrest Gump", and "The Doors". Some public libraries may have editions of 1960s fashion magazines in their resource inventories.
1960s Costume Authenticity
Shopping for 1960s clothing means avoiding conventional department stores and specialty clothing shops. Men should visit resale clothing shops, vintage clothing shops, or estate sales to find clothes that authentically date back to the 1960s. Check with relatives who lived through one of the more dynamic decades in history. They may still have a few articles of vintage 1960s clothing and accessories for nostalgia's sake.
Take Inventory and Accessorise
There may be enough clothing in the closet to form the basis for a 1960s costume. White T-shirts, faded blue jeans, and colourful shirt designs can work in a 1960s costume motif. For instance, men can make bell bottom jeans out of straight-legged jeans. Add clothing accessories that include a fringe waistcoat, bright-coloured scarf, or beaded belt. Better yet, men can go through chests full of relics that were pronounced symbols of the 1960s, such as peace sign necklaces and "Have a Nice Day" badges. Men may also have the facial hair that corresponds with hippy, musician, and mod style 1960s costumes. Once a man forms the basis of a 1960s costume, he can then shop for the accessories he needs to complete the look.
Buying a 1960s-Inspired Costume on eBay
Men can find virtually everything they need for a 1960s costume on eBay. Simply type keywords into eBay's search engine, and then navigate through the search result pages until you find sellers that meet your shopping criteria. You can type "1960s men's costume" and review the search results. However, a better strategy is to narrow your search by typing specific keywords. For instance, type "men's hippie wig" or "Rat Pack suit" to reduce the time you spend searching for your 1960s costume. Once you find a seller who offers what you want, review the seller's accepted payment methods, delivery terms, and return guidelines that appear on the product page.
Consider buying 1960s-inspired clothing and accessories from eBay's Top-Rated Sellers. These sellers have established a reputation for selling high-quality products and offering generous return policies. eBay designates their top-rated sellers by placing a ribbon icon next to their product photographs. You can also review customer feedback that appears on seller product pages. Look for sellers who have garnered positive customer feedback over an extended period. You should also look for sellers who have earned positive customer feedback from selling men's clothing and accessories.
Conclusion
The impact that the 1960s made on British culture still has a resounding impact today. Nowhere is the impact greater than the nostalgic 1960s theme parties that bring the baby boom generation together to reminisce about flower power, the British music invasion, and the anti-war protests. Men who shop for 1960s-inspired costumes have so many choices that it may be difficult to settle on one costume theme. However, men can narrow down the list of costumes by first reviewing what they have in their closets and wardrobes. There may be enough clothing and accessories to support a costume theme, such as bell bottom trousers and bright, flower printed shirts.
Men may only have to visit a vintage clothing or resale shop to fill in the costume blanks. Maybe the only item missing in a costume is a Rat Pack-style brimmed hat or flashy beaded hippie necklace. Whatever men decide to wear to a 1960s-inspired party, just remember to keep it real. Perform research to ensure the costume chosen is an authentic interpretation of the most influential decade in modern history. 1960s theme parties are not just popular amongst the boomers. Their progeny also celebrate the music and fashion that irrevocably changed the world.