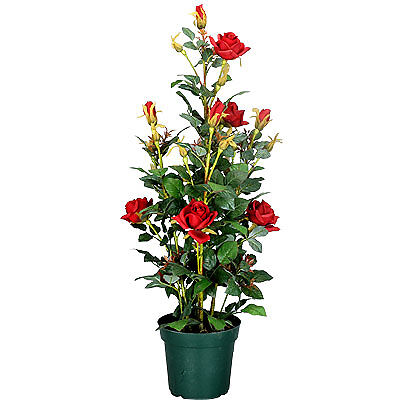 Flower arrangements add beauty, colour, and texture to any setting, and are an integral decorative element for formal events and interior design. However, the fragility and maintenance requirements of fresh flowers sometimes make them less convenient than their artificial counterparts. Artificial flowers can be an excellent alternative to fresh or live flowers in many instances as they are often more economical, require less care, and can be reused or even hired. And with such a wide range of artificial flowers to choose from, consumers can find virtually any type of flower at any time of year, making it easy to match flowers to decor motifs.
While artificial flowers are usually less costly than fresh flowers, it can still be a challenge to keep costs down, especially when buying elaborate arrangements or flowers for a large event, such as a wedding. The good news is that there are many ways to economise when purchasing artificial flowers, without compromising style.
Advantages of Choosing Artificial Flowers
Artificial flowers make a perfect alternative to fresh flowers when it comes to decor, whether for a special event, or for use in the office or home. No matter what the intended use, artificial flowers have many advantages over real ones: they are non-allergenic and insect-free; their colour and beauty stay vibrant year-round; they do not require watering or maintenance other than an occasional dusting and proper storage; and they can be placed anywhere without concern about too much or too little sunlight or humidity.
When planning events, artificial flowers can prove especially convenient. They are impervious to temperature extremes, easy to transport, and can be arranged in advance. From a decorative standpoint, event planners have their choice of colour, size, and flower type, so that they can match them to the event's specific colour scheme. Finally, artificial flowers used for special events can be kept as an enduring keepsake for years to come.
Types of Artificial Flower Arrangements
Artificial flowers come in as diverse an array of products as real flowers, from single-bud corsages to elaborate displays. The following is a brief look at some common types of artificial flower arrangements.
| Artificial Flower Type | Description |
| --- | --- |
| | Single stem in fresh-cut style; may have a single bloom or multiple, depending on flower type |
| | Group of a single type of flower with long stems |
| | Group of cut flowers; may be carried in a ceremony or placed in a vase; sometimes sold with their own vase |
| | Small, round bouquet of flowers; often carried by brides and bridesmaids for weddings |
| | Spray of flowers or a single flower; usually intended to fit in a man's buttonhole; may be embellished |
| | Single bloom or small cluster of blooms, often with embellishment; may be pinned on woman's dress or worn on wrist |
| | Elaborate arrangement intended as decorative centrepieces; may be in a variety of styles, such as horizontal, cascading, etc. |
| | Flower or flowers in artificial soil and/or moss for the look of a live plant; may be used in home, office, or as ceremonial decor |
Choosing between the different types of artificial flowers is largely a matter of intended use. Some events, such as weddings, may call for several types, while for others, a single type suffices. Buyers should also keep in mind that simpler products tend to have a smaller price tag, so opting for more basic arrangements is one way to save money.
Affordable Material Options for Artificial Flowers
Buyers have a choice of different materials from which artificial flowers are made, some more affordable than others. While silk flowers are luxurious options, they are usually more costly than those made of paper or synthetic materials like polyfoam.
Prioritising Other Options
There is a range of verisimilitude available in artificial flowers, and buyers looking for economical options may want to consider sacrificing some of the more subtle realistic details in order to save money. For example, some artificial flowers may have thorns, life-like stems and leaves, and petals that feel real to the touch.
A different approach is to choose artificial flowers that are clearly artificial. Some paper flowers, for example, can be elegant and artistic, and others have a country charm similar to dried blooms. While the result is of a different aesthetic than natural-looking artificial flowers, it can nevertheless have a positive decorative impact and be quite stylish, as long as it harmonises with the rest of the surrounding decor.
Big Impact with a Few Flowers
For those who want high-quality artificial flowers but are working on a limited budget, it may help to look for a few striking pieces. While elaborate arrangements are a popular choice for formal occasions, it is also possible to create impact with individual exotic flowers. For example, just a few orchids, either single-stem or potted in decorative moss, are an elegant way to dress up a long dinner table. And, of course, with just a bit of care, they can be reused for years to come.
Following the same principle, intense colour can be very potent, even with just a few blooms. A few deep-red chrysanthemums or dahlias in statement vases can serve as eye-catching centrepieces without breaking the budget.
Buy Artificial Flowers in Bulk
Another excellent way to save money when purchasing artificial flowers is to buy the flowers in bulk and arrange them oneself. Not paying a florist to arrange them can significantly reduce costs, and may even allow buyers to select higher-quality artificial flowers with the money they save. There are many resources for do-it-yourself floral arrangement; buyers can avail themselves of numerous Internet sites, design magazines, wedding magazines, and books for ideas.
Choose Ready-Made Designs
Just as with real flowers, buyers have a choice between bespoke designs and ready-made arrangements. Bespoke arrangements are generally more costly than choosing ready-made designs. Buyers can opt for ready-made designs and then add their own personalising embellishments if desired.
More Budgeting Tips for Artificial Flowers
To maximise savings, buyers should consider ways in which they can reuse flowers during a single event, or for several events. In a wedding, for example, flowers used during the ceremony can easily be featured during the reception: posies and bouquets can be placed in vases on the tables, and larger arrangements can be transferred from one place to another.
Another money-saving approach is to invest in flowers that are versatile enough to be used on multiple occasions. Simple arrangements can be transformed from one event to the next with the addition of candles, ribbons, and seasonal touches like autumn leaves or pine boughs.
Consider Hiring Artificial Flower Arrangements
Some artificial flower suppliers offer hiring services for special occasions. In addition, some allow customers to rent floral arrangements and change them periodically, which could be a good option for office spaces or businesses.
How to Buy Affordable Artificial Flowers on eBay
When shopping for floral supplies online, consider using eBay as a resource for artificial flowers and more. To search for what you need, start on website's home page and enter keywords into the search bar. Searches can be as specific as "artificial ranunculus", or as general as "artificial flowers". You can then narrow your search results by selecting a price range, or filtering by a desired colour, occasion, type of arrangement, seller location, and more.
Read Product and Seller Information
When you have found flowers you are interested in, take a few moments to read the item description closely prior to completing your transaction. Note details like dimensions, material, colour, and quantity. Also be aware that some pictures may feature items not included, such as vases or ribbons. Be sure you understand the what you are getting as well as the conditions of sale, and whether there are additional postage fees. If you have questions, eBay makes it easy to get in touch with the seller.
It is also a good idea to verify that the seller is reliable. Check their feedback score and browse comments left by previous customers who have bought artificial flowers from them. Once you have received your flowers, you can leave your own constructive feedback.
Conclusion
Artificial flowers are in many ways a practical and economical alternative to real flowers for a variety of purposes, including interior decorating at home and in the office, and special occasions. They are durable, non-allergenic, and low-maintenance; and while fresh flowers are seasonal, buyers can find artificial flowers of all colours and kinds year-round. There are many types of artificial flowers, including bouquets, single-stems, buttonholes, corsages, elaborate arrangements, and potted plants. They can be a great addition to the home or a present for mum on her birthday or Mother's Day.
There are many ways consumers can save money when buying artificial flowers. Opting for flowers with fewer realistic details in more affordable materials like polyfoam or paper is one approach. Other ideas include choosing just a few simple, yet striking, pieces, reusing flowers, selecting ready-made arrangements, buying in bulk, or using a hiring service. By following some or several of these money-saving tips, consumers can find the affordable artificial flowers they need for all their decorative desires.