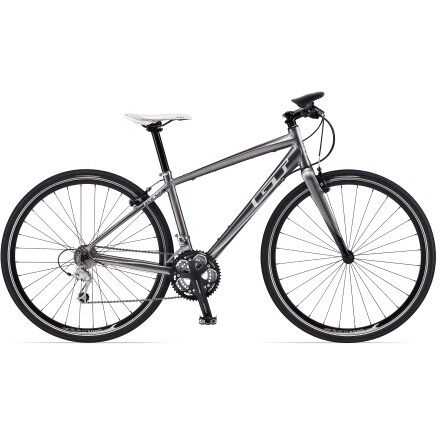 Whether riding a bike as a fun activity in your spare time, or whether it is a primary mode of transport and key to getting to where you need to be, the chances are that sooner or later, there will be parts on the bike that will need to be replaced. Taking a bike to a repair shop is often overly expensive and there's the possibility that you may have to wait several days for the maintenance to be carried out.
For these reasons, more and more cyclists are choosing to find their own replacement parts and carrying out the repairs at home. If deciding to fix the bike at home, it won't only save money; it's also a fun process and will ultimately reward the rider with new skills as well.
If interested in servicing the bike, it is plausible that you'll need to track down the necessary spare parts to complete the repairs. Fortunately, eBay lists thousands of replacement parts for bicycles, so it is possible to make big savings on cycle maintenance. Here is a quick and easy guide to buying affordable bike replacement parts on eBay.
Frames
The frame may be the largest single piece of a bike, but that doesn't mean that if it becomes damaged then the rest of the bike is useless. Instead of buying a new bicycle, it's a great idea to instead simply replace the old frame and save a significant amount of money. Here are some helpful tips to think about:
Depending on your budget, expect to pay between about £50 and £150 for a good quality bike frame on eBay, however, there are large numbers of bike frames sold on the site each week and it's not unusual to see people win auctions for top-quality frames whilst only bidding as little as £30.
Whatever you decide is a fair price to pay; there are some things to look out for when searching for a bike frame on eBay.
A lightweight frame will be ideal for almost any type of bike use, so if possible, try to find either a titanium or chromoly.
Aluminium frames are also usually of good quality; they're hard-wearing and rustproof, but they have a tendency to be slightly on the heavy side.
Be sure to buy the correct frame size for the bike so that once the frame arrives, it is possible to instantly start fixing the bike.
Handlebars
If looking to add a little extra comfort to the cycle ride, a new set of handlebars will definitely be needed. It doesn't matter if the handlebars you currently have fitted to the bike have broken or just looking for something a little more practical or striking to really make an improvement to the bicycle, it is possible to buy almost any kind of bike handlebars on eBay.
As there are so many different types of handlebar, below is a brief description of the most popular ones so that riders can decide what kind of handlebars are best suited to the individual needs and requirements of the cyclist:
Flat
Flat handlebars are the most common design seen on mountain and city bikes; they're simply straight tubes with grips at each end, which the cyclist will usually hold onto, they're great for general bike use as they're lightweight, simple and easy to maintain. There should never be trouble finding flat handlebars on eBay either and they are generally the cheapest option. There is the opportunity to find a good set for around £10. It's recommended to stick to flat handlebars for novice cyclists.
Drop
These are generally reserved for road and racing bikes. Drop handlebars usually branch out a little at the sides before curving back towards the rider. This design encourages a grip that will sit the rider in a position that will provide more leverage on the pedals. It also gives the handlebars a larger surface area, allowing the rider more grip options for comfort on longer cycles. Drop handlebars are easily available from numerous sellers on eBay at almost any price point to suit riders of every ability level.
Touring
As the name suggests, these handlebars are usually only used by touring cyclists. Set out in a vague figure of eight shape, these handlebars, like drop handlebars, aim to provide rider comfort through the variety of grips offered. If you are a touring cyclist and you don't have a pair of touring handlebars on the bike, it is a good idea to look into them as an option. Despite being a relatively rare type of handlebar, there are often a good number listed on eBay at any one time.
BMX
If you're not a BMX aficionado, BMX handlebars are significantly different to those of a mountain or track bike. Most handlebars for these bikes come in an elongated "U" shape; both ends of the bar are straighter, with small grips for the rider's comfort. BMX handlebars are often strengthened with another reinforcing rod, to protect against the extra damage which is often inflicted on them. There are usually an abundance of BMX handlebars listed on eBay.
These four are probably the most important handlebar designs for riders to know, however bicycles are an extremely varied mode of transport and there are dozens more types of handlebars out there, most of which are designed for specific purposes.
If looking to buy a replacement handlebar for a bike and you don't think any of the handlebars above will suit the exact requirements for the bike, spend a little time looking into how other riders who are interested in the same style of cycling have set up their bikes and what products would be recommended.
Seats
A good seat is highly important to make the bike as comfortable as possible to ride. There any many different kinds of bike seat currently available and it's up to each individual rider to choose what will suit them best. Some facts about seats are listed below:
Many seats available today come with a gel filling to provide maximum comfort whilst you are riding. These seats really are worth looking into, as they take away many of the aches and pains that riders are likely to experience when sat in the saddle for long periods of time. They are also great value for money.
If looking to buy a gel seat for a bike, it's recommended to look into buying a bike seat cover because if these particular seats become damaged by the elements, they have been known to split and for the gel inside to seep out, a seat cover will keep the seat in perfect condition. Plenty of seat covers are available on eBay and most are available for under £10.
There is a good selection of racing-style seats on eBay. These seats are extremely lightweight for a speed advantage during bike racing. Racing seats will cost between £10 and £20 on eBay and are highly recommended for taking part in competitive cycling.
Pedals
The pedals are one of the more common parts on a bike that require replacing; they are put through much more punishment than most other parts of the bike and, as most which come fitted as standard are only made of plastic, it's important to provide new pedals on a regular basis to ensure that the bike does not become unsafe.
There are a variety of different types of bike pedal; all of these designs have their own specific purpose. If the riders enjoy mountain or road cycling, it's advisable to look for a design that comes with a toecap to keep the foot in place on the pedal.
If cycling only for fun or as a way to commute to work, a more basic pedal in either metal or plastic should suffice. There are often thousands of different listings for bike pedals on eBay at any one time and it's easy to pick up most sets for around £10.
Conclusion
If using eBay, then finding affordable replacement parts for a bike has never been easier. Here are the helpful summarised tips:
When looking for frames, be sure to know what metal or alloy the frame in question is constructed from as this could affect the overall performance of the bike.
There are a wide variety of different styles of handlebars on the market and it's critical to understand which handlebar design will suit your riding requirements best before purchasing any.
Seats are there for comfort, so try to find one that will provide the rider's body with enough support.
It's also a good idea to buy a protective cover to shield the new seat from the elements.
Finally, if you need to buy replacement pedals for the bike, think about what kind of cycling you participate in most frequently and purchase some pedals, which are suited to this type of usage.
eBay is the perfect place to buy affordable replacement bike parts, so why not start searching today?