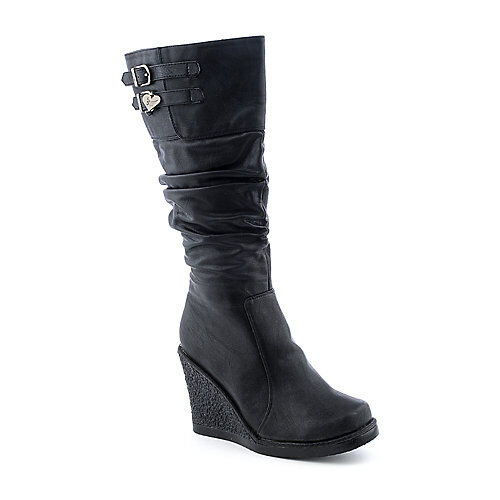 Boots have been an important part of people's attire for a long time. It is still said that a person can be judged by their footwear. Boots have been a staple of the fashionable woman's wardrobe since before the 16th century. Until skirt and dress lengths became shorter, however, there was little need for excess fashion in boots, and they remained more practical items. Victorian boots were made of hard leather and were most likely difficult to get used to when purchased new. Fortunately, the modern boot uses more pliable materials in its construction.
Boots are still practical, but fashionable boots are making more and more of an appearance in female wardrobes. One of the primary problems, though, is that good boots are costly. Affordable boots can be rather difficult to find. Affordable boots can be purchased on sale at shoe stores and department stores, and through the online auction site, eBay. Before buying affordable boots, a consumer should learn about different fits, how to care for boots, how to find quality boots, types of boots, boot options, and appropriate sizing.
Things to Remember When Buying Affordable Boots
Bargain shopping and sale hunting can be intense. It is still possible to make mistakes even when a boot is affordable and just the right type for which the buyer is looking.
Fit and Comfort
Do not sacrifice fit and comfort; purchasing the right shoe size ensures that the buyer has boots that last longer. Boots that are too small fall apart when feet keep pushing against the seams, and boot sizes that are too big increase the chance of slipping.
It is a good idea for a woman to discover exactly what size, width, and length of footwear serves her best. This is particularly helpful to women that spend large amounts of time on their feet. Some women live their entire lives wearing a particular size, when a half size or a size smaller or larger would have maximised their comfort and overall footwear quality.
Boot Care
Caring for boots allows them to last longer. Fashionable boots may not be as durable as one may think, and proper care extends their service to the wearer.
The sole is an important part of the boot, as women do not want to go around with holes in their boots. Good soles come with higher quality boots, but quality boots are more expensive. However, it is possible to purchase an inexpensive boot with a good upper, and have the item re-soled when needed.
A woman who wears boots all the time ought to consider buying more than one pair. Rotating through several pairs allow boots to dry and air out between uses. Consider purchasing shoe trees to allow boots to aerate without shrinking.
Invest in Quality
Affordable does not always mean low quality. There are many boots made with admirable craftsmanship and excellent materials that are sold for more than acceptable prices. Designer and premium boots do not always mean top-quality either. When it comes to boots, try looking for those that have stitched soles and not glued, although it is possible to have soles stitched too.
Types of Women's Boots
Women's fashion footwear has spawned many types of boots. Many are created for a range of costs and a buyer can find a majority of boot styles in affordable prices.
Ankle Boots
Find affordable ankle boots at department stores, shoe boutiques, and through online stores. Low- and high-heeled styles are popular. There are plenty of places to acquire them affordably because ankle boots have recently become trendy. They go well with skinny jeans and leggings, if a person prefers to tuck their trousers into their boots. They also go well with long skirts or skirts that are knee-length and shorter.
Thigh High Boots
These boots are great choices for a night of clubbing. Thigh highs make enough of a statement that the rest of the wearer's attire can be kept simple. Affordability of these boots depends upon the material. They are more affordable if made of any material other than leather and expensive synthetics. Look for simpler styles that do not seem to have a lot of processes done to them.
Knee Boots
The most practical boots in a woman's wardrobe are knee boots, because they are compatible with a lot of other clothing. Jeans, dresses, and skirts can be paired with knee boots. The simpler the design, the more affordable they are. This is fortunate, as simpler styles, like boots with solid colours, generally have a better chance of meshing well with any style and wardrobe. Most knee boots are leather or a leather synthetic. Suede leather is cheaper than normal leather, as is faux suede or faux leather.
Cowboy Boots
Cowboy boots are ultimately casual wear. Do not pair them with cocktail dresses. Most are made from genuine leather, so they are not that cheap. However, they look better a little worn than shiny new, so it is possible to find a good pair in vintage shops. The bonus is that they can last for years.
Wellington Boots
The name does not immediately call to mind fashion and style, but there are Wellingtons that look just as appealing as any. Added features are their waterproof outer coverings and warm linings, perfect for fall and winter wardrobes. Wellingtons are must-haves for women who live in damp climates, though there are other types of boots that can be just as waterproof and warm. Affordable waterproof boots that are also stylish can be acquired in any department store or discount shoe store.
Slouch Boots
Slouch boots are just as the name advertises, boots that have soft extra material that slouch, or create creases around the leg. They can be worn with dresses, trousers, and leggings that are mostly casual. There are ways to dress up slouchy boots, however. Different materials are used to create these boots so there are more affordable variations of them in any shoe store.
Options for Women's Boots
Boots that have less processes done to them are more affordable. This generally means that the simpler boots are less costly.
Heels
Many women prefer boots with heels because they add an extra something to an otherwise simple boot. High heels, wedge heels, and platform heels are more expensive. The additional work needed to make the boots more secure and stable is reflected in their cost. High heeled boots have to be good quality to prevent the heels from snapping off of the boots. Low heels are good alternatives, both in cost and comfort.
Length
The length of boot shafts or uppers can vary from thigh-high to ankle-length booties. Knee-high boots are common, as well as those that are mid-calf length. These two are most compatible with any wardrobe. Generally, the more material used to make the boots, the more expensive they are, but price can also vary based on the type of material from which the boots are made.
Leather
There are several types of leather used for making boots, and each has their advantages and disadvantages. Boots can be made from other materials of course, but leather is still the most popular. Boots can be made from stretchy materials, latex, or synthetic leathers.
Leather is basically the hide of an animal, and different animal hides can be used in boot-making. With affordability in mind, the best bet would be cowhide. It is also the most frequently used. Different animal leathers have a different look and feel; for instance, calf leather is incredibly soft and supple, while alligator leather has a unique look.
Sizing Boots
Foot sizes can change over time, even with fully adult individuals, so size feet every once in a while. When buying boots, the fit has to be as exact as possible. The most accurate way to size feet is by measuring them. The length of the foot corresponds to particular boot sizes.
| Foot Length (inch) | Foot Length (cm) | UK Sizes | Continental Sizes | US Sizes |
| --- | --- | --- | --- | --- |
| 8 | 20.3 | 1 | 33 | 3 |
| 8.5 | 21.6 | 2.5 | 35 | 4.5 |
| 9 | 22.9 | 4 | 37 | 6 |
| 9.5 | 24.1 | 5.5 | 39 | 7.5 |
| 10 | 25.4 | 7 | 41 | 9 |
| 10.5 | 26.7 | 8.5 | 42 to 43 | 10.5 |
| 11 | 27.9 | 10 | 44 to 45 | 12 |
| 11.5 | 29.2 | 11.5 | 46 to 47 | 13.5 |
Foot lengths do not always come to whole numbers, but when unsure, always choose the boot size that is larger, rather than one that is smaller. It is possible to adjust the fit of a larger boot. With a boot size that is too small, it is impossible.
How to Buy Affordable Boots on eBay
While offline shops are good places to purchase boots, there is something to be said for buying online from retailers, like eBay. The ease of looking for particular boots, for instance, as well as the variety of sellers and products available to a single buyer are just some reasons to shop on eBay. Once you navigate your browser to eBay, all you need to do is type the boots for which you are looking into the search bar. A search for 'green suede slouch boots offers a selection that is easy to evaluate. There are site tools on eBay pages that allow you to order your results, for example, by price, location, condition, and more. Ordering the results by price allows you to see the choices you have based on affordability, and ordering by location allows you to see whether it is possible to visit the seller and check out the boots yourself. Affordable boots on eBay do not last long, so check the site regularly for deals and sales.
Conclusion
Boots are some of the more practical footwear to grace a woman's wardrobe. Of course, they are also some of the most fashionable. Looking for affordable boots can be hard, but gathering information on where and how to find good boots without having to empty your purse makes the process easier.
When buying boots, remember that exact sizes increase comfort as well as the life of the footwear. Good quality boots do not always need to be expensive, choosing well does not mean sky high payment. There are excellent choices in vintage shops, for example, and there are boots made of materials cheaper than the typical leather, which are durable and comfortable. Women's boots can be protective as well as fashion items, so purchase the right boots for different climates and weather. There are affordable boots to be purchased in department stores, discount shoe stores, or outlet stores, although eBay is also a solid option as are a number of reputable online dealers.