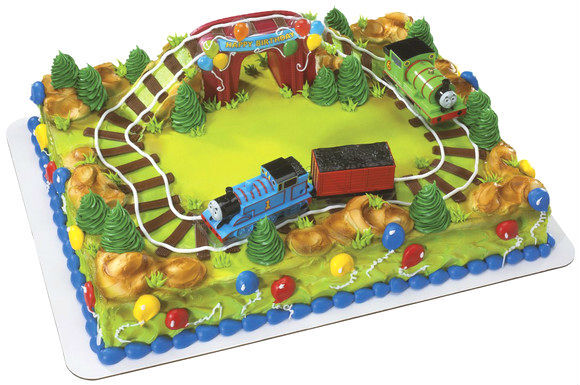 Decorating a cake can be an enjoyable way to spend an afternoon, but it can also be a great way to show off a person's decorating ability. For many people, the cake decorating is an art form by which they earn their livelihood so it is essential that they possess the right tools for this line of work. Decorated cakes are an item that seems to always be in high demand. There are many times when a nicely decorated cake is not only a marvellous centrepiece, but it is also expected. Being able to decorate a variety of cakes is necessary for anyone who is in this type of business, so in order to realise a greater profit in this endeavour, it is important to find supplies that are affordable.
Birthdays, anniversaries, and weddings are all occasions when not only the guests of honour are the centre of attention, but at some point a cake is as well. Supplies for decorating cakes are located at retail department stores and online on eBay. For people who decorate cakes for occasions like these, it can be a very nerve-wracking time, especially if alternate solutions to the cake decorating have to be thought up due to not having the right supplies. Knowing what the various supplies needing for decorating a cake and how they function can help take the anxiety out of these situations.
Where to Start
One of the biggest problems that many people encounter when attempting to pick out cake decorating supplies is the knowledge of what the end result looks like after using them the first time. Of course for the most part, there is usually always instructions and nicely illustrated pictures showing what the decorating tool does, it still does not always seem to give the reader a comfortable understanding about how the end result appears in real-life situations when decorating a cake.
Becoming familiar with cake decorating gives people a chance to use supplies and see which ones work well for them. By doing so, it is easier to know which supplies to buy instead of buying ones that may never be used, which can add up to a great deal of wasted money.
Become Familiar with Cakes
One of the best ways to really appreciate the full picture of what cake decorating supplies are capable of is to study a real cake. Bakeries are a good place to start when trying to find some study material. Bakeries usually have a wide variety of cakes that can range from the simplest design to the most intricate one and everywhere in between.
Make a note of the decorating styles used for themed cakes, such as ones for weddings, birthdays, and other special occasions. Since all decorated cakes usually require icing and many tools are often needed to decorate a variety of cakes, this is the first area where buying used tools makes the expense less costly and practical.
Usually, cakes for weddings have more elaborate designs and decorations compared to a cake for an anniversary or birthday and they may also require special icing equipment. Take the time to find out what decorating tool was used for the various cake decorating designs and patterns. Cake decorating supplies not only vary in shapes, but within a certain category of a supply, the size used to make certain details can vary as well.
Dabble in the Art
One of the best ways to find out if certain cake decorating tools are ones that a person should add to their supply list is to dabble around with the various ones. Round cake decorating supplies are not always necessarily the same types of supplies as square cake decorating ones are. If a person is able to take the time and experiment with a variety of cake decorating supplies, it is easier to see how the tool works and what the end results looks like.
Of course, many people who use a new tool for the first time may find that they do not like what the initial outcome looks like. That is why it is important to try using the tool a few times before a final decision is made about how well it works. Using cake decorating supplies in this way is a great way to find out what type of cake decorating tools are the right ones to add to a supply inventory list.
Affordable Cake Decorating Supplies
Since cakes are such a popular item all throughout the year, there are plenty of opportunities for novices to try their hand at decorating a variety of types. Although some of the same supplies are often used repeatedly as themed novelty cake decorating often occurs, there are certain cakes that are considered to be more a specialty item, such as the ones for weddings. It is important for cake decorators who plan on putting together a cake like wedding cakes to know ahead of time what type of specialty tools may be involved.
Being prepared for any type of cake decorating opportunity not only shows the customer that the cake decorator is a professional and ready for anything, but buying used cake decorating supplies is also a savvy way to run a business or even for a person who just decorates once in a while for pleasure to save some money. Knowing what types of supplies are often needed to be able to decorate always allows a decorator to be prepared for almost any cake decorating opportunity.
Cake Toppers
When people think of cake toppers, usually the first type of cake that comes to mind is a wedding cake. Although this is true, there are many other types of cakes that receive toppers as well. Birthday cakes are another popular type of cake that often receives a topper.
Toppers seldom are reused since they go with the cake, so in situations where cake toppers are needed, try to find ones that are sold in bulk and offer the variety of toppers that are tailored to the decorating needs of the individual or business.
Finishing Tools
There are a variety of finishing tools used to decorate cakes. There is more than likely at least one finishing tool that is used for each cake, so there is no telling just how many tools a cake decorator may need. Being able to buy used finishing tools in bundled sets is one of the best and most economical ways to save money in this area.
Display Stands
People who own a cake decorating business often choose to display their wares so that potential customers can see the finished product. Display stands come in a variety of different styles to choose from. Again, buying used display stands is another way to make purchasing cake decorating supplies affordable.
Because decorated cakes also come in a variety of shapes as well as sizes, a person can make buying the stands more affordable by finding sets that include a variety of styles. There are other areas where people can save money and make cake decorating more affordable. The table below lists other supplies that are often needed and an example of how they are most commonly used.
| Cake Decorating Supply | Example of Use |
| --- | --- |
| | Used for shaping and forming decorations |
| | Popularly used to create intricate icing designs and a cake as well |
| | Allows replication of designs to add uniformity to overall appearance |
| | Enjoyed as a timesaver to create theme cakes for special occasions |
These items along with many more cake decorating supplies are on a very few of the ones that are available. Cakes must have a pan of some sort to bake in and are therefore a necessary item. If cakes are being decorated on a frequent basis, it is worthwhile for the avid cake decorator to buy them in bulk.
Buying Cake Decorating Supplies on eBay
Being able to buy affordable items, such as cake decorating supplies, is just one reason why eBay is a popular place for a multitude of people to shop. Not only can simply using this online marketplace save you money, but it is easy to find what you need as well. To start arming yourself with cake decorating supplies at a good price, navigate to the eBay homepage. At the top of the page, enter keywords that describe the item or items you are looking for in the search query box and click on the search button icon.
For example, if you want to find cake toppers to see what options are available for a cake decorating business or personal endeavour, type the keywords "cake toppers". A wealth of results that include those keywords are returned to you. Many people who are not familiar with the various types of items search this way in order to get an idea of what is available to them. If you do not want to have a vast amount of items to search through, try refining the keyword search you enter by making it more specific to the item you need.
Conclusion
Cake decorating can be a very lucrative career, and it can also be very enjoyable to many people just as a hobby as well. Buying cake decorating supplies are often expensive, especially for a person who is just entering this line of work as a business. That is why it is important to save money in an effort to gain a larger profit or to even invest the savings back into the business.
Likewise, if people want a few cake decorating supplies only to use on an infrequent occasion, they also can benefit by making the purchase more affordable. Buying used cake decorating supplies is one way to make a purchase more affordable; however, buying items in bundle sets also save money if chosen correctly.
In addition, buying cake decorating supplies that are in a good used condition is an additional way to save money. Buying items in bulk, especially used ones that offer variety and value in addition to knowing what items are needed is a good start to enjoy cake decorating even more.