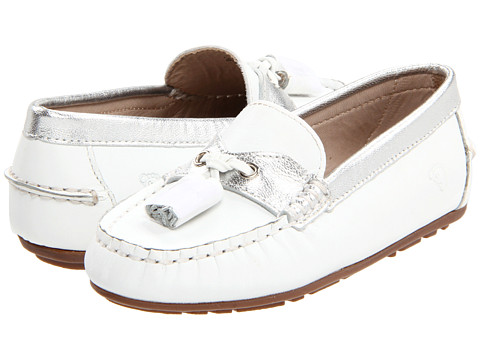 Getting a new pair of shoes can often be an exciting prospect for a young girl. Shoes can be a fun way for a girl to show off her own sense of style, and they are accessories that are often at the top of girls' wish lists. Buying shoes as tastes change and children grow can, of course, be an expensive proposition for grown-ups. A well-loved pair of Wellies one day may be scorned the next, while a well-fitting pair of sandals may start pinching in a matter of months.
This guide takes the reader through the different ways to find and purchase affordable shoes for girls. The guide addresses issues like the right time of year to purchase shoes and the vendors that provide affordable options. Additionally, the guide also offers tips that one can use while shopping online at eBay. This auction website has grown to become one of the most comprehensive resources for affordable shoes online.
Tips for Finding Affordable Girls' Shoes
Consumers can follow some key tips as they look for affordable options in girls' shoes. A consumer can realise cost savings by purchasing shoes during the off-season. Also, a consumer can take advantage of strategies such as sizing up and looking for gently used options for girls' shoes.
Off-Season Shoes for Girls
One effective way to find affordable girls' shoes is to look for certain shoes in the off-season. For example, a pair of sandals might be found at a lower price in the winter when they are not at a premium. When buying off-season shoes, and adult should keep in mind a child's growth rate. A pair of shoes that fit in the winter might not fit as well in the spring once the time has come to wear them, so consumers may want to buy a half size up in anticipation of a growth spurt.
Gently Used and Second-Hand Girls' Shoes
Used shoes that are in good condition are another way in which to find affordable girls' shoes. Girls' ever-evolving tastes often leave parents with very slightly worn trainers or pimsolls on hand that they then must send off to a vintage shop, donate, or sell via an online auction site such as eBay. Finding these used items can provide parents with good quality girls' shoes without breaking the bank.
Used Specialty Shoes
Specialty shoes are an especially viable option in this category of girls' shoes. Many girls try out hobbies such as tap dancing, for example, for a short period of time. Once they are no longer needed, the specialty tap shoes are released back into the marketplace at a much more affordable price point than a new pair of tap shoes. Parents on the lookout for specialty shoes, especially when they are unsure if their child can stay committed to an activity, are well-advised to look into gently used and second-hand options.
Used Infant and Toddler Shoes
Infant and toddler shoes are also often available in large quantities in the second-hand marketplace. This is usually due to the fact that children grow very quickly at this age. These used options are often very gently used, since children are typically not indulging in excessive amounts of walking at these ages. Used infant shoes for girls can be found in near-new condition.
Getting the Right Size of Girls' Shoes
When shopping for a pair of girls' shoes, it is important to get the sizing of the shoes correct. An ill-fitting shoe can cause pain and discomfort to a child and can also affect how long pair of shoes last. Getting the size right can also be a good cost-saving technique. By ascertaining the ideal size and then purchasing one size up or a half size up, a parent might be able to go a bit longer before replacing a pair of shoes. To find the right pair of shoes, an adult should first measure the child's foot.
Measuring a Foot for Sizing
To measure a child's foot, a parent can begin by taping a regular piece of A4 paper to the floor. The child should then stand on the piece of paper in bare feet. It is important to remember that most individuals have one foot that is larger than the other, and the larger foot should be used as the sizing foot. If a parent does not know which foot is bigger, he or she should measure both and then use the larger measurement.
Once the child is standing on the paper, the adult can trace the outline of the foot and draw two lines across the topmost point of the foot and at the heel. From there, it is a simple process of using a measuring tape or ruler to get the length in centimetres from the heel to the furthermost tip of the toes.
Average Sizes for Girls' Shoes
When looking for shoes, adults may find a range of sizes on the market, including sizes from within the UK, from Europe at large, or even from the United States. The following chart gives readers an idea of how the sizes in each region correspond to foot length.
Approx Foot Length

in Centimetres (cm)

UK Size

Euro Size

USA Size

9.3

0

16

1

10

1

17

2

11

2

18

3

11.6

3

19

4

12.3

4

20

5

13.7

5

22

6

14.4

6

23

7

15

7

24

8

15.6

8

25

9

17

9

27

10

17.7

10

28

11

18.4

11

29

12

19

12

30

13

20.4

13

32

1

21

1

33

2

21.7

2

34

3

23

3

36

4

23.6

4

37

5

24.3

5

38

6

25

6

39

7

25.7

7

40

8
It is important for consumers to keep in mind that this chart is an average, and sizing can vary from manufacturer to manufacturer. Confirm the sizing with the manufacturer or vendor to ensure a good fit.
Shopping for Affordable Girls' Shoes at Local Shops
Local retail shops and shoe vendors offer some choice, but these options rotate seasonally. Consumers cannot, for example, easily purchase from a wide selection of sandals in the winter and leverage the cost-saving advantage of buying shoes off-season. Local, offline options can also be limited in their catalogues by the trends of the season and may not offer quality, used options. Local retailers may eventually put an ideal pair of shoes in the discount bin, but these options are typically limited and only available in uncommon sizes.
Shopping Online for Affordable Girls' Shoes
Looking for and purchasing girls' shoes online can provide a much wider range of options. By far, the larger catalogues are available on fashion vendor aggregators and online auction sites such as eBay. A site like eBay can also give consumers access to a huge catalogue of gently used shoes. For parents and adults who want to access an extensive, year-round selection of both new and used girls' shoes, the online auction site eBay can be a productive resource.
Buying Affordable Girls' Shoes on eBay
To begin a search for affordable girls' shoes on eBay, you can start by running a search with the general term "girls shoes&". This provides you with an overview of the shoes that are available. The site also offers the option of sorting your search results by price so that you can quickly zero in on the more affordable options. If you want to view used items, you can run a search for the term "used girls shoes&" or select the "Used" checkbox next to your listing results. Either method provides multiple listings that you can look through to find an ideal pair of affordable shoes for a girl.
When shopping on the auction site, it can be a good idea to get to know the vendors you are interested in buying from. You can do this by looking through their past auctions and determining their track records through the feedback they have received from other customers. This can ensure that you receive the item you want in a timely manner.
Conclusion
Shoes are an absolutely essential item that a growing girl needs. Given how quickly children grow, and even how rapidly their tastes can change, keeping up with a girls' shoe needs can be a financially daunting experience. Fortunately, by doing some research and leveraging the ideas presented in this guide, adults can access a wide array of affordable shoe options that deliver quality footwear while maintaining reasonable price points. For consumers who are running a search for an affordable pair of girls' shoes, few retail sources offer wider and more diverse options than the online auction site, eBay. On this website, consumers can look through countless new and used listings of affordable shoes. The website's multiple functionalities make it easy for a consumer to look for and purchase affordable shoes. By sorting listings by price and vetting potential sellers, a consumer can find the exact pair of affordable shoes a girl needs to feel comfortable and stylish for as long as she pleases.