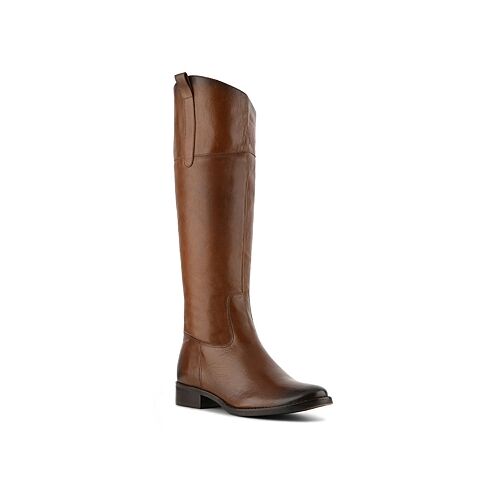 Riding boots are not something that the average person often buys, but people who ride horses as their favourite past time or at a professional level may find the need to buy riding boots on a semi-regular basis. Riding boots do not have to cost an arm and a leg, but buyers need to be aware of the various shopping factors before they start the hunt; otherwise, they may end up spending a lot more than they budgeted for and still be disappointed when they receive their boots.
Before buyers can select the right pair of riding boots, they must first truly understand its purpose. They then have to familiarise themselves with the many styles of riding boots available so that they can choose the one that suits a more specific purpose. In addition, buyers also have to learn how to select the right size and fit to ensure a comfortable wearing and riding experience.
Characteristics of Riding Boots
Riding boots are specially made to suit their purpose. They are generally constructed to fit high on the legs so that the leather that holds the stirrups cannot chafe the rider. The high design is also incorporated to provide some level of protection against the horse's hooves when they gallop, mud that may splash while riding, and the posts, shrubs, and anything else that the legs may graze by when riding. In addition, the close fitting design and the smoothness of the leather helps the rider to effectively communicate with the horse through its flank.
The soles of riding boots are not as wide as regular shoes, and they are generally smooth so that riders can easily and comfortable adjust the positions of their feet in the stirrup. Additionally, the boots are made with heels, however small, so that the rider's feet do not slip through.
Even though the high leg of the riding boots has its distinct functionalities, not all riding boots are made that way. Some boots stop at the ankles or just above, but riders who like these short styles normally couple them with half-chaps to cover the upper parts of the leg when riding.
Styles of Riding Boots
Some buyers assume that all riding boot are created simply for their functionality, so there is no style factor. However, that is not the case. Some riding boots are also dress boots with all the same functionalities of riding boots, but with an elegant design that makes it suitable for casual riding events, hunting, and even a regular night or day event. There are many types of riding boots, and their design is often a reflection of their specific purpose and functionality.
Dress-Cut Riding Boots
Riding boots have evolved over the years, and dress styles have become more popular. Contemporary "dress" riding boots have an exaggerated higher cut above the knees, and their sculpted design is more pronounced. The ankles are generally narrow in a continental cut. People who do not always use them for riding but mainly for show in a dress arena often buy dress boots. These boots still say "rider" but also "stylish".
Semi Dress-Cut Riding Boots
Semi dress-cut riding boots describes dress boots that have a more sculpted appearance than regular boots, but it does not have the pronounced high-cut knees as the regular dress-cut boots. These boots are essentially for riders who like the stylish appearance of dress boots, but who still need the functionality of a riding boot that can be used in tamed environment, such as an arena or school.
Hunt or Top Riding Boots
Hunt riding boots, as the name suggests, are generally worn during fox hunting and look similar to regular boots with the exception of a "cuffed" top. They often have a black with a brown, beige, or tan cuff.
Field Riding Boots
Field riding boots are made with lacing to the ankles to allow possible adjustments when shorter stirrups are used. The lacing also allows the ankle to have greater flexibility when riding. Due to these functionalities, field riding boots were the shoes of choice for cavalrymen and troopers, and they are also a favourite for hunting and all forms of jumping.
Polo Riding Boots
Polo riding boots have the regular boot design; however, they are constructed with numerous layers of padding and additional leather. The layers aid in preventing serious harm from coming to the rider, particularly if hit on the leg with mallets or stray polo balls.
Racing/Jockey Riding Boots
As the name suggests, jockey riding boots are made specifically for the racetrack; thus, they feature a flexible and lightweight design. They are not always made with soft leather but may sometimes be constructed from synthetic materials. The heel area and the calf of racing boots may sometimes be constructed with a block of padding to add extra protection for the rider and minimise the stress on the horse.
Exercise Race Riding Boot
Exercise race boots are similar in design to regular race boots, but they are specifically made for use during racehorse training. They are said to be more durable than the regular race boots and offer a bit more protection and comfort.
Jodhpur Riding Boots
Jodhpur boots has some design resemblance to tall dress boots, but they do not go above the ankles; they do, however, share the same high quality construction and full grain leather materials. In the initial stages, these boots featured a wrap-over strap and buckle for fastening and adjustment, but modern versions often feature stretchy side panels. Due to their low design, Jodhpur boots are generally worn in combination with half-chaps, but they are still more economical than the taller alternative.
Paddock Riding Boots
The term "paddock boots" refers to various styles of short ankle boots that are practical and flexible for any task from stable management to actual riding. Some boots are made with laces, while others may have buckles or other adjustable types of fasteners. They may also feature protective reinforced toe caps, comfort padding, grip inclined patterned soles, cold weather insulation, and water resistant fabric. These features bring about versatility, but the boots are still not conducive to competitive riding.
Hybrid or Yard Riding Boots
Yard riding boots can be considered to be a variation of the regular tall riding boots, where it features traditional dress boot styles, as well as practical features from field and hunting boots. These boots are designed to be exceptionally versatile while allowing maintenance and care to be a simple task. Hybrid riding boots are often constructed with weatherproof materials and patterned treading on the soles to avoid slippage. Some of these boots may also be insulated for use in cold weather, but like the paddock boots, they are also not conducive to competitive riding.
Choosing the Right Riding Boot
After buyers educate themselves on the various types of riding boots available, they then have to consider all the factors to select the one that is right for them. Some buyers may even choose to purchase two or three different boot types based on the environment that they may be used in and the purpose that they may be used for.
For instance, if a rider wants the boot for hunting, jumping competitions, dressage, or to work in a riding school, tall boots with smooth soles are the best choice. While hybrid boots with patterned sole treading make better winter boots and are the best choice for performing stable management tasks and riding alternately. Some riders may even prefer to wear a Jodhpur boot because they can add and remove the half-chaps as required for regular duties and hacking.
Competition and showing boots may be a bit harder to select because there are controversies about the types of boots that are acceptable in some circles. However, the traditional dress boot with a straight cut can almost always suffice, but they are not as economical as other options. Buyers who can afford multiple pairs of boots can opt to have one for special occasions and another for the everyday riding, jumping, racing, or whatever discipline they specialise in.
Fitting and Size
Choosing the right boot style is good, but if it does not fit right, buyers may defeat the whole purpose of the boot. Riding boots should be close fitting but still allow easy movements for the toes and provide heel support. Riders should have effective communication of their calves with the horse's flank, and their ankles should be flexible when riding with short stirrups.
Riding Boot Size Measurement
Buyers should never assume that their regular shoes size is the same as their riding boot size. It is always best to take boot measurements before shopping. Below is a small guide that shows how to measure for a proper riding boot.
Standard Foot Size
The first thing to do is measure the size of the foot. This is the measurement of the foot bottom from heel to the tip of the big toe. Secondly, buyers should know their calf sizes if they plan to buy a high cut riding boot. Persons should never attempt calf measurements on their own as the measurements may be skewed. A family member or friend can help.
Calf Size
Measurements should be done with the feet flat on the floor, and then the family member or friend should measure the circumference of the widest part of the calves. It is best that the lower half of the riding clothes be worn during this measurement.
High Cut Boot Height Measurement
Measurements are done in a similar position to calf measurements with the exception that the knees should be slightly bent while keeping the feet flat. At this point, the "helping hand" should measure the height from the heel to the section where the knee creases; however, the measurement should be taken "straight up' and not following the grooves of the feet.
Riding Boot Size Chart
After careful measurements, buyers can now select a riding boot size that provides a comfortable fit. They must however bear in mind that not all brands have the same exact measurements, so a brand specific size chart is always best. If no size chart is provided by the seller, buyers can use the approximate measurements from the chart below. Measurements are in centimetres.
Boot Size

Calf Size

Boot Height

XS

S

M

L

XL

Short

Standard

Tall

Extra Tall

3.5

32.5

33

34.5

36

37.5

41.5

43.5

45.5

47.5

4.5

32.5

33.5

35

36.5

38

42

44

46

48

5

33

34

35.5

37

38.5

42.5

44.5

46.5

48.5

6

33.5

34.5

36

37.5

39

43

45

47

49

6.5

34

35

36.5

38

39.5

43.5

45.5

47.5

49.5

7.5

34.5

35.5

37

38.5

40

44

46

48

50

8

35

36

37.5

39

40.5

44.5

46.5

48.5

50.5

9

35.5

36.5

38

39.5

41

45

47

49

51

9.5

36

37

38.5

40

41.5

45.5

47.5

49.5

51.5

10.5

36.5

37.5

39

40.5

42

46

48

50

52

11

37

38

39.5

41

42.5

46.5

48.5

50.5

53
Even after selecting the right size, buyers should remember that boots made of good quality leather may feel a little stiff in the beginning. However, over time, leather boots tend to soften and mould to the feet and legs of the wearer.
How to Buy Affordable Riding Boots on eBay
Affordability is relative to the economic status of the buyer, but eBay makes shopping easy for every economic class. The first thing to do is search for riding boots within the search field on the eBay homepage or any other web page. From the results populated, you can select multiple filters to remove unfavourable items. The filters can include but are not limited to boot type, gender, brand, size, and colour, and you may opt to select new or used boots if you are trying to save on funds.
In addition, if the budget is really a factor, you can also opt to input a specific price range to ensure that you are not tempted by anything beyond what your budget can manage. Aside from assigning filters, you can also refine your search by adding more specific keywords. For instance, you could type "women's riding boots" to be gender oriented or "Ariat riding boots" if you prefer a specific brand.
Once you have located the style, brand, and colour that you desire, use a size chart to determine the right size and make your final selection. Consult the seller if you have any questions before making your payment.
Conclusion
Due to the numerous different styles of riding boots, buyers may become overwhelmed and struggle to select the right one. However, they simply need to familiarise themselves with the features of each style and then select one or two riding boots that is most conducive to the type of riding that they plan to do in them.
After selecting the right type, buyers still need to ensure that they select the right size for their feet as well as their calves if long riding boots are selected. Many brands have their own sizing charts, which sellers often provide, but a generic sizing chart can work as well.
Finding an affordable pair of riding boots does not have to be difficult, especially in an online store that provides filters, a search engine, and price range options like eBay. With these tools at their disposal, buyers can quickly find a riding boot that is the right style, fit, and price.