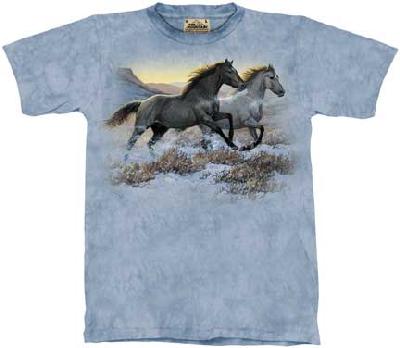 Originally manufactured as an undergarment, T-shirts became widely accepted as outwear after World War II. The T-shirt is a style of top with a characteristic T shape, which has the form of a body and sleeves. T-shirt sleeve length is usually short, but the garment may also have cap, three quarter length, or long sleeves. The length of the garment also varies from cropped to long. T-shirts can be fitted or hang loose from the wearer's body. T-shirts are available in a wide array of necklines, ranging from round to V-neck. T-shirts are known for their simple style, although some may feature buttons, collars, or other embellishments.
T-shirts are typically made of cotton knitted in a jersey stitch, giving the garment its soft texture. T-shirts often have no side seams as they are made from a woven tube of fabric. The manufacturing of T-shirts has become a highly automated process. The reduction of manual labour has led to the mass production and increased affordability of the garment.
When purchasing an affordable T-shirt, buyers should consider the T-shirt necklines, how each type can affect a woman's body shape, and how to choose the right size. In order to get the maximum use from an affordable T-shirt they should be cared for properly. Shoppers should also learn how buying in bulk can directly affect the affordability of T-shirts. T-shirts can be bought at clothing shops, department stores, and online at retailers such as eBay.
Types of T-Shirt Necklines
Women's T-shirts can be found with various necklines. Each type alters a woman's appearance and can range in its level of modesty, from conservative to revealing. Women should consider the visibility of undergarments with respect to the T-shirt neckline. Necklines that successfully hide bra straps may enhance the overall appeal of one type of neckline over another.
Crew Neck T-Shirts
Traditional T-shirts have a crew neck, otherwise known as a jewel neckline. This neckline is rounded and rests at the base of the throat. The fabric of the neckline must be sufficiently elastic to allow a woman's head to fit through the opening.
V-Neck T-Shirts
The neckline of a V-neck meets at a point above or between the breasts, depending on the depth. This style of T-shirt is ideal for women hoping to accentuate their cleavage as it is more revealing than other types. V-necks are also flattering for women with broad shoulders, as it draws attention towards the chest area, and away from the upper part of the body.
Scoop Neck T-Shirts
Scoop necklines are rounded, dipping down to reveal part of a woman's upper chest. The depth of the scoop neck can vary, ranging from a semi-circle to a plunging U-shape. Wearing a scoop neck T-shirt often requires an appropriate bra to give sufficient support.
Boat Neck T-Shirts
Boat necklines, also referred to as bateau necks, were originally designed for sailors. These necklines have a wide slit, cut from shoulder to shoulder, to ease the task of taking the T-shirt on and off. Boat necks generally cover the chest generously, falling just below the neck. The front and back of the T-shirt are usually cut similarly. The boat neckline often allows the bra straps to show. To avoid this problem, look for a neckline that is not widely cut or wear a strapless bra.
T-Shirts for a Body Structure
The right neckline can frame the wearer's shoulders, neck, and face. It can also alter their apparent width, height, and angularity. Women should consider a neckline that balances their natural features. A woman with a rounded face may benefit from an angular neckline, while a curved neckline can help to soften the appearance of a woman with a more angular face structure.
Similarly, strong vertical necklines, such as a plunging V-neck, complement a woman with a short neck and face, helping to lengthen the appearance. Conversely, women with long faces should balance their figure with a crew neck, which rests higher up. Pear shaped figures can balance out their larger lower halves with a boat neckline, which draws attention to the upper part of the woman's body.
Sizing T-Shirts
In order to size a T-shirt appropriately, women should consider their chest and torso length measurements. To measure the chest, women should place a soft tape measure under the arms and around the fullest part of the bust. The tape measure should be kept level across the back and comfortably loose. The torso length is measured from the top of the neck to the bottom of the waist.
| | | | | | |
| --- | --- | --- | --- | --- | --- |
| Dual Size | Small | Medium | Large | X Large | XX Large |
| Size | 8-10 | 10-12 | 12-14 | 14-16 | 16-18 |
| Chest (inches) | 32 | 34 | 36 | 38 | 40 |
| Length (inches) | 24 | 24 ½ | 25 | 25 ½ | 25 ½ |
When buying a T-shirt, it is important to remember that sizing tends to vary between manufacturers. Buyers should always consult the manufacturer's size chart before making a purchase.
Caring for Affordable T-Shirts
Buyers should always refer to the T-shirt's care label in order to determine the appropriate washing instructions. When laundering a T-shirt, most manufacturers recommend washing it in cold or warm water in order to prevent shrinking. 100 percent cotton T-shirts are especially prone to shrinking, whereas blended T-shirts tend to shrink less.
Whites should always be washed separately in order to preserve them. T-shirts in rich, deep colours should always be washed separately in cool water to prevent running. Buyers should use a colour-safe detergent to help to preserve the colours in the T-shirt and to protect any graphics from becoming distorted. Decorative T-shirts with embellishments or embroidery should be turned inside out before washing.
Buyers should use a fabric softener and immediately remove the garment from the dryer at the end of the cycle to prevent wrinkles. Properly caring for the garment will prolong its lifespan.
Buying Affordable T-Shirts in Bulk
T-shirts are a staple in almost every women's wardrobe, never going out of style and being worn for many different purposes, from casual wear to fitness. The most cost efficient method of purchasing T-shirts is to buy in bulk. Many T-shirts are sold in packs of three or five, allowing women to cut the costs associated with individual packaging, labelling, and advertising. Some bulk packaging may contain identical T-shirts, while others may vary the shirts within the pack by colour. Not only is this the more affordable route, but is also an environmentally friendly way to buy. Buying in bulk reduces the amount of waste entering landfills from individual packaging, and it takes less energy and fewer resources to manufacture in bulk.
Where to Buy an Affordable T-Shirt
T-shirts can be found at various bricks and mortar departments stores and clothing shops. Buyers looking for a more affordable option may also browse charity shops and car boot sales.
Alternatively, buyers can choose to buy a new or pre-owned T-shirt online. For buyers looking to pay a competitive price or who want a specific T-shirt style, eBay offers a large selection of products.
How to Buy an Affordable T-Shirt on eBay
Buying on eBay is a straightforward process. After typing in the search query, the buyer is brought to a page with hundreds of items available for sale. If searching for a specific type of T-shirt, it may be best to look at a broader category of T-shirts and then sift through the products to ensure that none are overlooked. Alternatively, a detailed search phrase can be used. Buyers are also free to browse the category listings provided by eBay.
The buyer can determine the validity of the seller at a glance by reviewing his or her feedback. Sellers with exceptionally good feedback have a badge stating that they are a Top-rated seller. Top-rated sellers are recognised by the eBay community for their high levels of customer service.
When purchasing on eBay it is best to buy an item with a validated form of payment. A credit or debit card, as well as PayPal are the preferred options of payment. A buyer should avoid paying by cash or cheque.
Conclusion
T-shirts make great casual wear. They are simple in design and require low levels of care. Shopping for a T-shirt on eBay is a good idea because buyers may find items for a fraction of the cost that they would pay on the high street. Choosing the right T-shirt is important, whether buying a new or pre-owned garment. Shoppers should consider the neckline and the effect that it has on the figure. Sizing may vary between manufacturers, so it always best to consult a manufacturer's size chart before to placing a bid.
When looking for affordable options, women should consider buying in bulk, as this is generally cost effective. Also, buying a good quality used T-shirt can save money. To prolong the life of the T-shirt, it should be laundered according to the care instructions. This reduces the replacement costs of the garment. With so many interesting and unique T-shirts to choose from, eBay can help any woman to find the most flattering garment for her body structure.