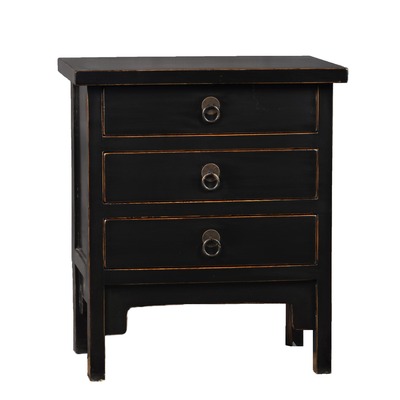 Buying an antique bedside table can be a challenging task as there aren't many dealers or shops that sell 50-year old, hundred year-old, or even two hundred year-old bedside tables. Finding a piece from a particular era or of a certain furniture style can be daunting. This buying guide is intended to give consumers information about the different types of bedside tables available and offers tips for finding them online at eBay. It includes a list of features and information that will assist the user to confirm the origin and authenticity of antique bedside tables.
History of Bedside Tables
Bedside tables were initially placed next to sleeping areas in European homes to hold the chamber pot, which was used before indoor toilets were invented. As plumbing became more advanced and indoor toilets became more common, furniture manufacturers developed other uses for the bedside table and produced more elaborate ones with drawers. These bedside tables adopted the furniture style of the time, such as Louis XIV, Victorian, and what was known as mid-century Modern. Today, these antique bedside tables have become valuable pieces of furniture that are sometimes sold at auctions. Other prized pieces are now displayed in museums.
Discover Antique Bedside Tables
Bedside tables made before 1960 will most likely be found in the antiques category of most retailers and auction houses. The features of each bedside table reveal the furniture style or era during which it was made. It is usually purchased for its appearance, classic European look and its history. It can also have practical purposes next to the bed to hold items such as a clock, glasses, medications, lamps and books.
Parts of Antique Bedside Tables
The antique bedside table is made of three main parts. Objects rest on the table top; the legs support the table, and the drawer stores items. Some antique beside tables may have additional parts.
| Part | Description |
| --- | --- |
| Table top | The table top is flat and smooth. The edges may be curved or straight and extend a few centimetres past the frame. |
| Drawers | The drawers are box-shaped, usually rectangular, with four sides and a bottom panel. The front of the drawer is usually a moulded piece and the top is open. The drawer sits on rails attached to the frame of the table. |
| Handle/ knob | Handles are u-shaped and attached by the ends to the drawer's front panel. Other bedside tables feature knobs, which are circular and placed in the centre of the drawer. Both are used to pull the drawer out. |
| Legs | The legs support the table and can be short or long, curved or straight. Two types of legs characteristic of antique bedside tables include cabriole legs and fluted legs. Some bedside tables feature a foot at the end of the leg. |
| Frame/ side panels | The side panels that encompass the back and sides of the drawer compartment are usually made of thinner pieces of wood than the rest of the table. Each panel may be lined at the base. |
| Door | Older bedside tables may feature a door. |
Types of Antique Bedside Tables
There are five types of antique bedside tables. Each one has a table top and four legs. They differ by the number of drawers.
No drawer – This type of antique bedside table consists of a flat table top and four legs.
One drawer – A one-drawer antique bedside table features a single drawer below the table top. It also consists of side panels.
Single-column drawer – This type of antique bedside table consist of several drawers stacked on top of each other in a single column. Usually there are three drawers, encompassed by side panels.
Double-column drawer – This type features two columns of drawers, with each column consisting of three drawers. This table is usually wider than other types.
Cabinet - This type of bedside table has a door and usually a single drawer above it.
Styles and Features of Antique Bedside Tables
There are several styles of antique bedside tables. Some of the most popular include mid-century Modern, French Country, and Victorian. The features of each style are described below.
| Type | Description |
| --- | --- |
| Mid-century Modern | This period of design between the 1930s and 1960s is characterized by clean lines and simplicity. Plain and natural colour wood, metal, and plastic were the materials used to produce this style. Mid-century Modern bedside tables originated in Europe. |
| French Country | French Country style captures the essence of the countryside. Natural materials are used and detailed wood carvings are common, as are bright colours. |
| French Provincial | Furniture produced in the provincial centres of France has a style unique to this region. The legs of furniture are curved and feature an ornamental foot. This feature appeared later in England, specifically in the Queen Ann style. |
| Louis XIII, XIV, XV, XVI | Furniture produced during the time of Louis XIII featured spiral and bead turning and most pieces were made from ebony. The Louis XIV style is known for its rounded form and curved lines. Ebony, walnut and oak were the main wood materials used to make furniture during this period. Louis XV furniture was highly stylized and decorated with bronze mounts. Some bedside tables feature hidden compartments accessible through spring locks. Furniture made during the reign of Louis XVI was much simpler than the previous styles. Straight lines and fluted legs were representative of this period. |
| Traditional | Traditional furniture has a blend of straight and curved lines, with wood pieces finished with dark stains. It is considered a classic style. |
| | Victorian furniture feature deep-curving lines, decorative carvings and lush upholstery. Mahogany and rosewood were the primary woods used in furniture production. |
| Chippendale | The Chippendale style is noted for its cabriole legs and ball and claw foot. |
| Renaissance | Renaissance furniture was made from walnut and featured decorative motifs and cornice moulding. |
Factors to Consider When Buying Antique Bedside Tables
Room style – One of the main concerns when buying an antique bedside table is trying to coordinate it with the existing furniture in a room, especially if the room is furnished with pieces from a specific period. For example, a Victorian bedside table would look out of place in a room furnished with mid-century Modern pieces. Narrow the search for an antique bedside table by style and view the pieces that fit a particular period. Confirm that the piece is from a specific period by examining the features. It may be challenging to distinguish between French Country, Traditional, or Renaissance, but reviewing images of the different bedside table styles will help in decision-making.
Appearance – There are antique bedside tables of different sizes, colour, and designs. Some feature a single drawer, while others have two columns of stacked drawers. The wood may be light or dark, and the bedside table may feature unique handles, knobs and moulding.
Condition - Another factor to consider when buying antique bedside tables is the condition of the furniture. Check for signs of damage including scratches, chips, wobbly legs and loose drawers. Also, check for missing handles or knobs. Most product pages on eBay will describe the condition of the furniture and include pictures.
How to Care for Antique Bedside Tables
Antique bedside tables, like other furniture, tend to wear down over time. Since they are older pieces, scratches and discolouration are common. One way to prevent any further damage to the surface of the table is to apply a protective coating, like furniture paste wax. This substance protects the wood from excess moisture in the air and UV rays from sunlight. For high end antiques one may want to consult an expert for advice on how to care for an antique bedside table.
Famous Makers of Antique Bedside Tables
Here are a few of the iconic table makers whose names still appear on many styles and makes of antiques found today:
Émile-Jacques Ruhlmann
Bernard II van Risamburgh
Thomas Chippendale
George Hepplewhite
Thomas Sheraton
Accessories and Add-ons for Antique Bedside Tables
There are several accessories that you can purchase with an antique bedside table.
Lamps
Clocks
Drawer handles
Drawer knobs
Finding Antique Bedside Tables on eBay
Once you determine the type of antique bedside table you want to purchase, visit the Antiques portal on eBay, click on 'Furniture', then 'Tables' and start searching item listings. The Categories list on the left-hand side of the eBay page helps to narrow the search.
Searching for Antique Bedside Tables on eBay
Search eBay listing titles for specific words when shopping for antique beside tables. For example, to find a Victorian bedside table, type 'Victorian bedside table' into the search box, and then click on the Advanced button to customise the results. Also visit eBay's Search Tips page for more advice on searching for antique bedside tables with keywords. If you can't find the exact bedside table you want, try shopping eBay Stores..
Conclusion
An antique bedside table can make a great addition to any home, providing a functional piece of furniture as well as complementing your home's décor. Antique bedside tables have distinctive features based on the era in which they were produced, making these characteristics an important consideration. Once you have collected all of the information that you need, you can buy an antique bedside table safely and securely on eBay..