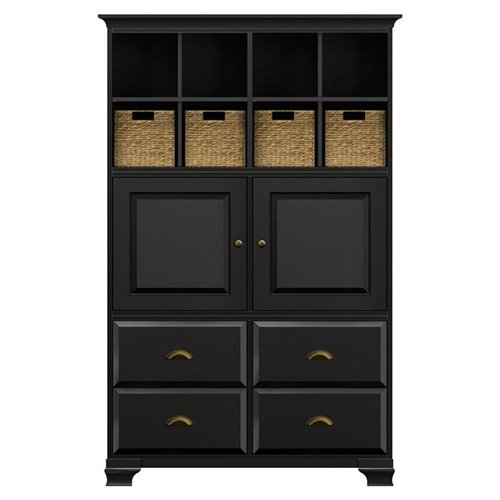 Antique cabinets can be a rare find, especially if they have been hand crafted and retain the furniture maker's initials. A genuine piece of antique furniture will always retain its worth, and if it is well maintained, the item could increase in value. Many customers may be put off by blemishes or marks, but this will not decrease the item's value. It is important to know that a genuine antique will be expensive, but a worthwhile investment. This guide will provide the in-depth information that is necessary before buying an antique cabinet. It goes into the history of antique furniture, why buying a piece can be advantageous, how to care for the item, and the features to look for to ensure it is a genuine antique.
History of Antique Cabinets
Cabinets and furniture have always been popular, but antique pieces are known for their perfect craftsmanship and authority. A piece of antique furniture can match the customer's personality and home interiors. Furniture dating back to the 17th century was carved from wood, as this material was abundantly available. High quality furniture then manifested due to the demand of individuals who wanted to showcase their wealth to society. Pieces of furniture were custom designed, and the furniture maker would add value to the item by dating and initialling the piece. Antique cabinets may be made from pine, oak, walnut, or mahogany, and each can affect its overall value. The type of furniture, its origin, construction and hardware can also determine its value. An antique cabinet, or other piece of furniture that has been altered, can be worth less than if it were left in its original condition.
Discover Antique Cabinets
Buying an antique cabinet can be a worthwhile investment, but it is important to learn more about what to look for before buying the item. The originality of a piece can add value to the antique, plus if there is a story behind the piece, this also adds value, e.g., if the antique cabinet was made for Royalty or it sat in the home of a president. Hand crafted items may have been initialled by the maker, which can also improve their value. It is worthwhile to note that imperfections in antique cabinets are often praised, rather than frowned upon. Antique items are also kind to the environment, as they are recycled and maintained to a high standard. A well cared for piece of antique furniture will either retain its value, or be worth more in following years.
Materials of Antique Cabinets
The main material of any antique cabinet is wood. Below is a list of some types of wood used to make antique furniture.
| Part | Description |
| --- | --- |
| Beech | Brownish white shade. |
| Cedar | A soft brown wood used in drawer linings. |
| Elm | Durable yellowed brown wood with robust markings. |
| Birds eye maple | During the Regency period this wood was used for veneers and it polishes well. |
| Mahogany | Its colour varies from red to dark brown and due to the tree's wide girth, it is frequently used for table tops. |
| Oak | A durable strong dark wood used in the drawer linings of furniture. It was a popular material source pre-1800s. |
| Rosewood | A tropical hardwood with a marked grain in a variety of warming shades. |
| Padouk | A dark red shade of wood with a similarity of mahogany. |
| Yew | A tough pliable wood with strong markings and warming shades including dark brown and orange red. |
Types of Antique Cabinets
Antique cabinets are not cheap but any restoration will be indicated in the price. Listed below are some popular antique cabinets.
| Type | Description | Advantages | Considerations |
| --- | --- | --- | --- |
| Early Victorian Mahogany Cabinet | c.1850, these cabinets includes a marble top and mirrors to the front of the cabinet. | There is a right shelf on the inside of the cabinet, and to the left a flight of drawers. | Also available with a mahogany top. |
| Edwardian satinwood inlaid display cabinet | Attractive piece with four compartments. | Crafted design to the rear end of each glass. | c 1901. |
| Antique pair walnut pier cabinets | C 1860, these cabinets have an unusual shaped door. | The bookcase cupboards are made from burr walnut. | Although they are expensive to buy, they will retain their value if maintained. |
| Antique Regency rosewood breakfront side cabinet | Three silk panelled doors connected by columns. | Has an original plinth base. | A clean unique cabinet. |
Factors to Consider When Buying Antique Cabinets
Before buying antique furniture, it can be worthwhile to learn more about what makes this genre unique. Consider the markings, rarity, an original finish, and production quality.
Original material – Has the material or the antique cabinet been altered in any way? Do not worry about any wear and tear, as this can still be of considerable value to collectors.
Original finish – A finish can increase the value of antique cabinets, and the less damage to the external material, the higher its value. If the item has been refinished, its value will reduce.
Markings – The furniture maker or manufacturer may be marked on the item. This indicates the time period in which the furniture was made, and its maker.
Age – The more rare the antique cabinet, the older it will be, and the higher its value.
Production quality – An antique cabinet that has been mass produced will not retain the value of a one-off crafted cabinet that has been initialled by the maker. Alternatively, buying an earlier version of an antique cabinet that has now been mass-produced can be of considerable value.
Hand carvings and detail: Hand carved patterns on antique cabinets are desirable and may form part of a set. Any item made for royalty or famous people have a higher value.
How to Care for Antique Cabinets
Antique cabinets carry a warmth that cannot be obtained from mass-produced furniture. If the piece has been well maintained and waxed, it will be well preserved and provide years of use. It is important to care for antique cabinets, so do not spray household furniture spray directly onto the item. Feather dusters should also be avoided, as anything with a rough texture could damage the cabinet. Use a clean soft cloth without any product to remove dust. Rub beeswax into the wood to build a deep layered finish. Cheesecloth can be used for waxing, but apply the wax sparingly. During cleaning, if a piece comes lose, put it to one side and contact a restoration expert. Attempting the repair could ruin the item's value. Keyholes, decorations and brass knobs must not be polished with a metal cleaning product, as the wood beneath may become damaged. Instead, dust them frequently throughout the year. Mould and mildew can appear on furniture that has received too much moisture. If this occurs, consider investing in a dehumidifier to preserve antique furniture.
Popular Antique Cabinet Manufacturers
Samuel Bennett
John Cobb
George Hepplewhite
George Seddon
William Moore
Gillow's
William Ince and John Mayhew
Thomas Chippendale
William Kent
Thomas Sheraton
Accessories and Add-ons for Antique Cabinets
When it comes to cleaning an antique cabinet, it is important not to use household furniture spray cleaner, as this can damage the patina. Instead, use beeswax to preserve the item; apply wax with a cheese cloth.
Cheesecloth
Beeswax
Wax
Soft cloth
Container (for when pieces falls off during cleaning)
Dehumidifier
Finding Antique Cabinets on eBay
Once you determine the type of antique cabinet you want to purchase, visit the Antiques portal on eBay, click on 'Antique Furniture' then 'Cabinets' and start searching item listings. The Categories list on the left-hand side of the eBay page helps to narrow the search.
Searching for Antique Cabinetson eBay
Search eBay listing titles for specific words when shopping for antique cabinets. For example, to find a Victorian burr walnut bedside cabinets with secret drawers type 'antique cabinets' into the search box, and then click the Advanced button to customise the results. Also visit eBay's Search Tipspage for more advice on searching for antique cabinets with keywords. If you can't find the exact antique cabinet you want, try shopping eBay Stores.
Conclusion
If you are considering the purchase of an antique, it is important not to rush through the process. Look for pieces that have been hand crafted and include the initials of the furniture maker. If an item has been restored to its original quality by a professional, this may also be indicated in the price, however, blemishes and markings on an antique cabinet will not decrease its value.
If you have noticed an antique item on eBay, and there is not enough information currently listed for you to make an informed choice, do not be afraid to ask the seller for more information before placing a bid. You should be completely confident before buying an antique. Sellers are used to the process of being asked questions and are happy to help. Having as much knowledge as possible about the product that you want to buy is always advised.
Once you have collected this information, you can buy an antique cabinet safely and securely on eBay.