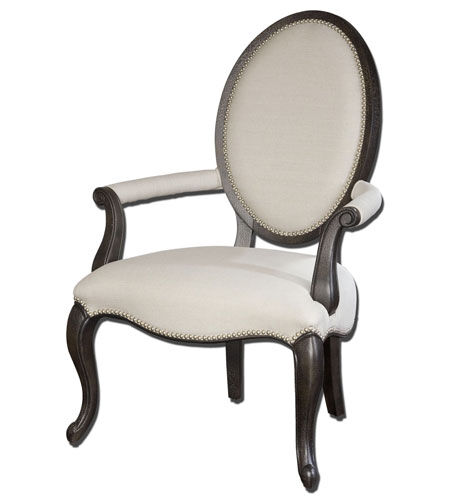 Whether it is for the bedroom, lounge, or dining room, antique furniture can be a stunning addition to any home or collection. Its rarity, combined with its beautiful design and quality construction, come together to provide a buyer with something that cannot be found with new, or vintage furniture.
With many sellers and a wide variety of choice when it comes to buying antique chairs,, there are a few guidelines that can help with the identification and purchase of the right piece of furniture to meet a buyer's specific needs. Consideration of what makes a chair antique, the types of antique chairs available, their typical features, and how to evaluate and care for damaged pieces, a prospective buyer is better prepared to find the ideal antique chair.
History of Antique Chairs
Some of the earliest furniture dates back to the Neolithic period. These pieces were made of stone and, unsurprisingly, heavy and unsightly. Though wooden thrones are known to date back thousands of years, wooden chairs became popular from the Middle Ages onward. Several periods of chair design followed, often named by the predominant wood species used for construction at the time. The Age of Oak during the Middle Ages led to the Age of Walnut,, and styles continued to change through the centuries to more common seventeenth and eighteenth century antique pieces. Victorian designs, marked by the period of Queen Victoria's reign up to the end of the nineteenth century, are an example of some of the more recent antique chair styles.
Discover Antique Chairs on eBay
It is important for a buyer to consider what constitutes an antique chair before venturing to eBay's online community of sellers. Considering that interpretations of 'old' and 'rare' are subjective, it is preferable to understand the age of each piece for evaluation. Some collectors regard 1930 as a cut-off period for the term antique. This is due to the introduction of a US tariff on imported goods that did not include items of quality built before high-volume production. Other collectors and professionals more commonly consider one hundred years as the mark of an antique.
Parts of Antique Chairs
At a quick glance, antique chairs may appear as a singly designed piece, but through tireless work, chair makers constructed each item from several parts.
| Part | Description |
| --- | --- |
| Leg | One of four that support the chair under the seat |
| Armrest | One of two placed either side of the seat at elbow height |
| Seat | Where the user generally rests his or her weight |
| Splat | Vertical piece added to the seatback used for back support |
| Rails | Horizontal pieces of the seatback that offer structural support between stiles |
| Stile | One of two vertical supports that create the sides of the seatback |
| Manchette | Padded addition to the armrest |
| Stretcher | A horizontal support that connects the legs below the seat |
| Shoe | Connects at bottom of a splat for easy removal of splat if broken |
| Headpiece | The top rail of the seatback |
| Apron | Four horizontal strips that create the outside support of the seat |
Types of Antique Chairs on eBay
There are many types of styles and designs of antique chairs that have been crafted over the centuries. The table below outlines a few of commonly known and popular types of antique chairs.
Type

Description

Advantages

Considerations

Bergere

Almost completely upholstered chair with curved back

Comfortable

Upholstery may require careful cleaning

Chaise Longue

A long chair allowing the user to lay down

A unique piece

Sizeable and may be too big for some rooms

Corner

A chair with a backrest design to fit around a 90 degree angle

Space saving

Not likely to be comfortable for long periods of time

Fancy

Federalist style often without armrests

Light and easy to move

May have fragile cane seat or similar requiring care

Fauteuil

Upholstered armchair

Comfortable seat and armrests, often padded

Upholstering may require careful cleaning

Klismos

Small and light with curved legs and concave back

Light and easy to move

May or may not be upholstered

Ladder Back

High backrest with several horizontal supports instead of a splat

A markedly unique backrest design

May have a fragile woven seat requiring care

Morris Chair

Deep, reclined backrest with heavy cushioning and also solid armrests

Comfortable piece suitable for many rooms

May be quite heavy and hard to move

Ribbon Backed

Ornate backrest

Attractive for its attentive splat craftsmanship

Splats can be thinner and more fragile due to ornate woodwork

Savonarola

An x-shaped chair

Can be a true antique dating back hundreds of years

Recent revivals of the design will not necessarily carry the same antique value

Slipper

Upholstered, armless and low to the ground, often with a high back

Ornate and beautiful

Has been revived in recent decades

Upholstery may require careful cleaning

Windsor

Light wooden chair with a back comprised of many thin vertical spindles

A simple design that may go with most settings

Number of wood pieces increases chance of breakage

Writing Arm

Wooden chair with one arm extended into a small desk

Multifunctional

Not practical for recreation
Factors to Consider When Buying Antique Chairs on eBay
Before finalising a decision to purchase an antique chair on eBay, it is important first consider the factors outlined below.
Seat Upholstering and Material – Woven seats or upholstered chairs may require greater care and be more susceptible to damage such as tearing. They may also have been replaced during the chair's life.
Antique Style – Design alone does not define an antique. A buyer should be sure of the piece's approximate date of manufacture.
Wood Damage – Due to their age, antique chairs are fragile and prone to cracking and wear.
Refurbishment – Some antique chairs will have already been refurbished from their original condition, which can alter their value.
Joints – The condition of the glue and joints on an antique chair can drastically alter its ability to be used.
Moving – Transporting antiques is a delicate procedure. Check the geographical location of eBay sellers and consider transportation.
Typical Features of Antique Chairs on eBay
1. Upholstery
Upholstery is padding that is added to the structure of the chair and can be anything from coloured fabric through to springs and leather.
2. Seats
Antique chairs on eBay have a variety of seats, some that are woven in to the wooden frame and some that may able to be removed.
3. Ornate Woodwork
Many of the elements in an antique chair are specially carved. These ornate designs in the woodwork can extend from the backrest through to the feet of the chair.
4. Specific Wood Species
Antique chairs are often sought after for the quality of the wood that they are built from. This could refer to anything from oak through to mahogany. Different wood varieties will give the chair different qualities such as colour and weight.
How to Care for Antique Chairs
There are a few simple guidelines to follow when it comes to ensuring that antique furniture is well cared for. One important factor is considering where the antique chair is stored. Direct sunlight and pests can easily damage an antique chair's wood or upholstery. Be sure to keep antique chairs away from very dry areas such as attics, as the wood they are built from requires a certain level of moisture to maintain longevity.
Cleaning and polishing can be a great tool for caring for an antique piece, but a buyer should be careful not to overwork the chair with cloths, polishes or oils, as they can be detrimental if used too often. Many of the choices in antique care also depend on the existing finish. It is also important to remember that the original finish of an antique chair can potentially change its value, so be careful before purchasing refinished antiques.
Popular Antique Chair Manufacturers
Generally antique manufacturers no longer operate; however, it is still helpful to know some of the popular names of the past.
Gillows
Edwards and Roberts
Howard and Sons
Robert H and James Simpson
Taylor and Son
Chippendale
Thomas Sheraton
George Hepplewhite
William Kent
John Linnell
Accessories and Add-ons for Antique Chairs
Predominantly made of wood, antique chairs also have additional wood care products that can be useful for maintenance after purchase.
Refinisher
Antique Furniture Wax
Stain Marker
Finding an Antique Chair on eBay
Once you determine the type of antique chair you want to purchase, visit the Antiques portal on eBay, then on the Chairs category and start searching item listings. The Categories list on the left-hand side of the eBay page helps to narrow the search.
Searching for Antique Chairs on eBay
Search eBay listing titles for specific words when shopping for antique chairs. For example, to find an antique Victorian slipper chair, type `antique Victorian slipper chair´ into the search box, and then click the Advanced button to customise the results. Also visit eBay's Search Tipsppage for more advice on searching for antique chairs with keywords. If you can't find the exact chair you want, try shopping eBay Stores..
Conclusion
When contemplating the purchase of an antique chair, a buyer is faced with more considerations than simply which room to put it in. Careful consideration of what chair suits what needs, as well as the guidelines listed above helps prepare buyers for a successful purchase. Being aware of the parts and types of antique chairs can help, not only with visual identification, but also with potential concerns that may also be involved with the purchase of these very old collectables. Once you have collected this information, you can buy an antique chair safely and securely on eBay..