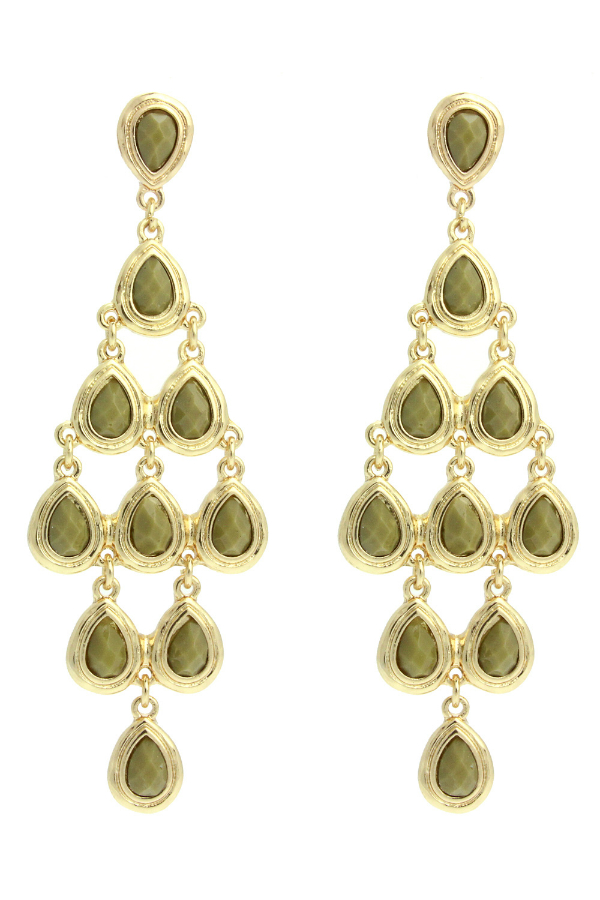 Most women have a collection of earrings with which to accessorise their outfits everyday. Earrings draw attention to the head and face, accentuating the wearer's attractive qualities. A woman's earring collection may range in size from a few basic pairs to dozens of pairs in different styles, metals, lengths, and sizes.
Fine jewellery can be expensive, and earrings are no exception. When it comes to finding affordable jewellery, some women opt for vintage or antique styles, such as antique chandelier earrings. Antique chandelier earrings are delightfully ornate and bear a certain old-world charm. They are often much less expensive than fine modern chandelier earrings. Through eBay and through local retailers that sell vintage accessories and antiques, buyers should be able to locate a selection of antique chandelier earrings. Shoppers should be sure that the earrings fit their personal style, complement their wardrobe and their facial features, and are in good condition.
Recognising Chandelier Earrings
Chandelier earrings draw their name from the traditional chandelier lighting fixture, which incorporates multiple layers or tiers suspended from a single point. Chandeliers often have small, glittering pendants attached to their tiers, and the same type of structure is also used in many types of chandelier earrings. From their attachment point at the ear, chandelier earrings descend in spirals, loops, circles, or curves that are often embellished with gems, beads, crystals, pearls, and other design elements.
Identifying Antique Chandelier Earrings
The term 'antique' generally refers to items that are over fifty years old. Chandelier earrings were especially popular during the 1960s, so much of the current selection of antique chandelier earrings is from that period. However, styles that are very similar to the traditional chandelier earring date back much further.
Antique chandelier earrings are typically intricate and complex in design. Many incorporate floral or natural themes in the design, such as rose leaves, vines, seashells, flower petals, and fleur-de-lis. Filigree and teardrop shapes are also common.
Considering Key Factors
Buyers must take into account several factors as they begin shopping for their antique chandelier earrings. They should consider the metal that the earrings are made of, the colour of the stones or beads, and the length of the earrings. They must also keep in mind the overall style of the earrings so that they can determine what other accessories they might need.
Metal
The metals most commonly used in fine antique chandelier earrings are sterling silver and gold. Chandelier earrings that are solid silver or solid gold can get very heavy, so buyers should look for earrings that have plenty of open spaces in the design to lighten the load. They may also want to select antique earrings that are made of a cheaper, lighter metal with a gold or sterling silver plating.
Some buyers may be sensitive to impurities within certain metals or to specific metal alloys such as nickel. High-grade sterling silver plating or gold plating that is nickel-free can prevent the redness, itching, and irritation that accompany a nickel allergy or similar skin sensitivity. When selecting antique jewellery, buyers with such allergies need to be very careful to identify the kind and quality of the metal that was used to create the earrings.
Colour
Women who are shopping for antique chandelier earrings face a broad array of colour choices. The beads and gemstones set in the earrings may be crystal white, light pink, earthy brown, turquoise, jade green, vivid blue, rich red, black pearl, amber, or some other hue. Unless buyers have a plan for their new accessories, the sheer variety of colours may become overwhelming. Women may end up purchasing more pairs of earrings than they can afford and still lack the one perfect pair that they need to complement a certain outfit.
Rather than starting the shopping session without a plan, a woman should go to her closet or wardrobe and consider any dresses or ensembles that would look stunning with a pair of antique chandelier earrings. The earrings should match or complement a colour that is already present in the pattern of the dress or in a particular clothing item within the outfit. For instance, a black dress suit in a feminine cut could be paired with red heels and a pair of short antique chandelier earrings featuring black and red stones. An outfit that combines turquoise and different shades of brown could be accessorised with chandelier earrings studded with turquoise stones. Personal taste comes into play in the selection and combination of clothing and accessories. If woman is unsure whether a particular ensemble works with her antique chandelier earrings, she may find it helpful to request advice from a fashion-savvy friend or relative.
Length
Chandelier earrings vary widely in length. Some come just below the bottom of the earlobe, while others fall nearly to the shoulders. Earrings worn during the day should be fairly short. In the evening, there are a few rules that determine the ideal length of chandelier earrings.
Some women wear their hair up for the evening's activities; other women simply have short hair. In either case, the chandelier earrings should not fall past the wearer's jawline. If they do, they can unbalance the look, overly exaggerating the shortness of the hair.
Women with longer hair that comes to their shoulders or below should choose a pair of lengthy chandelier earrings. A short pair disturbs the lovely long lines and adds width to the face, while a long pair continues the vertical line and makes the face appear more slender.
Age is another factor to consider when choosing the length of chandelier earrings. The majority of younger women tend to wear longer, flashier chandelier earrings. Many older women, on the other hand, tend to prefer a sleek, sophisticated look in shorter chandelier earrings.
Style
Some buyers may wonder if they should select a necklace to go with their antique chandelier earrings. Chandelier earrings are by design a bold and luxurious style, and antique chandelier earrings are often extremely elaborate. One should usually wear these magnificent earrings alone, without a necklace. Even a basic, simple necklace can disrupt the effect of the earrings and cause the look to become cluttered and fussy. Women can pair very short, simple chandelier earrings with a single chain, a basic locket or pendant, or a string of pearls. However, most chandelier earrings have a more dramatic effect when worn alone.
Weight
Most designers of antique chandelier earrings took care to create earrings that would not cause too much stress to the earlobe. However, buyers should still be cautious regarding the weight of their chandelier earrings. If the earrings feel slightly heavy, they may not be the right choice. The frequent use of heavy earrings can distort the shape of the ear piercing and cause the earlobe to sag permanently, even when there is no earring in place. In the worst cases, heavy earrings may cause inflammation, bleeding, and infection. Buyers should purchase chandelier earrings that are so lightweight as to be virtually unnoticeable when they are worn.
How to Buy Antique Chandelier Earrings on eBay
eBay offers shoppers a wide selection of products, including antique jewellery items. To look for antique chandelier earring on eBay, simply go to eBay's homepage and type 'antique chandelier earrings' into the search bar. eBay returns a list of results almost instantly. If there are too many listings to sift through in one shopping session, try filtering your search by choosing the condition, price, seller options, distance, or shipping options that work best for you. You may also want to conduct a search through eBay Shops, another section of the eBay website which emphasises a retail-style environment and includes no auction listings. After you conduct a search, you can save it, allowing eBay to notify you whenever sellers post new listings for antique chandelier earrings. This feature helps you stay up to date with the latest bargains.
Check each listing for benefits such as package deals, bundled items, or free P&P (postage and packing). Look for the Top-Rated Seller seal to find listings from sellers with high feedback scores from their previous customers. These top-rated sellers are likely to offer you great service, fast shipping, and a high-quality product.
Conclusion
As buyers shop for antique chandelier earrings, they may become overwhelmed by the variety of options available. However, if they first consider their accessory needs and the predominant colours of their wardrobe, they may find it easier to choose to perfect pair of earrings. They should also consider the metal of which the earrings are made, including its quality and any alloys or impurities that might be present. Additionally, shoppers must think about the events and activities to which they plan to wear the earrings so that they can select the most appropriate length. If the earrings are simple, buyers may want to purchase a coordinating necklace. In addition, they should be sure to choose earrings that are very lightweight so that no undue stress is placed on the earlobes. With these factors in mind, buyers should be able to select a stunning pair of antique chandelier earrings that will prove to be lovely, long-lasting statement pieces.