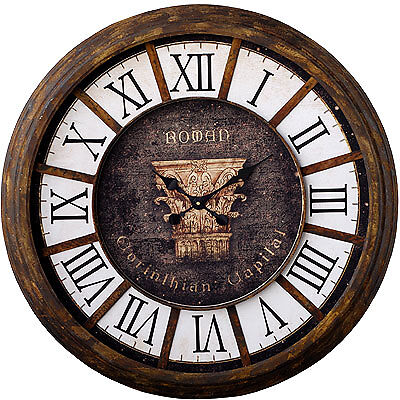 Antique clocks are can be a wonderful investment, both aesthetically and financially. Often passed down through generations, antique clocks can be a valuable collector's item as well as adding charm and elegance to any room. Although typically cased in sturdy housing, the interiors of these clocks are made up of delicate moving parts and this makes them susceptible to damage over years of use. This doesn't have to signal the demise of the clock, but it does mean the time has come for some care and attention.
Antique clocks can suffer the effects of wear and tear over the years, especially if they haven't been properly maintained. When antique clocks no longer function as they were originally meant to, they decrease in value. Once the problem has been identified, antique clock parts can be purchased that can help restore these historical gems back to their original style and purpose.
Research and investigation can help clock owners identify and source out missing and damaged antique clock parts. This guide outlines the various antique clock parts, types of clocks, and manner of care that can help make purchasing antique clock parts an easier process.
History of Antique Clockmakers
Clocks and monitoring of the passage of time is deeply embedded in the history of humankind. Clocks have been around since the 13th century, but the term clockmaker wasn't used until a century later. Clockmakers were master craftspeople who made clocks by hand. Clock making was a highly specialised skill, and from the fifteenth through the seventeenth century clock making was considered to be a very technically advanced trade. Many clockmakers also designed and made scientific instruments.
The 16th century saw the establishment of guilds specifically for the clock-making trade. To be a member of a guild, clockmakers had to have gained a large amount of experience and practice. The Worshipful Company of Clockmakers was one of the first guild established 1631.
Although the nineteenth century led to the mass production of clocks, clockmakers still looked after designing, assembling, and adjusting clocks. By the twentieth century, clockmakers specialised more in the repair of clocks with the advent of the standardization of clock design. Today, clockmakers still exist with the same skill and experience as their predecessors who specialise in the restoration of antique clocks.
Discover Antique Clock Parts
Clocks that are 100 years and older are generally considered antiques. Because of their well-crafted and handmade designs, many antiques clocks have been passed down from generation to generation. Over time, antique clocks can break down and moving parts may no longer function. There are many antique clock parts available that can replace missing or non-functioning elements and restore them back to their original quality.
Antique Clock Parts
| Part | Description |
| --- | --- |
| Anchor | Shaped similar to a ship's anchor, it swings back and forth on a pivot just above the escape wheel as part of an anchor escapement mechanism. |
| Anchor Escapement | A type of escapement that used in pendulum clocks responsible for the pendulum swing that advances the clock's wheel forward, which ultimately moves the clock's hands. |
| Brocot Escapement | A type of deadbeat escapement that utilises semi-cylindrical pins. |
| Cannon Pinion | A long extended pinion on the centre mechanism that holds the minute hand. |
| Case | Protective covering that houses the clock movement mechanisms which are typically held in by case screws. |
| Centre wheel | The wheel located on the centre mechanism that rotates once per hour. |
| Chimes | A sequence of musical notes that typically denote the quarter hour. |
| Click | Stops the ratchet wheel from rotating backwards. |
| Deadbeat Escapement | A type of anchor escapement without recoil, providing greater accuracy. Most 19th century pendulum clocks feature deadbeat escapement. |
| Dial | The face-plate of a clock where numerals are marked. |
| Escapement | A mechanism such as a pendulum or spring that controls the speed of the clock. |
| Fly | Rotating plate that controls the speed of the striking or chiming trains. |
| Fusee | A pulley device that evens out the tension on the pull of the mainspring. |
| Going train | Wheels and pinions that drive the escapement. |
| Mainspring | A spiral spring that controls the movement of the clock. |
| Pallet | The engaging teeth in the escape wheel. |
| Pendulum | A weight on the end of a rod that uses gravity to keep the time on a clock. |
| Pinions | Small gears that are driven by larger gears. |
| Ratchet wheel | Works in conjunction with a click to ensure unidirectional rotation. |
| Rating nut | Allows the pendulum length to be altered to change the rate of the clock. |
| Striking train | Wheels and pinions that control the strokes sounded at the hour. |
| Wheels | Large gears that drive the movement of pinions. |
| Winding button | Knob on a clock used to wind the timing mechanism. |
| Winding stem | The small shaft in the movement that is attached to the winding button. |
Types of Antique Clocks
The following table outlines some of the antique clocks that were made by a wide variety of makers. Understanding the different types of clocks help owners and collectors identify the type of antique clock parts that may be needed to keep their investment functioning and valuable.
| Type | Description |
| --- | --- |
| Carriage Clocks | A small clock found in 1800s Europe that features a plain circular or rectangular face and brass case. |
| | A smaller clock developed in France in the 1750s that would sit on a shelf or fireplace mantel. |
| Bracket Clocks | Ornamental-looking clocks from the 17th and 18th centuries that were originally mounted to the wall and featured hanging weights. Spring-driven bracket clocks incorporated a small decorative shelf and handles for transportation. |
| Dial Clocks | Spring-movement clocks with round black-painted dials developed in around 1720s. |
| Tavern Clocks | A wall-hanging clock with a large face and plain design found in taverns in the 18th century. |
| Longcase or Tallcase Clock | More popularly known as grandfather clocks, these striking clocks featured weight-driven pendulums that were housed in the tower or waist. |
| Lantern Clock | These weight-driven clocks look like an old hand lantern and featured a brass case. |
How to Care for Antique Clocks
Proper care goes a long way in keeping antique clocks functioning and looking their best. One of the actions that can create the potential for damage to antique clocks is in transferring them place to place. With so many intricate parts and heavy weights, moving clocks can cause damage to internal mechanisms and add scratches to original finishes. Any transport needs to planned carefully.
Antique clocks also need to be cleaned carefully. Wearing gloves when cleaning an antique clock will help ensure that dirt and oils won't transfer to metal parts that can then corrode or rust. A soft cloth is the best choice for dusting antique clocks to prevent scratches.
It is important to ensure clocks remain in environments with consistent humidity. Wooden clocks require the right amount of moisture as to not dry out, while metal clocks require lower humidity to prevent corrosion.
Winding an antique clock regularly is also important to maintaining its working condition. If the mechanical movement of an antique clock stops abruptly on its own, it can suffer damage to its internal parts.
Following these few careful steps can help prevent damage and keep antique clocks in great condition.
Popular Manufacturers of Antique Clocks
The following list identifies some of the known antique clockmakers from England.
Aaron Lufkin Dennison
Benjamin Lewis Vulliamy
Charles Frodsham
Edward John Dent
J. B. Joyce and Company
James McCabe
John Arnold
John Ellicott
John Harrison
Joseph Knibb
George Graham
Martin Burgess
Richard Donisthorp
William Clement
William Potts & Sons
Finding Antique Clock Parts on eBay
Once you determine the type of antique clock you want to purchase, visit the Antiques portal on eBay, click on 'Antique Clocks', then 'Clock Parts' and start searching item listings. The Categories list on the left-hand side of the eBay page helps to narrow the search.
Searching for Antique Clock Parts on eBay
Search eBay listing titles for specific words when shopping for antique clock parts. For example, to find Antique Mantle Clock Pendulum type Mantle Clock Pendulum into the search box, and then click the Advanced button to customise the results. Also visit eBay's Search Tipspage for more advice on searching for antique clock parts with keywords. If you can't find the exact antique clock parts you want, try shopping eBay Stores.
Conclusion
Antique clocks are a wonderful addition to any home or collector's set. Knowing the correct steps to properly care for an antique clock will go a long way to ensure it stays in great condition. General wear and tear, improper movement, or lack of care can end up damaging clocks and causing them to break down.
When an antique clock no longer functions, it doesn't necessarily mean it's ready for recycling or time to sell it off for parts. There are a wide range of antique clock parts available that can help restore non-working antique clocks back to their former glory.
Gaining a deeper understanding about the types of clocks and the various parts that make them function can help in determining if and how an antique clock can be restored. Once you have collected this information, you can buy antique clock parts safely and securely on eBay.