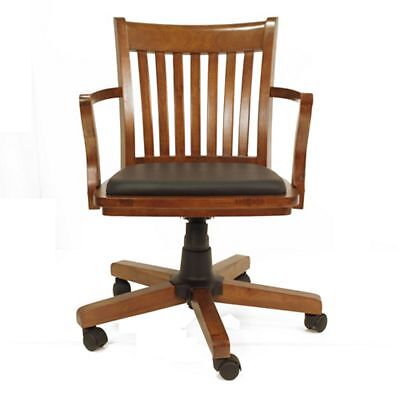 The sheer variety of antique desk chairs that have been produced throughout history has made them an item of particular interest to collectors, while their comfort and simplicity have made them a popular item for lovers of modern design. Since their first appearance, they have been influenced and changed over hundreds of years providing a sense of history and uniqueness. Before jumping online to stake a claim in this beautiful market, there a few things a prospective buyer should know. They should be aware of the many different styles available, as well as the best ways to maintain and care for valuable antiques. With all this in mind any buyer should be more than ready to bring a beautiful antique into their home without delay.
History of Antique Desk Chairs
The history of desk chairs begins with the history of desks themselves. The popularisation of desks in the late seventeenth century lead to a rise in ornate chairs made for the upper class from rich mahogany.. The famous designer Thomas E. Warren is credited with inventing the most famous early desk chair in 1849, creating the Centripetal Spring Armchair,, which had a swiveling seat, wheels and a headrest. It wasn't until the Industrial Revolution of the early nineteenth century that administrative work became an important element of business. This led to a boom in desk and desk chair production. Around this period wheels were added to many models to increase mobility and efficiency, legend has it Charles Darwin invented this idea though it is still disputed. The majority of antique desk chairs available today come from that era, though a lucky collector can find one of even older and more ornate make. The desk chair eventually gave way to the modern office chair that remains a fixture in the business world.
Discover Antique Desk Chairs
Antique desk chairs can help turn any study room into the centerpiece of the house. Though antique desk chairs do not always have the casters, height adjustments or the pivot of the modern office chairs available today, what they do have is a sense of grandeur and style that modern desk chairs sometimes lack. Their commitment to style over comfort was part of their attempt to add importance and pride to working life. Antiques are objects that have attained an age that makes them an eyewitness to the history of human civilisation.
These desks usually show excellent craftsmanship and design that keep them functional for decades. The lack of self-assembly and absence of small parts means there will be little difficulty transporting or finding the right place for this item. The antique desk chair can lend a stately elegance to any workspace while also serving as a relaxing place to work and think.
Parts of Antique Desk Chairs
There are many parts that help make an antique desk chair unique from other chairs of the time. These unique parts added to the movement and functionality of the desk chair in an office or home setting.
| Part | Description |
| --- | --- |
| Casters | Caster wheels are found on most modern office chairs and came to prominence in the late nineteenth century. These small wheels offer the ability to move the chair around the workplace without getting up, thereby increasing productivity and conserving energy. |
| Revolving Seat | The seat's placement on a strong metal shaft allowed it to turn 180 degrees. This made it possible to focus on many different places without leaving the chair. In later models it also allowed tilting. |
| Arm or Armrests | Most desk chairs would feature arm rests though rarely back rests to keep the worker comfortable without being too relaxing. |
| Seat | The seat on antique desks was usually upholstered in fabric for comfort, though later variants would lean towards leather seating. |
Factors to Consider When Buying Antique Desk Chairs
Antique desk chairs are much like any other rare item or collectable, in that they require thought before purchase. Once a buyer has decided on their purchase a few more factors must be deliberated upon.
Antique or not? - If your heart is set on owning a true antique, then the age of the chair will be the first question you should ask of the seller. Items are typically considered antiques if they are at least 100 years old, but if a chair is close to that age and you intend on keeping around, it can become an antique while you own it.
Size - Whether it fits in with the rest of the office. Buyers should consider the style of the office that they already have. Would adding the potential chair add to or distract from the style already in place? Matching a chair to the same wood tones as its intended partner desk is ideal, but can be difficult.
Condition - Ensure they are still usable. Don't let minor damage prevent a purchase, but also be sure to avoid picking up a chair that might require more repair work than is anticipated. Be willing to put some work in restoration, but unless you're prepared for a big job, ensure that the 'skeleton' or load bearing parts are in good working order.
Replacement parts - Be prepared to replace things like casters and other minor items. These are much easier to install, but finding a part that matches the others may be difficult.
How to Care for Antique Desk Chairs
Antique desk chairs are large and sturdy. They can often take quite a bit of punishment. So long as these chairs are treated with the care they deserve, maintenance should be a simple task. However, accidents do occur, and in those cases professional help should be sought out. A full repair of any antique chair is a long process that can be quite problematic, if such a thing is require it may be better left to local furniture repair companies. A simple waxing, using antique furniture wax every few months, is usually enough to protect a solid chair. When it comes to ripped or damaged upholstery, the sooner action is taken the better, as these tears could continue to widen. Consider that sometimes damage and age add to the look of a chair and attempt to remove these marks may do more damage than good
Popular Antique Chair Designers
There are many famous designers in the world of antique chairs. Each brought their own style and method to this hand crafted art. This look also existed in the world of desk chairs where style and grace often topped functionality and comfort in the early Victorian years. Here is a list of some of the most famous and renowned.
Thomas Chippendale (1718-1779). Possibly the most famous manufacturer in England, worked in the Georgian, Rococo, and Neoclassical styles. His creations include some of the earliest writing desks for landowners throughout England.
John Linnell (1729-1796). A Neoclassical designer of some influence, his work was spread mostly in the north of England. He was most famously patronised by George IV.
William Kent (1686-1748). An influential and important chair designer. In his time he became one of the most celebrated designers in all England.
Thomas Sheraton (1751-1806). A longtime rival of Chippendale and inventor of the rectangle back. Sheraton style. His desk chairs were known for their rigid nature favouring workmanship over comfort.
George Hepplewhite (1727-1789). Helped bring thing slats into vogue and is known for creating a much more artistically pleasing chair. His lack of experimentation led to the Hepplewhite style being one of the most well known throughout the world.
Thomas E. Warren (1808-1877). Helped revolutionise the desk chair industry and is credited for inventing many of the modern advances that office chairs take for granted including adjustable height and the ability to lean.
Finding Antique Desk Chairs on eBay
Once you determine the type of antique desk chair that you want to purchase, visit the Antiques portal on eBay, click on 'Antique Furniture' and start searching item listings. The Categories list on the left-hand side of the eBay page helps to narrow the search.
Searching for Antique Desk Chairson eBay
Search eBay listing titles for specific words when shopping for antique desk chairs. For example, to find a Victorian style desk chair, type 'Victorian desk chair' into the search box, and then click the Advanced button to customise the results. Also visit eBay's Search Tips page for more advice on searching for antique desk chairs with keywords. If you can't find the exact digital camera you want, try shopping eBay Stores..
Conclusion
Since the industrial revolution, desk chairs have been an important part of daily life. So, it is no wonder history has produced such beautiful pieces that are available to grace the homes of inquisitive buyers. This guide has hopefully prepared anyone interested in the ins and outs of antique desk chairs. With this information in hand any buyer could find exactly what they want through eBay's unique antiques section. Finding the chair that's perfect for that any office or home has never been easier, as long as the varieties and options are understood. Once you have collected this information, you can buy an antique desk chair safely and securely on eBay..