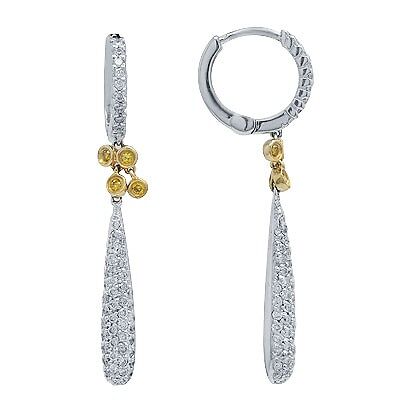 Next to diamond rings, the most popular type of fine jewellery are diamond earrings. A pair of high-quality diamond earrings sparkle during formal social events and private cocktail parties. Diamond earrings have been worn for centuries, first by royalty, and then by the upscale members of society who were able to afford the expensive pieces of jewellery. Many owners have passed down their diamond earrings, and thus, have created a vibrant market for diamond earrings that are over 100 years old, or otherwise known as antique diamond earrings. Most of the heirloom diamond earrings remain within families, although there is a place online where consumers can find high-quality antique diamond earrings.
Most consumers consider buying fine jewellery from a reputable jeweller in a jewellery or antique shop. However, the leading online auction site, eBay, has provided heirloom diamond earring owners with an excellent platform to present and auction off their antique diamond earrings. Successful eBay sellers list their antique diamond earrings accompanied by detailed information that helps prospective buyers decide if a pair of earrings is a good fit for them. Before choosing antique diamond earrings, eBay buyers should learn about the styles of antique diamond earrings, what constitutes high-quality diamonds, and the factors to consider before making an antique diamond earring purchasing decision.
Diamond Earring Styles
Since most jewellery pieces are considered antique when they are more than 100 years old, does the definition of antique preclude the consideration of any contemporary diamond earring styles? The answer is yes; a few contemporary earring styles are not eligible for antique status. The styles of earrings listed below have been around much longer than 100 years, and in fact, many of the styles go back centuries. The most prevalent style by far found on eBay is the one that leads the list.
Stud
Stud earrings are the most popular type of diamond earring and they have held that distinction for centuries. From the front, diamond stud earrings appear to be floating above the earlobe, without anything to secure them to the ear. Jewellers construct diamond stud earrings on the end of a thin post that penetrates the earlobe. The post either threads or screws to a push backing. Larger diamonds require screw backs because they prevent the loss of expensive diamonds. Most eBay antique diamond earring sellers offer the stud style of earring.
Drop
Also referred to as dangle earrings, drop earrings flow from the bottom of a wearer's earlobes. Drop earrings connect to the ear by the use of a post, similar to studs, or they dangle on a hook. Jewellers utilise many variations of the hook, with the shepard design being the most prevalent. Shepard designed hooks snap close, rather than remain open in the French hook design.
Hoop
Hoop diamond earrings have historically vacillated for decades between being trendy and a style that falls out of favour. This style was popular amongst the elite at the height of the roaring 1920s. Hoop diamond earrings are typically round or oval, and they penetrate the ear with a post that snaps into the backing. Classic hoop earring designs include a single, simply stated row of diamonds to elaborately design multiple diamond rows. Hoop diamond earrings set on the front and inside of the hoop to project sparkling light in numerous directions. Some variations of the hoop diamond earring involve alternating diamonds with gemstones.
Journey
Considered the most sophisticated antique diamond earring style, journey diamond earrings contain diamonds that increase in size, from the top to the bottom of the earring. Classic antique journey diamond earrings include the addition of millgrain edging around the diamonds. Journey earrings represent the symbol of achieving success in love and life and are often considered for commemorating important moments in life, such as a graduation or an anniversary.
What to Look for in a Diamond
Most consumers experience buying diamonds for the first time for engagement or other types of fine rings. Because buying diamonds invokes love or high esteem, buying them can be an emotion-driven process that can lead to making the wrong purchasing decision. When considering diamonds for earrings, as for other pieces of fine jewellery, consumers must consider the four Cs: carat, cut, colour, and clarity.
Carat
Carat represents the weight of a diamond. While an important consideration for rings, diamond weight is not as important for earrings, since many diamond earrings, including antique diamond earrings, hold diamonds that weigh at, or below, 0.4 g. Heavier diamond earrings can cause ear discomfort, but consumers who possess a high tolerance for heavier diamonds can consider 14- or 18-carat antique diamond earrings. The classic stud diamond earring usually holds two diamonds that weigh one carat, or 0.2 g. Most eBay antique diamond earring sellers list carat information in their product descriptions.
Cut
Cut indicates how well a diamond reflects light. Proportions, symmetry, and shape all influence the quality of a diamond cut. Well-cut diamonds reflect brilliant light in multiple colours. Cut grades include ideal, excellent, very good, good, fair, and poor. Only consider eBay antique diamond earring sellers who provide cut grades in their product descriptions.
Colour
eBay sellers offer diamonds in myriad colours, with colourless being the most prevalent. The less colour found in a diamond, the higher its quality. However, colour is the only one of the four Cs in which personal taste plays a role in the decision making process. Some women prefer pink or yellow diamonds, especially if the diamond is antique. However, colourless diamonds do the best job of allowing the most light to shine through the gem. The full light shining effect is deemed "fire" by jewellers. There are different rating levels of fire, with D, E, and F ratings representing diamonds that are colourless and nearly flawless.
Clarity
Jewellers determine clarity during the pressure period of the diamond making process. The pressure period can cause inclusions, which may comprise air bubbles, thin fissures, cracks, minerals, or scratches. The clarity scale includes: Flawless (FL), Internally Flawless (IF), Very Very Slightly Included (VVSI), Very Slightly Included (VSI), Slightly Included (SI), and Included (I). Diamonds are similar to snowflakes in that no two diamonds ever possess the same inclusions.
What to Consider Before Buying Antique Diamond Earrings
The first factor to consider during the antique diamond earring buying process is the age of the vintage earrings. The general rule is that older antique diamond earrings are harder to find, and the level of rarity translates heavily into the earring price. However, consumers must consider other factors in addition to the rarity of antique diamond earrings.
Style
While style may seem to be all about personal taste, it actually requires antique diamond earring shoppers to consider their face shapes and skin colour. Earring shapes should balance the shape of a face. For instance, round hoops balance rectangular faces, while angular earrings may accentuate sharp facial features, such as a protruding nose. Earrings that possess sharp angles can balance facial curves. Consumers who shop for earrings on eBay should look for sellers who clearly define the style of the antique diamond earring they have for sale.
Clasp
The clasp is as important as the earring style. Consumers should look for clasps that provide secure closures, as well as comfort. Antique diamond earrings that drop from the ear or cause skin irritation are highly unlikely to be worn. The following chart lists the most common antique diamond earring clasps.
Clasp Type

Description

Post

Combination of a bar secured with a metal nut that holds stud earrings in place

Most popular type of earring clasp

Butterfly

Most common nut that fits over a post

Clip

Designed without posts

Suitable for earlobes that do not have piercings

Hinged back snaps shut against the ear

Hook

Long, bent post that fits through piercings

Produces the vintage, long earring effect

Leverback

Hinged lever snaps shut against a curved post to form a closed loop behind the ear

Saddleback

Hinged post curves to make more room for earring to fit around the ear

Screw back

Features a basic bolt and nut design, with the nut twisting onto the threaded post.
Because of the age of antique diamond earrings, the most vulnerable component of the earring is the clasp. The integrity of an antique diamond earring clasp can be compromised by years of exposure to air and moisture. Make sure to verify the quality of the clasp when buying antique diamond earrings on eBay.
Ear Sensitivity
Earlobes are one of the more sensitive parts of the human body. Low-quality antique diamond earrings can irritate the skin and sometimes cause ear infections. Stainless steel is a hypoallergenic earring metal that most eBay buyers should consider to prevent ear irritations and infections. Hypoallergenic refers to substances that are highly unlikely to cause allergic reactions because of the substance composition.
Diamonds
Fine earrings, whether they are classified as antique or not, possess diamonds that illuminate the face, while not presenting distractions from other fine jewellery worn, such as sapphire rings or yellow gold bracelets. The quality of diamond used to produce an antique diamond earring may be the most important factor to consider during the buying process.
Buying Antique Diamond Earrings on eBay
eBay is an online commerce site that matches buyers and sellers in auctions and online stores. The key to finding the right antique diamond seller is to follow a couple of steps that ensure that you receive the finest quality earring.
Search Engine
eBay offers buyers a powerful search engine that operates on the submission of keywords. You want to use the most specific keywords as possible to reduce the number of search result pages. Type keywords such as "silver vintage diamond earrings" or "art deco antique diamond earrings" to hone in on the seller who meets your antique diamond earring shopping criteria. Once you find the right seller, navigate to the seller's product page to review accepted payment methods, delivery terms, and return policies. An eBay seller's return policies may make the difference in your buying decision.
The Best Sellers
eBay recognises their best sellers by bestowing the designation "Top-Rated Seller". These sellers have established long track records of selling superior products and running fair auctions. Look for the electronic ribbon icon that eBay places by qualified top-rated seller product photographs. You can also review customer feedback that appears on seller product pages. Consider sellers who have received positive feedback over the past year and have also earned praise for selling antique jewellery. After you develop a business relationship with one of eBay's Top-Rated Sellers, ask the seller if he or she runs an eBay Store where you can buy products directly.
Conclusion
Consumers who want to buy fine jewellery have traditionally frequented jewellery and antique shops. The practice of consulting with a professional jeweller involved selecting engagement rings, pearl necklaces, and diamond earrings. Professional jewellers became even more in demand when consumers wanted to buy an antique piece of fine jewellery. They have the ability to discern gem quality and the soundness of the jewellery construction. E-commerce did not change the typical jewellery buying habit until along came an auction site that tossed the fine jewellery purchasing model upside down.
eBay is an excellent place to buy antique diamond earrings. However, eager buyers should take their time and learn about the stud, drop, hoop, and journey styles of antique diamond earrings. Then, they should become familiar with the four Cs of assessing diamond quality. The carat, cut, colour, and clarity of a diamond determines the quality of a diamond. Of the four Cs, carat plays less of a role for antique diamond earrings, since most diamonds attached to earrings weigh at, or less than, two carats. Finally, antique diamond earring buyers must choose a style, clasp, and diamond for their earrings. They also need to consider how sensitive their ears are to certain metals. Earrings that cause allergic skin reactions can lead to more serious ear infections.