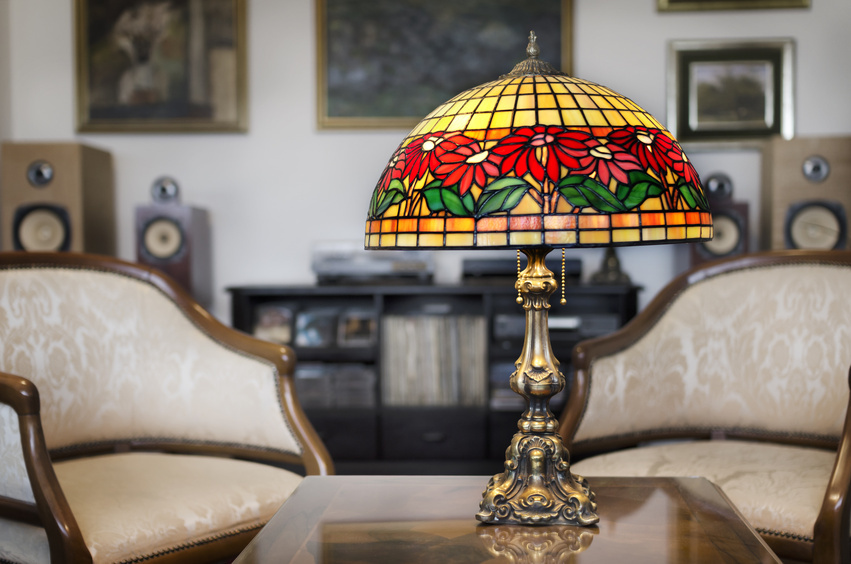 Lighting is very much an industrial era perk, but antique lamps feature a certain type of charm and beauty. Antique table lamps, either in oil or electrical form, have the potential to transform any dull surface. Knowing which lamps are rare and the related time periods helps buyers narrow antique table lamp choices.
The Lamp's Power Source Helps Determine Its Age

Lamps first appeared toward the end of the 18th century. At first, antique oil lamps used whale oil as fuel. In the 1860s, table lamp owners often used lard. As the 20th century edged nearer, electricity was an option for some households. Learning the timeline for different power sources helps buyers determine rarity and value. Most homes did not use electricity until the 1930s, so electric antique table lamps from the 19th century are rare. It is possible to find electric oil lamps, which are oil lamps converted to use electricity. Such table lamps feature all the charm of the early oil items combined with the convenience of modern lighting.
Old Antique Table Lamps Are Not Always Rare

As lamps became more common when mass production was starting to flourish, finding an old lamp does not automatically mean it is rare. The scarcity of the lamp plays a key role in its value. An original Tiffany lamp, for example, is an extremely rare find. Not many were made, and that increases the lamp's desirability with collectors. In many cases, researching the maker's stamp on the base helps a buyer determine the age of a lamp. In addition, these marks help buyers tell the difference between a genuine item and a replica antique table lamp.
Different Antique Table Lamp Types
The Argand lamp was the first type of lamp placed on a table and used to spread light around a room. These lamps were incredibly basic in terms of style and offered functionality with few aesthetic qualities. During the Victorian era, style became as important as function. Victorian oil lamps feature designs reflecting the height of Britain's colonial era. Many have undeniably Eastern influences that make them especially beautiful. Those who prefer more modern looks may want to look for Tiffany dragonfly lamps or Art Deco lamps, both of which have stunning antique undertones but with modern appeal to complement contemporary interiors.
Variations in Lamp Condition
Many antique lamps contain materials that are sensitive to scratches and cracks. Cracks on glass antique oil lamps can seriously devalue the lamps. In addition, antique electric lamps that do not work are not as valuable as lamps that function correctly. In some cases, it is possible to restore lamps back to their former glory, but buyers should consider the cost.