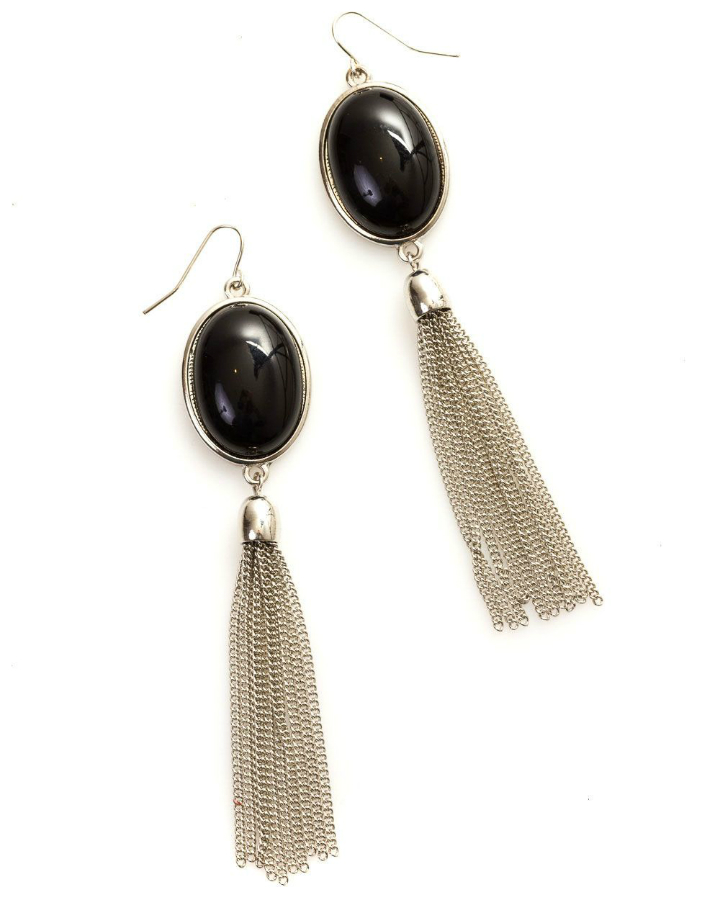 The Art Deco period was from 1915 to 1935, and it is mostly characterised by interesting shapes, elaborate settings, as well as geometric designs. Art Deco earrings are creative, unusual, and unique, and buying a pair adds interest to your style and wardrobe. Art Deco earrings come with various stones and they are mostly created with metals such as silver or gold. Women of the 1920s also adorned their ears with feathers, a lot of diamonds and other gemstones, and dangling, drop-style earrings.
Though some Art Deco earrings are simple, they are never short on style. Even Art Deco stud earrings are dramatic, and the majority of these earrings do contain diamonds and other fine stones. Filigree was also popular during this era, as were oversized earrings, square or oval shapes, and artistic designs. Art Deco earrings are not like any other type of jewellery, so shopping for a pair can be a lot of fun. Give outfits the pizzazz they are missing with a pair of Art Deco earrings. Shop by gemstone, style, design, or shape for the perfect pair of Art Deco earrings.
Types of Art Deco Earrings
When it comes to Art Deco earrings, nothing is too over the top. There are several main styles of Art Deco earrings, so there is sure to be a pair for you to fall in love with based on your own personal style and preferences. The Art Deco period essentially was generalised by an 'anything goes' type of style, and the flappers of the era enjoyed pairing dramatic jewellery with their tight dresses and short hairstyles to create signature, glamourous looks.
Art Deco earrings stand out among the other jewellery eras because they have an experimental look to them; designs were sometimes out of the ordinary and fun, such as fans, Egyptian-style designs, long, sweeping earrings, and impressive and unique stones such as onyx. For the first time, jewellery was made out of Bakelite, and women of this era loved the chunky plastic Bakelite earrings and other jewellery made from this novelty coloured plastic.
Drop Earrings
Drop earrings, also called dangle earrings, are typically long and either have hanging pearls, diamonds, or other stones. The post portions of the earrings are generally hooks or clasps, but some drop earrings have a decorative part on the posts as well, then dangling embellishments hanging from those. Some are quite simple while others are stunning.
Drop earrings lend an elegant look to an outfit, and Art Deco drop earrings are sophisticated and sparkling, and they sometimes are even made of platinum. Drop earrings vary in price, according to the stones and settings. Platinum is the most expensive metal, and it was just beginning to come into popularity during this time period. Art Deco drop earrings are also sometimes made with unique materials such as mother of pearl, jade, or marcasite. Drop earrings were created to highlight women's short haircuts and strappy dresses, so these earrings look best with updo hairstyles which are meant to complement the sweeping look of the dangling drop earrings.
Stud Earrings
Art Deco stud earrings are generally geometric in shape, and there are many options available which are round or oval, and some are even triangular or square and rectangle shaped. These are decorated with stones, intricate engravings and designs, and with a lot of gemstones and diamonds set into shapes, such as flowers and swirls covered with pearls or other stones. Some Art Deco stud earrings have designs hand painted on porcelain earrings, and some are simply oversized stones such as large pearls, diamonds, or sapphires, which may or may not be surrounded by other stones.
Most Art Deco stud earrings are large and dramatic, but there are some available which make less over-the-top statements. They have several coloured stones clustered together, or they are simply a triangle shaped with diamonds or stones. Another style of Art Deco earrings includes a cameo, which is a small portrait with a woman's silhouette on it.
Hoop Earrings
Hoop earrings in the Art Deco time frame were anything but boring. Generally made of yellow gold or platinum, Art Deco hoops have various designs, engravings, and even twisted hoops to create unique earrings. Some Art Deco hoops have diamonds or stones studding the hoops, and some are simply made of decorated gold. Art Deco hoops also may have filigree decorations, embedded pearls or stones, or hearts carved into the hoops themselves.
Art Deco style hoops are sometimes made of hammered metal, which has its own unique look to it, and they can also be made of interesting metals like brass or sterling silver. Hoops are sometimes hand painted with designs like flowers, or shaped like ovals or other geometric shapes to add an interesting look. Art Deco hoops were also sometimes created with Bakelite, which is a light plastic material that was new to jewellery making. Bakelite comes in many shades and the funky material was made into all types of jewellery including hoop earrings which are square, round, or oval in shape, and they became popular during this time period.
Chandelier Earrings
There is nothing more elegant than a sweeping pair of Art Deco chandelier earrings. Chandelier earrings were quite popular during this era, known for their elegance and glamour. Chandelier earrings are unlike drop earrings because they tend to have several dangling parts instead of just one. They are sometimes shaped like teardrops, ovals, or triangles, and have dangling stones, diamonds, or crystals hanging from them. Art Deco chandelier earrings are made of brass, silver, gold, or platinum, and they are made with a variety of different stones including diamonds.
Waterfall Art Deco earrings contain long, dangling chains which simulate the look of a waterfall. These may or may not be studded with stones or diamonds. Chandelier earrings range from simple to very over the top with many dangling parts. Some Art Deco chandelier earrings contain hanging pearls, stones, glass, or beads to create the look of the earrings and to make them stand out. Fanciful shapes and designs make these earrings an interesting choice.
How to Buy Art Deco Earrings on eBay
When you are searching for the perfect pair of Art Deco earrings on eBay, your options are potentially limitless. There is a wide selection you can get to by using eBay's user-friendly search engine to navigate your search. Simply type in "Art Deco earrings". Peruse the results. If you want to see different results. then you can narrow your search based on the style of earrings you want, or you can simply browse the entire category until you see something that catches your eye. You can purchase Art Deco earrings made of real stones or imitation stones and metals. Art Deco earrings are sometimes recreated using modern methods to look like old fashioned styles, but searching through vintage and antique pieces ensures you are getting a real, retro pair of Art Deco earrings.
When you are looking for earrings, it is best to buy jewellery from a merchant who are Top-rated seller, and make sure you read the listing for the earrings carefully to get all the information you need to make an informed purchasing decision. If the listing does not answer all of your questions, select the "Ask A Question" button to ask the seller any additional questions you might have before making a purchase. Another idea is to find out if the seller is offering any other Art Deco earrings you might like. You may also be able to create a bundled purchase for a lowered shipping rate by purchasing more than one item from the same seller.
Conclusion
If you are looking for a unique way to accessorise, a pair of Art Deco earrings easily fits that bill. There is nothing today that looks like the styles of Art Deco, which included interesting geometric designs, dramatic filigree, a lot of colourful stones, and eye-catching dangling and chandelier styles of earrings. Art Deco earrings are artistic and creative, and can be just what you need to add something special and sparkling to that outfit which is lacking. Buy Art Deco earrings on eBay for a great price whether they are real or imitation, and own pieces of jewellery which are not only beautiful but sure to be a conversation piece amongst your friends.
The Art Deco era was a special time for jewellery, and it is reflected in the pieces. The flappers of the 1920s loved bold designs and interesting stones like ivory and jade. Traditional patterns mixed with creative designs make Art Deco jewellery one of a kind; so add pieces of this stunning jewellery to your collection today. Art Deco earrings look great alongside today's styles and many jewellers are trying to recreate these styles with today's looks, but the vintage pieces are simply unbeatable. Purchase a pair of authentic Art Deco earrings to pay homage to one of the most creative and unique time periods for jewellery.