Coco designer children's clothing provides baby boy clothes that are cute, easy to wear, and made from soft, comfortable cottons and blends. Coco baby boy clothes have whimsical embroidered designs that stir the imagination. Traditional outfits nudge you toward nostalgia, and trendy designs bring baby into the parents' fashionable world.
Easy Wear for Active Boys
Coco for baby boys assumes that the little man and his parents have busy days. Many jackets and cardigans fasten easily with zips, and plenty of cute tug-on T-shirts are available. Entertaining designs give parents another subject for 'conversation' with baby, and the full size of many designs creates great tracings for 'tummy tickles'.
Cute Collections
Coco collections for boys give parents multiple ways to dress baby boys in clothes that are cute, fun, and 'all boy'. Some of the popular collections include:
bubble submarine surrounded by swimming fish with sailboats above
'Petit Marin' or Little Sailor
'Cheeky Monkey' fine denim set with T-shirt and cap
Coco bear aviator design
bunnies catching clouds
All of these designs come in various wardrobe items, which may include jackets, cardigans, T-shirts, playsuits, and other clothing.
Coco Boys Traditional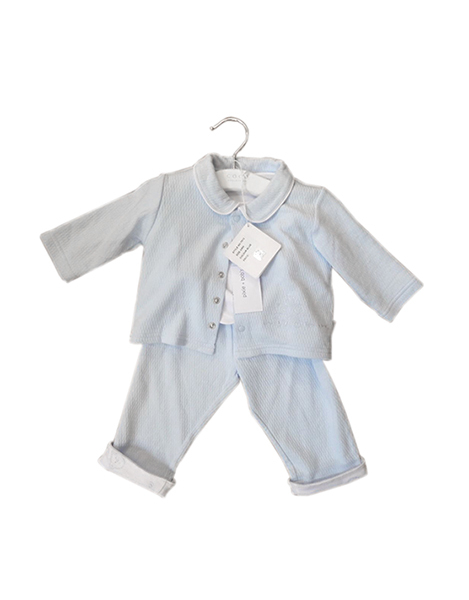 Coco baby is one of the best lines for traditional baby boys' clothing. Little romper suits and dungarees made of very fine cottons come in pale blue or white and remind grandparents of the clothing they lovingly selected decades ago. Cute embroideries and appliques of animals, fish, boats, and aircraft make many items 'all boy'. Coco boys' clothing is for babies from newborn to 24 months, although the fit depends on how rapidly your baby grows. Most newborns outgrow their birth to 3-month sizes well before the 3-month mark, and some babies are larger or smaller than standard age-based sizes. This sometimes creates issues with choosing the appropriate size. Checking garment measurements or buying a single T-shirt or playsuit first to check sizing is a good idea.
Coco Boys on Trend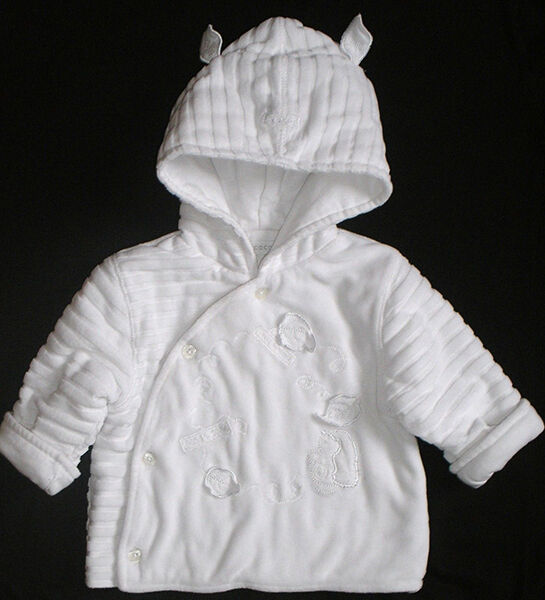 When Coco baby boys and their parents want to stay on trend, Coco obliges with navy and white stripes for the shore and grey graphic hooded jackets for the city. A number of pieces feature contemporary asymmetric designs with a pattern cutting in on the diagonal of a playsuit or different width stripes on opposite sides of the centre line of a T-shirt.
Look for Coco Bear
Coco bear appears on many of the designer baby boy clothes, usually as part of the embroidered design. In one unusual pattern, he dangles from a short string that pokes into a pocket. Tags show Coco bear as a cutout or at full length in profile.