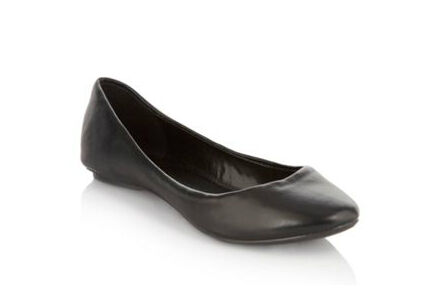 Ballerina or ballet flats are a type of shoe with a very thin heel or no heel at all and an open top without laces or straps, resembling a slipper. Ballet flats are derived from soft ballet slippers used in dance and, because of this, will sometimes feature ribbon ties that go up and around the ankles. Women often wear ballerina flats as a casual, semi-casual, or even formal alternative to footwear including pumps and stilettos. Depending on the style of the ballerina flats, they can be appropriate for a wide range of looks and occasions. Ballerina flats are worn by women of all ages as comfortable, everyday shoes.
Most women find that ballerina flats are easy to style and will go well with most outfits. Some women wear them in place of high heels to formal events and parties. Because this type of shoe is so popular, there are numberless versions available on the market, which can make your choice difficult. For this, you should know about the different styles of ballerina flats and how to match them with different outfits before buying a pair.
History of Ballerina Flats
Ballerina flats have been a popular style of shoe since sometime in the 16th century. They went out of style after Catherine de Medici added a two-inch heel to the bottom of her ballet flats for her wedding to Henry, the Duke of Orleans in 1533. The ballerina flat remained unpopular for most of the 19th and half of the 20th century, regaining popularity when movie star Audrey Hepburn wore them in her 1957 hit 'Funny Face'. Today, ballerina flats are comfortable and fashionable alternative footwear that can be styled in a range of looks. Ballerina flats are also called ballet pumps after the original name 'pomper' or ballet sneakers when fitted with a rubber sole.
Anatomy of Ballerina Flats
Ballerina flats feature a fixed sole that can be made of wood, rubber, cloth, or even cardboard. Most commonly, ballerina flats feature a thin rubber sole, like many other styles of shoes, because it is cheap, holds up well to damage, and absorbs shocks. Ballerina flats can also have a very low heel, but usually no more than about half a centimetre. The insole of ballerina flats is usually a very thin layer of fabric. For this reason, if you intend to wear ballerina flats frequently, you should consider purchasing arch supporting inserts that prevent pain and offer adequate support to the feet.
A ballerina flat shoe consists of the heel, the quarters (sides), and the vamp (toe box). Most ballerina flats are constructed of cloth including satin, taffeta, polyester, rayon, silk, canvas, and some less expensive ballerina flats will feature cardboard inserts for side support. Less frequently, ballerina flats can be constructed out of leather, sequins, or vinyl. The shoe vamp may feature gathering, decoration including bows, sequins or prints, or decorative string ties. The ballerina flat may also feature a gathered string tie that tightens the shoe around the foot, or in some cases a ribbon that is meant to be tied around the ankles.
A newer style of ballerina flats that is most frequently available in budget stores, but also in some designer stores and online stores such as eBay, is the folding type. This shoe features very weak side walls and an extremely thin sole so that the shoe can simply be folded in and pushed into a purse or handbag. Most women purchase ballerina flats to take out with heels, in case the high heels become uncomfortable or painful during the evening. Most folding ballerina flats feature thick cloth and a cord drawstring to pull the shoe tightly around the foot.
Styling Ballerina Flats
Ballerina flats were originally inspired by ballet slippers, but today are also inspired by sneakers and evening shoes, meaning that there is a wide variety of styles available and that women can choose ballerinas that suit their personality and occasion. Women should consider wearing certain styles of clothing with ballerina flats while avoiding others in order to complement the shoes. For example, very long pants usually do not flatter ballerina flats, and boot-cut or flared pants will cover the shoes so what is worn with them does not matter.
The style of ballerina flats can decide if an outfit is one appropriate for a trendy night out, an evening at the theatre, or a shopping day. Ballerina flats can be worn just about anywhere. However, it should be noted that this style of shoe does tend to shorten the legs, making it more appropriate for tall women rather than petite figures. Tall women can appear shorter by pairing ballet flats with long skirts and pants if they like.
Pairing Ballerina Flats with Trousers and Skirts
The most flattering styles to wear with ballet flats are those that extend to the mid-calf or higher. Examples include capris, skinny jeans, and skirts that extend no lower than the knee. These styles should be worn without socks but can be paired with any number of accessories. For example, a pair of jean capris, red ballerina flats, and a simple red T-shirt can produce at trendy look that is appropriate for any sort of casual occasion. The colour can, of course, be changed as desired. Pairing a multi coloured skirt with ballerina flats and a plain shirt, on the other hand, can produce a slightly more feminine and fun look.
Most women pair ballerina flats with leggings and skinny jeans, but they can also be worn with skirts or tunics. In most cases, pairing ballerina flats with skinny jeans will create a simple everyday look that can be worn to school, to the store, to a casual party, and to many restaurants. Models including Kate Moss have often worn this look, usually adding a large scarf, sunglasses, and a simple T-shirt or sweater depending on the season. Women looking for ballet flats for everyday wear can purchase almost any style that will go well with their outfit and style. These include various styles of folding ballerina flats, ballerina flats with and without prints, and laced ballerina flats.
Styling Ballerina Flats for Formal Occasions
Ballerina flats are often worn in casual occasions, but you can also pair them with formal styles and dressed up for a formal look. Many women and teens wear ballerina flats to the prom instead of heels. Most women consider the ballerina to be more comfortable than other shoes. When purchasing ballet flats for formal occasions, you should pay attention to style, material, and appearance of the shoes. The most formal materials include satin and taffeta; however, anything with a small amount of shine, including polyester, is usually considered adequate. Sequins, bright colours, and even prints are also appropriate should the occasion allow. Some shoe stores sell ballerina flats with matching heels so that women can change between the two at will without changing the overall look of an outfit.
Buying Ballerina Flats on eBay
If you're looking for ballerina flats but either can't find what you're looking for in your area, are looking for a better deal, or are looking for a specific shoe, then eBay could be the perfect place to find what you need. eBay has a large selection of ballerina flats in new and used condition that range from vintage styles such as the Audrey Hepburn-style 50s ballet flats to modern brand names and budget options.
You can search for ballet flats on eBay by typing in the exact pattern, colour, or brand you are looking for, such as 'leopard ballerina flats', 'black ballerina flats', or 'Guess ballerina flats' to begin your search. From there, you can browse your options to decide what you need. It is important to note that shoes are cheaper to ship from local sellers, so if you are on a budget, you may want to choose an eBay seller listed in the same country. However, many sellers ship around the world, so you shouldn't have any problems getting what you want, even if it's in another country.
Conclusion
Ballet flats are an easy yet chic style that is popular among women of all ages. Depending on their style, ballerina flats can be worn to various events. Furthermore, ballerina flats have been in style since sometime in the late '50s, so they are quite safe to wear regardless of the fashion season.
Ballerina flats can be purchased from a variety of sellers at different prices including expensive designer options to budget options. You can purchase ballerina flats in most stores that sell shoes, as well as on online stores and eBay. Because ballerina flats provide very little support to the foot arch, you should not wear them for long periods of time without a supporting insert. Some women who wear ballerina flats every day without an insert complain of foot pain and blisters resulting from the thin sole of the shoes. However, this problem is easy to fix with cheap shoe inserts which can be found in most shoe stores and on eBay.