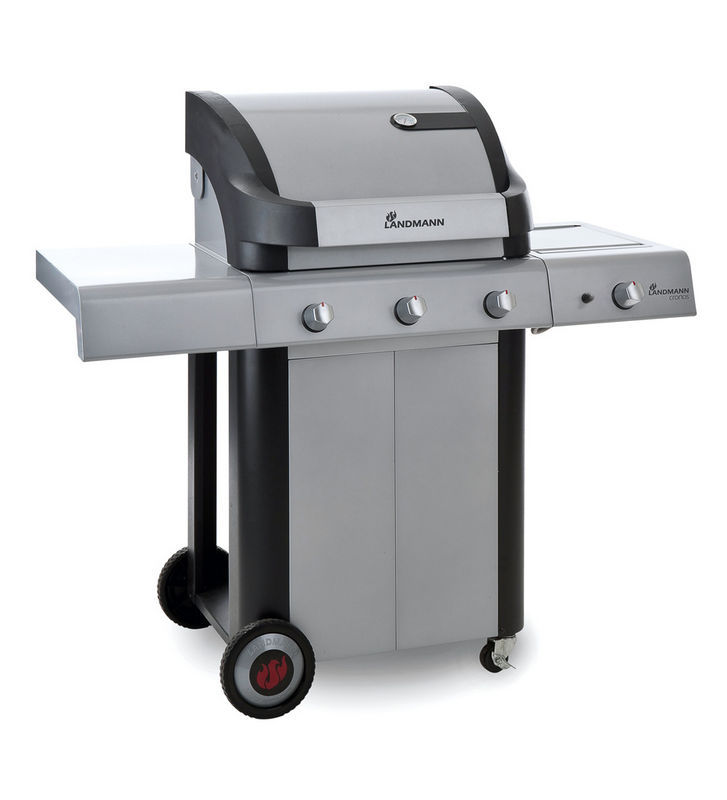 No matter what region of the country a person might be from, nothing says summer quite like a great barbecue brimming with good times and good friends. But there is nothing that can bring all of that fun to a screeching halt like a broken barbecue. Barbecuing is a great pastime and although this cooking equipment may not always be extensively used, it does get enough wear and tear that over time barbecue replacement parts may eventually be required.
Replacing worn out parts is a much more cost-effective solution than buying a whole new barbecue grill. Barbecue replacement parts can be purchased through the product manufacturer, at many home improvement stores, and on eBay. Understanding what steps to follow as well as what to look for before replacing barbecue parts makes getting the good times rolling again much less painstaking. In addition, when a person knows what factors can cause damage to a barbecue as well as how to properly care for one to keep from replacing parts again, it is easy to keep the fun rolling all summer long.
Steps to Follow Before Replacing Parts
Purchasing the right replacement part for a barbecue grill is just as an important decision as purchasing a grill itself. Knowing what steps to take in order to choose the right option for replacing a part on a barbeque that no longer works is one of the first steps of this process.
Warranty
Although it might be tempting to start tearing apart a barbeque to get it working again on one's own, this is definitely not advisable until the warranty for the product is reviewed. Warranty options may come standard with many barbeque grills directly from the manufacturer. It is important to review the paperwork to first find out if a warranty exists, what time period the warranty is valid for, and what the warranty covers.
Often, a warranty can be voided even if the replacement part needed is originally covered if a person undertakes the task of changing the part themselves or sometimes if the person does not purchase the replacement part through the company that manufactures the barbeque. If the warranty information cannot be located, take the time to call the manufacturer of the barbeque directly to see what warranty for the product owned might be in effect. Understanding a warranty or calling the manufacturer might even save money because often, many replacement parts are included free of charge to the barbeque owner if the warranty is still in effect.
Owner's Manual
After checking the warranty and seeing that the parts required to fix the barbecue are not covered, the next step in the process is to locate and review the owner's manual for the product. Almost every owner's manual gives a detailed technical description of all the barbecue parts and features. This makes it very handy when trying to replace a part when the name of the part is not known. Since most owner's manuals not only list the various parts and features by name but also show a diagram of where each part is located, it is much simpler to buy a replacement part with confidence knowing that the right replacement part is being ordered. If the barbecue owner is unable to locate the owner's manual for their grill, doing some online research may save time. It is very common for companies to post copies of owner's manuals and other information concerning their products online to make it easier for the consumer to review themselves instead of calling them directly.
Obtain Parts Information
The next step required in the process of obtaining new barbecue replacement parts is to review the faulty item if it is able to be identified for any marks that may have been printed on the part. Because manufacturers know that parts for barbecues may eventually wear out over time, many of the companies that make barbecues put identifying marks or numbers on individual barbecue parts to make the process of ordering the right part a simple and efficient one for both the barbecue owner.
Make sure to take the time to correctly identify the name of the part as well so that there is an additional piece of information that can be used when searching for the correct part that needs replacing. Many barbecue manufacturers place part information online, and if the owner's manual cannot be located, normally the replacement part identification information can be located by researching the barbecue model.
Common Replacement Parts
There are many common parts that break down on barbecues over the life of the grill; however, many people do not understand why their grills break down to start with. This makes knowing what part to replace extremely difficult, but it does not have to be this way if these common parts are checked first as they are the ones that most frequently stop functioning. Oftentimes, all it takes to keep a barbecue in tip-top shape is proper yearly maintenance and a thorough cleaning regimen each time the grill is used.
Heat Plates
Heat plates, also referred to as burner shields, are metal plates that are used to keep the juices of the foods being cooked from dripping onto the burner. These plates are used to protect the burner from harmful dripping that can cause it to corrode and stop working. Heat plates are constructed from lightweight metal and are relatively easy to change. To keep this part working correctly, make sure to always clean the heat plates with warm soapy water or a degreasing agent after the barbecue has completely cooled.
Cooking Grates and Warming Racks
Cooking grates that need to be replaced are usually easy to spot as they often become corroded with rust and other elements due to improper cleaning. Although a cooking grate is not a very technical part of the whole barbecue system, without a cooking grate, the barbecue would be pretty useless. Changing a cooking grate or warming rack is as easy as buying a new one and replacing it with the old one. Barbecue grill cleaner is often used with a wire cleaning brush to remove food particles and other corrosive materials that can get attached to the grate surface. Often, the surface is then treated with a light coat of oil or cooking spray.
Gas Burner
Many grills come with a gas burner, which is the heat source that cooks the food. These burners are generally constructed from aluminised steel, porcelain-coated cast iron, or stainless steel. The "H" burner is often the most popular choice gas burners used in these burners and can be identified easily as the burner resembles a sideways looking "H". Other burners that are common for gas barbecues are ones that are oval shaped or shaped in a figure eight, but there are also bowtie burners and bar burners as well.
Each one of these burners contains an air intake tube that is attached to the venturi where the gas and air are mixed. Metal screens typically cover this portion of the burner to keep insects out, so it is important to make sure that this part does not become damaged. Keeping the gas burners clean from debris and food particles helps keep your burners working properly longer.
How to Buy Barbecue Replacement Parts on eBay
Once the problem with the barbecue has been identified, it is very simple to find and purchase replacement parts on the eBay homepage. All you have to do is enter the replacement part that is needed into the search query box that is either located on the homepage or at the top of any other eBay page. In order to get a wider range of results returned to you, make the replacement part description a general one. This results in numerous results being returned if you happen to want a wide range of possibilities available to you.
If you would like to have a smaller amount of search results returned, make the information entered into the search query box brief and specific. To further narrow the search results returned, simply choose the advanced search option and apply more filters as needed. It is important to make sure that when sending the payment to the seller, never to send a money order or cash. There are various payment options available that help ensure secure payments that can be tracked.
Conclusion
Many people believe that replacing parts on a barbecue would be too difficult or time consuming and instead just opt to buy a new one. While this is a viable possibility, finding and replacing parts on a barbecue is relatively simple and many repairs may only take a few short moments to perform. In order to keep a barbecue operating in peak performance, any part that is noticed to be malfunctioning should ideally be replaced as soon as possible.
By following the information in this guide about the steps to follow before replacing parts, warranties and replacement parts can be easily identified and may even save money if the part is covered under the warranty. Knowing how to identify common parts that often need replacing can make solving the dilemma of the malfunctioning barbecue more apparent. Performing routine cleaning and maintenance on a yearly basis also helps to extend the life of the barbecue. Buying barbecue replacement parts does not have to be an arduous task.