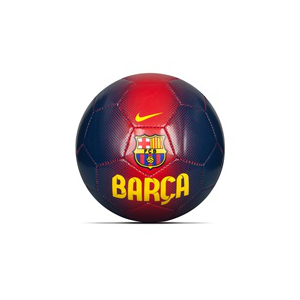 FC (Futbol Club) Barcelona, often referred to simply as Barça, is one of the world's most popular and successful football teams. It has won the FIFA Club World Cup two out of the nine times it has been contested, as has Spanish adversary Real Madrid. It has also won 26 Copa del Rey championships and 21 La Liga trophies. Worldwide, it is second only to Real Madrid in annual revenues and has an estimated net worth of €752 million. The two clubs are bitter rivals and have been engaging in frenetic annual competitions since the 1930s.
FC Barcelona has had a long history. It has been the home to some of the world's pre-eminent footballers and has played in memorable games. This has generated a great deal of memorabilia from the past and present. The world of football memorabilia covers a lot of ground. Everything from autographs to photographs and from badges to pictures have value for both collectors and as practical, useful everyday items. Some of it has a great deal of value as an investment, whereas some is just for the demonstrating allegiance to the club. The best source for FC Barcelona football memorabilia is eBay.
Early History of FC Barcelona
FC Barcelona was founded in 1899 after Hans Kamper, who later changed his name to Joan Gamper, placed an advertisement in a local publication searching for players for his team. The club experienced early success, winning the Copa Macaya in 1902. That year it played in its first Copa del Rey, losing 1-2 in the final. During Joan Gamper's 25 years as president of the club, its popularity continued to grow, enabling it to finance a new stadium in 1922: Les Corts.
The Spanish Civil War was the source of great upheaval during the 1930s and the club experienced a period of decline. In 1945, it won La Liga for the first time since 1929. Players such as Johan Cruyff helped galvanise the team during the 1960s, which lead to a resurgence during the 1970s, before the sudden arrival and departure of the renowned Diego Maradona in 1982.
FC Barcelona in Recent Years
The end of the Franco dictatorship in 1974 marked the beginning of an era of success that continues to the present day. That year the club changed its name back to the original Futbol Club Barcelona from the Franco regime instituted Club de Futbol Barcelona, and reinstated its banned flag with the original Catalan references. After a series of building upgrades, the club now plays home matches at Camp Nou, the largest stadium in Europe, with a capacity of 99,354.
Johan Cruyff returned to the club in 1988 as manager and put together a dream team made up of both Spanish and international stars. The success has carried forward to the new millennium as the club has developed such heroes as Ronaldinho and Luís Figo. Manager Pep Guardiola won 14 trophies during his four-year tenure, turning over the management reins to Tito Vilanova in 2012.
Types of Football Memorabilia
The world of sports memorabilia comes down to personal preferences. Some of the most rare and highly in demand investment grade items are often categorised with common plastic mass production items. A lot of football memorabilia is associated with specific players and teams. Any item that has been signed and can be verified as authentic can increase in value, depending on the number of similar articles in circulation. Other memorabilia is bought just for fun, with the expectation that it will be discarded eventually.
Player and Team Memorabilia
Footballers are heroes to people of all ages. Much of the memorabilia in production is specific to a player or team. One of the most commonly collected categories is the common trading card. Colourful pennants and flags are displayed on bedroom walls easily. Younger fans often gravitate toward posters. Memorabilia such as this should be bought without any expectation of a reliable increase in value. There are a considerable number of producers, which ensure that most of these products never become rare.
However, sometimes player-related memorabilia can increase in value based on an event completely unrelated to the player's sports career. Savvy buyers notice these events and immediately scurry to buy just about anything that cannot be replicated, which would diminish the value. Another notable exception is a limited run of a junior footballer's trading card. Occasionally, that lightly regarded player develops into a star years later. In those circumstances, the card may show an immediate increase in value.
Investment Grade Memorabilia
Many companies and individuals promote rare or unusual memorabilia items. Often, there is a Certificate of Authenticity (COA) included with the purchase. However, the best way to ascertain authenticity of signed football memorabilia, or any of the more expensive and rare items in circulation, is with a third party confirmation. Like anything else of value, there are always problems with items presented as authentic that are not. As always, take the time to compare items of great value that are claiming limited availability. Any memorabilia price that seems too good to be true is very likely to be exactly that.
Everyday Memorabilia
The days of memorabilia referencing only trading cards and pennants is well in the past. Today, the range of football memorabilia varies from badges and pins to key rings and scarves. Virtually every item of clothing is available with an FC Barcelona logo to satisfy the demands of fans. Some less commonly considered options include clocks, ceramics, towels, and even toasters. These types of memorabilia fall under the general heading of consumer goods that have a relatively short lifespan.
The table below describes some of the most notable Barcelona football memorabilia produced. It further denotes the relative value of each item and its most unique feature.
| Memorabilia Item | General Value | Interesting Feature |
| --- | --- | --- |
| Recent team photo | Inexpensive | Can increase in value if production is limited |
| Lionel Messi signed photo | Mid-priced | Messi is young and values may increase |
| Signed team shirt | Expensive | Keep out of light to prevent degradation |
| Crest wall graphic | Mid-priced | Low tack adhesive permits easy relocation |
| Qatar Foundation related | Varies | Connection terminates in 2013 |
Nearly any item can be found bearing the FC Barcelona logo. Buyers should think in terms of the current value and what they want the item for, such as personal support for the team or collecting. Should any item show a substantial increase in value, regard that as a fortunate outcome and not a goal.
How to Buy Barcelona Football Memorabilia on eBay
The place to begin looking for any FC Barcelona football memorabilia is the eBay home page. Every page provides an extremely useful and accurate search tool that takes you to the precise memorabilia that you are trying to find. Start by entering the terms "Barcelona football figures" into the open field. This directs you to all of the current eBay listings. From there you add more terms specifying the player's surname or the condition, such as new or used. Refer to eBay's Search Tips for other ideas on searching the website.
Seller Feedback on eBay
One of the most attractive features of eBay is the opportunity to learn about the seller before making a purchase. All eBay sellers display feedback from buyers who have bought from them previously. This gives you a good idea of what to expect, how efficiently other transactions were processed, and an overall idea of the seller's performance. Something to keep an eye out for is the Top-rated seller insignia that indicates a good track record of reliable performance. You always have an opportunity to contact the seller directly to get more photographs and any additional information. You can do this by using the "Ask a question" link that can be found with every item listing.
Conclusion
FC Barcelona is one of the preeminent football clubs in the world. El Clásico is the name given to all games between Barça and Real Madrid, since the level of play and competition is classic nearly every time. The history of the club goes back well over a hundred years and a lot of memorabilia has accumulated over that time. Some of it is valuable, some is just interesting, and the club's adoring fans revere all of it. In fact, these may be the most enthusiastic football fans in the world. Always bear in mind that collecting memorabilia should be fun and rewarding in its own right. Any monetary gain for most memorabilia is quite limited and is often reserved for those who engage in trading items for a living.
Sports memorabilia is available on eBay, which is a single source that provides many options for competing sellers. Combined with the lack of overheads, this results in the lowest prices and the best customer service available. When added to the fact that every facet of the buying process is accomplished from a home or office computer, it is easy to understand why those looking for Barcelona football memorabilia visit eBay.