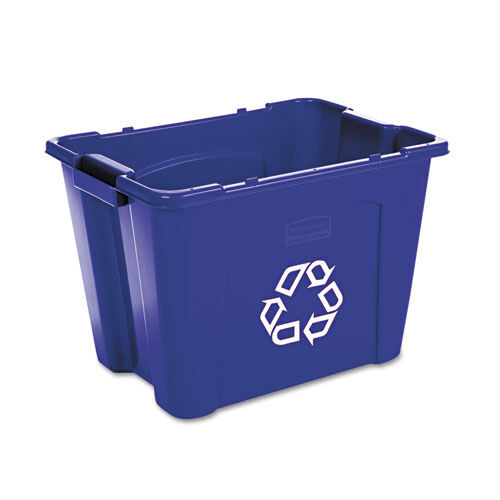 It may be the most drab and mundane item in the home, but the bin is an invaluable piece of equipment. They are a staple of both the home and workplace; and arguably, nothing gets more use in such environments. It's used consistently throughout the day, yet most people do not understand the types of bins and their different uses. This in turn means that people often use the wrong bin and can lead to a variety of problems.
Bins come in various forms and differ in purpose. They also vary in the place in which they can be placed, and what can be put into them. Confusion over what bin to use is common. eBay and this guide will clear up the matter and help shoppers acquire quality bins at affordable prices.
UK Bin Laws
The contents of every interior bin will eventually reach an exterior bin. It's these bins that carry strict rules and regulations with regards to what can be placed into them. These bins are known as kerbside recycling bins and come in various forms, such as:
Green Bin – Household waste
Blue Bin – Dry recycling
Black Box Bin – Small household waste
Brown Bin – Garden waste
People often disregard the guidelines of these bins; however, the government is no longer being lenient with such misuse. Local authorities are looking out for perpetrators. If they find the wrong type of waste in such bins they have reprimands in place. These reprimands are either on the spot or court issued fines that can reach upwards of £1000. Before using a bin familiarise yourself with the rules of exterior bins and the authorities that govern their contents.
Types of Bins
There are a wide variety of bins available, it's important to make sure you acquire the right one to suit your needs. The following are the types of bins that can be found on eBay and a summary of their uses.
Waste Paper Bin
The most basic style of bin.
Only suitable for dry materials.
Doesn't come with a lid, as it has no smells to contain.
Usually small in size as they don't require the same amount of space as a multi-purpose kitchen bin.
Kitchen Bin
Easily the most used bin in the home.
They are designed to cope with a multitude of waste, including metal, food, plastic, glass, paper and polystyrene.
Comes complete with a lid in order to contain smells.
Pedals are a common feature; it allows people to deposit items in the bin without touching it.
Built to help to stop the spreading of germs unnecessarily.
External Bin
Commonly known as a wheelie bin.
Issued by local governing bodies, but also available from eBay.
Most areas receive them free of charge; however, some do not and in these areas people are required to purchase their own.
External bins are strong along with having the ability to withstand all weather conditions.
Recycling Bin
Have gained popularity ever since the emerging demand for greener households.
Comes in a variety of colours.
Has a different compartment for each type of rubbish material.
The above are the four types of bins (even though more can be found) and every home should have at least one of each. When shopping for bins, think about what will be going into them and choose the right type for such an environment.
Manual Bin
Bins that operate manually are the most common form found in the home. They come in non-intrusive designs that blend seamlessly into the surrounding area.
Most designs are stylish and slim.
Will take all forms of waste, as long as they are split properly prior to deposit.
Comes in sizes up to 100 litres.
Constructed from materials such as plastic, wicker and stainless steel.
Can be free standing or wall mounted.
The most cost effective bin available.
Not particularly durable and is susceptible to scratches, dents and cracks.
Electronic Bin
As with any other form of kitchen essential, technology has helped the bin evolve. Expect to find bins that work with sensor technology and have advanced features that make life simpler.
They open and close automatically using a sophisticated infrared sensor technology.
Reduces the risk of spreading germs and is the most hygienic option.
It means that users will not need to wash their hands after use.
Made from heavy-duty stainless steel.
Features an inbuilt bin liner holder.
Allows for quick and efficient bin bag changes.
Resistant to corrosion.
Weighted in the base in order to keep it rooted to the floor.
Rubbish Compactors
Rubbish compactors help condense waste in order to fit more into a bin bag, in the process they act as a form of pre-waste disposal. Even though rubbish compactors can be expensive, they are a great money saver in the long term. By compacting rubbish it helps reduce the amount spent on bin bags and extends the life of a bin. The following features are a part of almost every rubbish compactor.
Can compact rubbish to either a 4:1 or 6:1 ratio.
All materials can be placed into a compactor no matter their stubbornness.
Requires specialist compactor rubbish bags.
Available in either under-counter appliance or freestanding versions.
Has the largest rubbish compressing potential of any form of waste receptacle.
Buying Used
eBay and online auction sites have become an increasingly popular way of purchasing household items. Bins are no exception and users can find great deals on both new and used units. However, buying used is a process that requires shoppers to use a cautious eye. In order to make sure that you are acquiring a good quality bin, ask the following questions prior to committing to a purchase.
How old is the bin?
Does the bin have any scratches, dents or cracks?
Does the bin come with a lid?
Have any repairs been made to the bin? If so, what are they?
Do you offer multiple-item shipping discounts?
eBay Shops
Home appliances are a pivotal part of daily life. This means the need for such products at affordable prices continues to grow. High street stores and independent retailers have taken to the eBay shops format in order to sell their goods. When it comes to bins, shoppers are sure to find plenty of bargains that can stretch a budget further than first thought.
To find what eBay stores are open for business; select the eBay shops link at the bottom of the homepage.
Delivery
Bins are notorious for being large in size, which means traditional delivery options aren't usually suitable. In terms of weight they're not particularly heavy; however, they are bulky and a hassle to move. This means that they will need to be sent via an insured courier service. Talk with a seller prior to making a purchase in order to make sure that the terms of delivery are understood.
Completing a Transaction
When a shopper has found a bin of interest they will need to do one of the following.
Make a Bid
Make a Best Offer
Buy It Now

Once an auction has concluded the winning bidder will need to complete the checkout process.
Doing this via PayPal will mean that the buyer protection program covers the transaction.
Conclusion
Waste disposal units and recycling receptacles are a key part of the home; this means the humble bin is often understated in its importance. Recycling has become a legal requirement in the UK. It means that everyone needs to start getting serious about the bins they own and how they are used.
Investing in a high quality bin will help homeowners reduce their carbon footprints and avoid heavy fines from local authorities.
The market for bins continues to grow, so whether you're after an electronic or manual model you're sure to find something to suit your requirements. They are a must have home appliance that can be a long-standing investment. This guide will introduce shoppers to what's available. Shoppers can then head to eBay to buy a new bin that not only fits into a budget, but also suits the décor of a home.