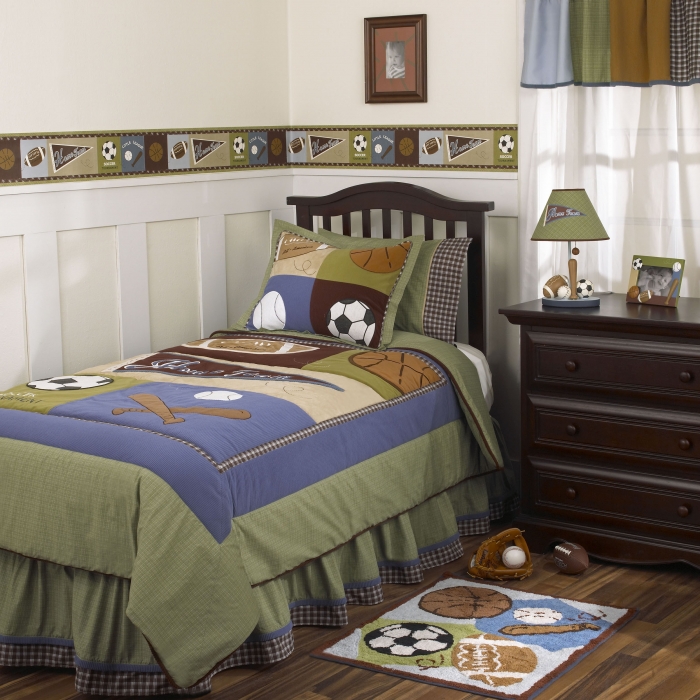 Bedding for boys comes in different styles, colours, and for younger boys, characters. Bedding for a boy can consist of a sheet set, duvet or comforter, pillows with pillow shams, or simply pillowcases, and blankets. There are even decorative pillows that can be placed on a boy's bed for added aesthetic purposes. For older boys that may not want character sheets or bedding, there are a lot of options including patterns like plaid or stripes, or more traditional, solid coloured sheets.
Buying boys' bedding on eBay is a great way to get everything you need in one spot, and it can be a one stop shopping destination for all things bedding including sheets, duvets, blankets, and pillows along with decorative pillows or other bedding embellishments. Fix up your son's bed to become a cosy haven that will invite a good night's sleep with some basic boys' bedding options that can be found easily in one place. But before diving in and making a purchase, it's important to take a look at the many different factors to purchasing boys bedding such as style, design, type of bedding, and many more.
What to Consider Before Buying Boys' Bedding
Before purchasing bedding for boys on eBay, you need to know what size bedding you are looking for, whether it's for a twin bed, full, or larger. This will help tailor a more specific search to reveal more relevant results when you're looking for bedding. Also, a boy's existing décor as well as his individual tastes should be considered. For a younger boy that is obsessed with Star Wars, he might like sheets emblazoned with the characters from the movie or other space bedding. For older boys, bedding should match not only their personalities but also existing room décor for the most put together look.
Consider what types of bedding are needed. Some boys may like sleeping with lots of blankets and a duvet, and some boys may only want a light blanket to sleep under. A duvet looks great on any bed, whether it's used for decoration or for function, and it's an easy way for a boy to make his bed in the morning.
Types of Bedding
When it comes to bedding for boys, there are a few common types. What really makes the decision difficult is all the different colours and styles. Decide what is needed for your boy's bed and make a list. This will make it easier when you're shopping, and you can mark off what you've purchased as you go. A bedding set may be a good way to go for a boy that needs all new bedding including pillowcases, or you may simply need a new duvet and some pillow shams.
Sheets
Sheets for boys are generally made of cotton and consist of a fitted sheet that goes directly onto the mattress, a flat sheet, and matching pillow cases. Sheets should fit the mattress without any loose material, and they can come in a variety of colours and styles. For younger boys, you may want to put a mattress cover or protector underneath the fitted sheet, just in case there are any spills or accidents. These can be washed and keep the mattress itself from becoming wet or stained.
Most sheets for young boys have some kind of characters or design on them, like outer space bedding, dinosaur bedding, or Cars bedding. Older boys may want things like skateboard bedding or sports bedding. There are sheets for boys that have every type of interest. Boys' sheets are generally purchased as a set that includes the bottom sheet, top sheet, and pillowcases.
Comforters/Duvets
A boys' duvet, also called a comforter, is a thicker blanket that goes on top of the bed and really provides the theme for the bed itself. Duvets and duvet covers come in colours or styles that can match or complement the sheets that were selected, or they can be contrasting colours or patterns for a trendy look. For the best look, select a duvet that goes with the boy's existing décor and matches the sheets, too. Duvets can be solid coloured, patterned, or have characters on them. They are sometimes even reversible which can provide two different looks for the boy's bed. Reversible duvets for boys may have a design on one side and be solid coloured on the other, or have characters on one side.
It's generally recommended to buy a duvet cover, especially for younger boys. This will protect the duvet itself, and while a duvet can't be washed too frequently, a boys' duvet cover can easily be removed and tossed into the washing machine as often as it may need it.
Blankets
Blankets can go under the duvet and on top of the flat sheet to provide warmth, or if the boy doesn't want to sleep under the duvet itself. A lighter blanket can provide warmth without the bulkiness of the duvet. Boys' blankets might be made of fleece or cotton, and they often have their favourite characters on them such as Ben 10 or SpongeBob blankets. A solid coloured blanket could also be purchased to go on a boy's bed. It depends on how chilly the room is at night and how thick a blanket the boy likes to sleep with. It's a matter of personal preference. A light fleece throw is a practical idea for a boy's bed, and very soft and comfortable to sleep under.
Decorative Pillows
Make a boy's bed look complete with a few decorative pillows. Some types of bedding may have pillows to match, such as character pillows. A Bob the Builder pillow will look great on a boy's bed that has Bob the Builder sheets on it. A pillow shaped like a character, such as a Skylanders pillow, adds a fun and whimsical touch to the bed, and can complement Skylanders sheets. Younger boys will love a character pillow, which in some cases, can double as a stuffed animal to play with.
Bedding Sets
Bedding sets are a great option if you want to get it all at one time, and don't want to search separately for sheets and a duvet. A boys' bedding set can come in several different forms. It can come with sheets as well as a duvet or comforter, or it can come with just a duvet and pillow case. A bedding set is easy to purchase, because you know everything in it already matches and if you don't have time to pull together different items to create a bedding look for a boy, a bedding set may be the answer.
Some bedding sets may even come with additional items like matching curtains, a fleece blanket, or a rug. Check the seller's listing to see what items come with the bedding set you're interested in. A boys' bedding set is a great way to get a good deal on a lot of items to enhance a boy's bed, and you may end up getting some additional decor for a great price, as well.
How to Buy Boys' Bedding on eBay
When you look for the perfect boys' bedding on eBay, keep in mind the size of the bed as well as what kind of décor the boy likes. Search boys' bedding to see what the options are, or you can search specific items like boys' sheets, and characters, like Ben 10 bedding. Cath Kidston has a wide range of boys bedding available on eBay.
Find a good deal on great bedding for a boy, and you won't have to spend lots of time going from store to store to find what your son really wants. When you shop on eBay for bedding for boys, remember that purchasing from Top-Rated Sellers is highly recommended, and keep in mind that you can alleviate shipping costs if your purchase boys' bedding from a local seller.
They may allow a personalised pickup that will not only create a unique purchasing experience but also allow you to minimise further costs. Get an even better deal by asking the seller what else they might be offering that can be bundled with your bedding: matching curtains, a fleece throw blanket, or a decorative pillow could be shipped with your bedding at a lower shipping rate.
Conclusion
Boys love it when their bedding reflects their personality and interests, whether it's Toy Story bedding for a younger boy, or soccer bedding for an older boy. Cool bedding can make it easier to transition a small boy to a standard sized bed, and letting him help pick out his bedding can be a good idea, too. Involve your son when you're shopping for bedding for him on eBay and not only will he get the bedding he wants, but you'll pay a great price for it, and you'll both be happy.
Buy a bedding set to get everything at once, or pick out sheets by themselves and let your son pick out a matching duvet and duvet cover that he likes. Pull a boy's room together with the perfect bedding and help create a haven for your son where he can play and sleep happily and peacefully. Shopping on eBay for bedding is not only convenient and takes less time than retail shopping, but the selection can't be beat and the items you purchase will be shipped right to your door in a timely way. Fix up any boy's room with some fabulous new bedding that you'll both love.