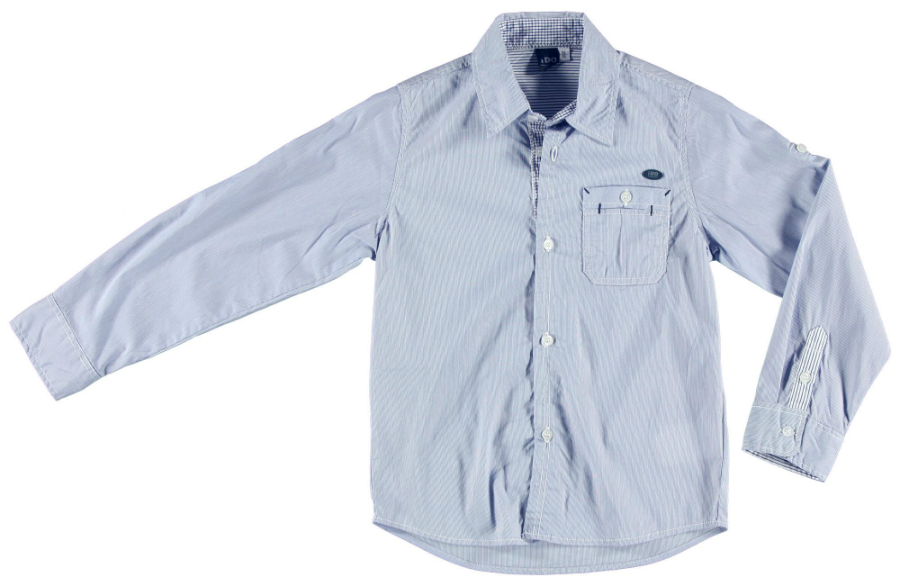 All children are active and are constantly growing. Boys are especially prone to drastic growth spurts that may cause their clothes to become smaller and fit poorly until they are replaced. Casual shirts are an important part of any young boy's wardrobe since they are worn not just for play, but for school and other activities on a day-to-day basis. Finding the right casual shirts for a boy can be difficult and frustrating, especially when a boy is in the middle of a growth spurt. In order to determine which casual shirts might be the best fit for a growing boy, it is first helpful to examine what the sizes of children's clothing mean and how they might fit. Another important factor when shopping for a casual shirt is whether or not that particular kind of casual shirt may be available for boys. With a thorough understanding of boys' shirts, buyers are able to find what they need either in a clothing store on online or by using a website such as eBay.
Sizing for Boys' Casual Shirts
Finding the right clothing sizes for casual shirts is fairly straightforward if the boy in question fits within the average weight and height parameters for his age. Of course, some boys may be small for their age, huskier than their peers, or just coming out of a growth spurt that leaves them taller than other boys. For this reason, it is helpful to see what the general weight and height requirements are for a particular size of clothing.
Boys' Clothing Size Chart
The following is a comparison between different clothing sizes for boys. There are both dual sized clothing and single sized clothing.
| Dual Size | Chest | Height |
| --- | --- | --- |
| 3-4 years | 55 cm | 104 cm |
| 4-5 years | 56 cm | 109 cm |
| 5-6 years | 58 cm | 117 cm |
| 7-8 years | 62 cm | 127 cm |
| 9-10 years | 69 cm | 140 cm |
| 11-12 years | 74 cm | 152 cm |
| Single Size | Chest | Height |
| 3 years | 55 cm | 98 cm |
| 4 years | 57 cm | 104 cm |
| 5 years | 59 cm | 110 cm |
| 6 years | 61 cm | 116 cm |
| 7 years | 63 cm | 122 cm |
| 8 years | 67 cm | 128 cm |
| 9 years | 70 cm | 134 cm |
| 10 years | 73 cm | 140 cm |
| 11 years | 76 cm | 146 cm |
| 12 years | 79 cm | 152 cm |
The best way to determine what size might best fit a boy if he is not the average size for his age is to use a tape measure and measure around the widest part of his chest.
Finding the Right Fit For Boys' Casual Shirts
Along with looking good and allowing a boy to enjoy any activity with a degree of comfort, a casual shirt should fit properly. Knowing the proper measurements is a big first step, but along with this is determining if the shirt itself is long enough and comfortable in other areas. T-shirts are usually always a decent fit if they are the right size, but shirts with longer sleeves, especially button-down shirts should have the sleeve fall to the point where it covers the wrist and stops where the thumbs begin. Shirts with collars should allow the neck to have room. If a collar is buttoned all the way up, a finger should easily be able to slip between the collar and neck.
Shrinking
Many casual shirts for boys are made from cotton or a blend of cotton and synthetic materials. Cotton, while comfortable can shrink when washed or dried, leaving it a poor fit for a growing boy. When purchasing casual shirts made of cotton, it is important to determine if it has been pre-shrunk or not. If not, purchasing a shirt a few sizes larger than needed will compensate for shrinking and allow the boy to have ample room to grow.
Boys' Casual Shirt Styles
Boys have a lot of options when it comes to casual shirts. These shirts can range from short-sleeved options to long-sleeved options as well as jumpers and hoodies. Each style of shirt may make a fashion statement and each boy may have a preference of what kind of shirt they might enjoy the most.
T-shirts
T-shirts are probably the most popular and common casual shirt for boys by a large margin. T-shirts generally fit every body type comfortably and come in a variety of colours with many options for logos or designs on the front. Most t-shirts are made from cotton and it is important to determine if they have been pre-shrunk or not. T-shirts are generally inexpensive and can withstand quite a bit of rough play, making them a smart choice for school as well as recreational activities.
Polo Shirts
Polo shirts have a collar and are usually unadorned with logos and images, which makes them somewhat classier than a t-shirt. For this reason, they are a popular choice for school shirts. Polo shirts are also fairly durable and can withstand a high level of physical activity. As with t-shirts, polo shirts are made with cotton or a cotton blend, so shrinking is possible. Most polo shirts are short-sleeved, but there are long-sleeved versions available as well.
Button-Down Shirts, Oxfords
Button-down shirts, known as Oxfords are usually the most polished of casual shirts and are a short step away from being a dress shirt. This does not mean that they cannot be worn during physical activity, however. Oxfords are named for a type of material that is commonly used in their construction. Oxford style shirts are usually used to refer to any button-down shirts, regardless of the material they are made from, although Oxford is the most common material. The reason for this is that Oxford is a heavy and durable fabric that can nonetheless be washed easily and does not require as much care as a dress shirt. Oxfords can come in a wide variety of colours and patterns, which makes them quite fashionable. There are short-sleeve Oxfords and long-sleeve Oxfords, making them a viable option for boys' shirts throughout the year. They are a popular choice for school shirts as well.
Turtlenecks
Turtlenecks are a kind of casual shirt that waxes and wanes in popularity, but can still be quite fashionable. Turtlenecks are long-sleeve shirts that have a collar that usually comes to the base of the neck. The exception to this is the mock turtleneck that only comes halfway up the neck. Turtlenecks can be worn by themselves as well as under jumpers, which makes them a logical choice for cold weather.
Jumpers
Jumpers are warm, comfortable, and can be worn with a variety of other casual shirts underneath. Most boys' jumpers are made from a cotton blend that can be washed in a washing machine easily. There are several different options for boys' jumpers, including cardigans, which can be buttoned up, crew-neck, which can be worn on top of a t-shirt, and v-neck, which can be easily worn with an Oxford underneath or even a turtleneck. Jumpers come in a wide variety of colours and styles.
Sweatshirts
Sweatshirts are made from a type of thick cotton known as fleece. They are very warm, and tend to be associated with sports, although they are commonly worn just about anywhere. Like t-shirts, sweatshirts frequently have logos or other designs emblazoned on them. they are frequently designed with the logos for sports teams on them. A wildly popular variant on the sweatshirt is the hoodie, which had a hood that can cover the head, helpful during a rainstorm or when it is windy.
Buying Boys' Casual Shirts on eBay
Knowing the size and style of a desired casual shirt is only the first step towards making a successful purchase. Buying a shirt is much easier if the buyer uses eBay as opposed to the restrictions of a local store. While there are many clothing stores that sell casual shirts for boys, buying online can save buyers from a drive to the store as well as save them money with lower prices and more variety. There are many casual shirts available for boys on eBay, with a selection that includes new items as well as used ones that may be less expensive than buying new shirts. This may be especially important to parents of a boy who is growing fast enough that a shirt purchased this year might not fit next. Finding the right casual shirt for a boy on eBay is a process that simply involves entering the right search term. For example, type "boys' casual shirts" into the search bar that can be found on any eBay page. This keyword search term can be easily modified to include size or style based on preference.
Conclusion
Boys are almost always active and growing, two factors that make buying the right casual shirts of the highest importance. With the right casual shirt, a boy will be comfortable and thus able to enjoy physical activities without worrying too much about the state of his clothing. Of course, the best casual shirts are also something that can be worn to school, except in cases where a dress code or uniforms may interfere. When buying casual shirts for boys, it is helpful to be aware of how sizes are measured and if a certain size will fit a given boy. This information makes it easier to find the right style of shirt as there are many kinds of casual shirts that can appeal to a boy, from t-shirts and sweatshirts to polo shirts and Oxfords. With the size and style in mind, anyone can find some amazing casual shirts for a boy to wear anywhere they might go in life.