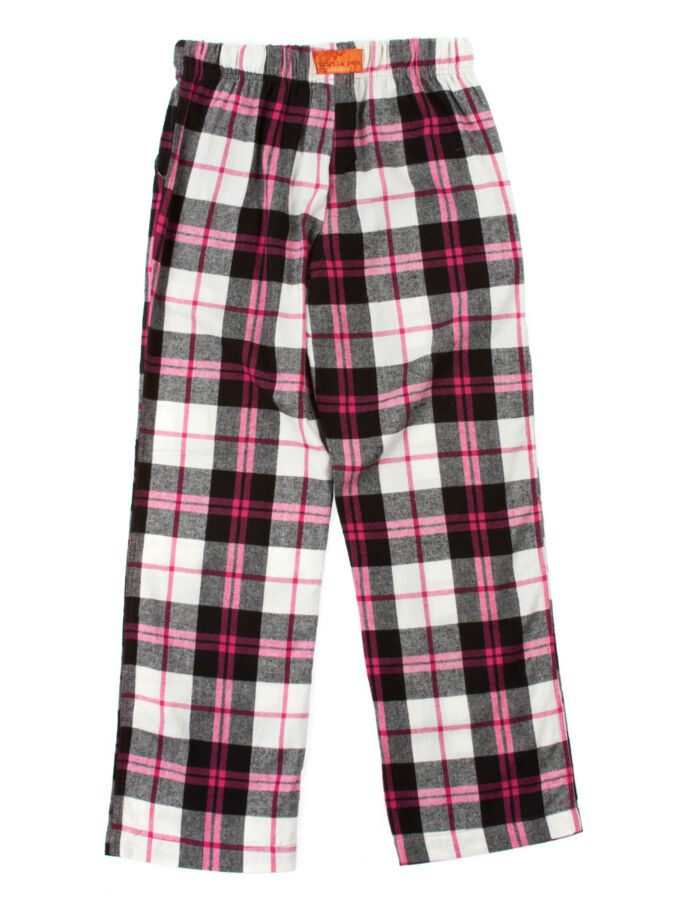 Every boy, from toddlers to teens, should have a selection of long pyjama bottoms. Boys' long pyjama bottoms are available in a variety of fabrics, from silk and cotton for use in hot weather, to flannel and jersey for colder conditions. When buying boys' long pyjama bottoms it is useful to understand the different fabrics and their advantages and disadvantages in order to choose the most appropriate type for a child. For young boys who require overnight protection in the form of nappies or disposable pull-ups, stretchy fabric, such as flannel is an ideal choice as it covers the undergarment easily, without restricting movement. Themed pyjamas are a fabulous way of bringing a little bit of fun to bedtime. Children grow quickly, so it may be possible to find a pair of pre-owned boys' long pyjama bottoms in a great condition.
Boys' long pyjama bottoms can be found at children's clothing shops and department stores. eBay also has a vast range of boys' long pyjama bottoms in a choice of sizes, colours, fabrics, and themes.
Fabrics for Boys' Long Pyjama Bottoms
There are several types of fabrics used to make boys' long pyjama bottoms, and each has advantages and disadvantages. The season should also be taken into account, as some fabrics are better suited for cold weather, while others work better in warm conditions.
Flannel Boys' Long Pyjama Bottoms
Boys' long pyjama bottoms made from flannel are very warm. The close weave of the fabric makes it a fantastic insulator, trapping body heat. Flannel long pyjama bottoms are an excellent choice in autumn and winter for boys of any age. The closely woven fabric is soft to the touch, so does not irritate the skin. Flannel pyjama bottoms can be washed and dried at high temperatures without shrinking or losing shape. The fabric becomes softer and more comfortable the more it is washed. Flannel is a rugged, durable fabric that can withstand a great deal of wear and tear and does not wrinkle easily.
Flannel is usually too warm for hot conditions as it can cause excessive perspiration and discomfort. As flannel is highly flammable it should not be worn near to naked flames, like a traditional log fire.
Jersey Boys' Long Pyjama Bottoms
Boys' long pyjama bottoms made from jersey are very popular. Jersey is a knitted fabric made from cotton, or a polycotton blend. It is an effective insulator, because of the close knit stitches. Jersey is very stretchy, so it does not restrict movement in any way. It is also machine washable, durable, and long lasting. Jersey is extremely soft and comfortable, and is a popular choice for those with sensitive skin. Boys of any age can benefit from soft, stretchy, jersey long pyjama bottoms in colder conditions. The added stretch of jersey makes it perfect for young boys who still need nighttime protection, such as nappies or waterproof, disposable pull-ups.
Cotton Boys' Long Pyjama Bottoms
Cotton boys' long pyjama bottoms are very lightweight. They provide good airflow and breathability, pulling perspiration and hot air away from the skin rapidly. This helps to prevent children overheating in hot conditions. Cotton long pyjama bottoms are inexpensive, and 100 percent organic cotton is available, which is eco-friendly, and has no harsh chemicals used at any point in the production, making it suitable for those with sensitive skin and allergies. Although well suited to warmer weather, cotton long pyjama bottoms are available in different thicknesses and thread counts. A higher thread count, such as 600, indicates a thicker, warmer, and more durable pair of long pyjama bottoms.
Silk Boys' Long Pyjama Bottoms
Boys' long pyjama bottoms made from silk are the perfect choice for sensitive skin. They are exceptionally soft, so are unlikely to cause irritation. The natural fibres allow the skin to breathe, and air is able to flow freely around the body. Silk is not an effective insulator, and so it is only really suited to warm and hot temperatures. Boys' silk long pyjama bottoms are comparatively expensive and cannot be washed at high temperatures, nor can they be put in a drier. They also have no real stretch, so are not suited to boys who need nappies or protective underwear overnight.
Themes for Boys' Long Pyjama Bottoms
For younger boys, buyers should consider purchasing themed long pyjama bottoms, with their child's favourite superhero, cartoon character, or sport on them. This makes bedtime more engaging and entertaining, and can help to reduce any pre-bedtime tantrums. Superhero themed pyjama bottoms can also be used in bedtime stories to help to alleviate any distress in young boys who find it difficult to sleep, or who are afraid of being in the dark.
Sizing for Boys' Long Pyjama Bottoms
Buying the correct size of boys' long pyjama bottoms is vital. Young boys grow quickly, and so should not be squeezing into tight, restrictive, and uncomfortable pyjama bottoms. This leads to a bad night's sleep and potential health problems later in life. The chart below provides average measurements based on boys of different ages.
| | | | | | | | | | | | | | |
| --- | --- | --- | --- | --- | --- | --- | --- | --- | --- | --- | --- | --- | --- |
| Age (years) | 3 | 4 | 5 | 6 | 7 | 8 | 9 | 10 | 11 | 12 | 13 | 14 | 15 |
| Height (cm) | 98 | 104 | 110 | 116 | 122 | 128 | 134 | 140 | 146 | 152 | 158 | 164 | 170 |
| Waist (cm) | 51 | 52 | 54.5 | 55.5 | 56.5 | 58 | 60 | 62 | 64.5 | 67 | 69.5 | 74 | 77 |
| Inside Leg (cm) | 42.5 | 45.5 | 48.5 | 52 | 55.5 | 59 | 62.5 | 66 | 69.5 | 73 | 76 | 79 | 81 |
The chart above provides a guide to the sizing of boys' long pyjama bottoms based on average measurements. It should be noted that this chart is only a rough guide as every child is different, as is the cut of different pyjama styles.
Safety for Boys' Long Pyjama Bottoms
All children's nightwear must meet the European standard: BS EN 14878. This means that the fabric used to make the nightwear has been tested to ensure that its flammability rating is low, or that it has been treated with a flame retardant. The item must be labelled clearly with this information. Buying boys' long pyjama bottoms without this labelling may be dangerous, as buyers will not know if the item has low flammability, or has been treated with an appropriate flame retardant.
Buying Secondhand Boys' Long Pyjama Bottoms
Boys grow very quickly, particularly those of a younger age. Therefore, they grow out of clothes rapidly, and continually need new ones. This means that buyers shopping on a tight budget can find quality boys' long pyjama bottoms that have very few signs of wear at bargain prices. When buying second hand boys' long pyjama bottoms, it is important to make sure that they are clean, free of stains, and show only very minimal signs of wear. The stitching and hems should all be intact and there should be no visibly thin patches on the knees or the rear.
Buying Boys' Long Pyjama Bottoms on eBay
Boys' long pyjama bottoms can be found quickly and easily on eBay by searching from the eBay homepage. Boys' long pyjama bottoms are available in a variety of sizes, colours, and designs, in both new and used conditions. Buyers can search by entering a phrase into the search box on any page, such as "boys' long pyjama bottoms&".
To narrow down the search results, more detailed information can be included in their search, such as fabric or theme. The eBay buying process is a simple one, with user-friendly tools and simple instructions. It is always advisable to check the returns policy of the seller, to make sure that the pyjama bottoms can be returned if they do not fit correctly, are damaged, or are otherwise unsuitable.
Checking the feedback of the seller is also advised. The feedback score of a seller indicates their credibility and eBay reputation. Sellers with a high percentage of positive feedback have a reputation for consistently providing top quality products, and a high level of customer service.
Conclusion
Boys' long pyjama bottoms are an essential bedtime item for boys of any age, particularly during colder weather. Buyers should purchase boys' long pyjama bottoms after assessing the needs of the child. For example, if the child suffers from sensitive skin that is easily irritated, then purchasing jersey or silk long pyjama bottoms is an excellent plan as these fabrics are exceptionally soft, providing comfort and protection against irritation. For hot weather, silk or cotton pyjama bottoms are the best choice. For cold temperatures, flannel or jersey pyjama bottoms provide effective insulation.
Understanding the differences between the fabrics used to produce pyjama bottoms helps buyers to make an informed choice. The sizing chart provides a guide to selecting the right long pyjama bottom size so that the child is comfortable and not restricted. Buying second hand pyjama bottoms is a good option, particularly for younger boys, who grow rapidly, so buyers can look for good quality nightwear with little wear at affordable prices. eBay has an extensive range of boys' long pyjama bottoms that will help every boy to have a good night's sleep.