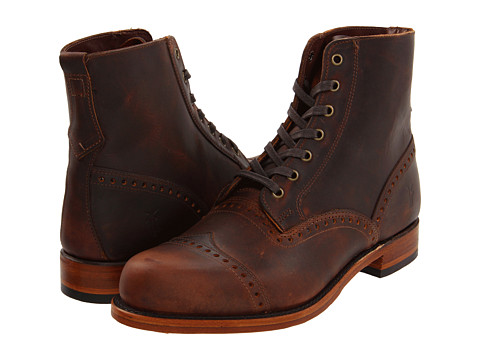 Brogues are popular dress shoes, but there are quite a few men who have no idea what a brogue is even though they probably have a few stashed away in their shoe closet. Brogues are a specific type of shoes that have low heels and are made for men. They were generally made of leather materials with serrated and punched designs around the edges of the areas where the leather is stitched together. This perforated technique is called "broguing", from which the shoe derives its name.
Initially, the first sets of brogues were made from undyed animal hide, and the perforations were not really geared towards creating a design. They were rather meant to enable the draining of water from the boots when a man walks through wet areas. Therefore, brogue shoes were often left for the rugged outdoors and country areas as opposed to a casual or formal occasion. However, things and times have changed, and brogues are now considered a popular dress shoes choice for many occasions. Before men make an attempt to go out and purchase brogue shoes, they should first become aware of the various types of classic brogues including cap and closure styles as well as the more contemporary options that they can buy online.
Different Brogue Styles
Most brogues are still made of leather, but with the constant evolution of the fashion industry, brogues have also taken on a more contemporary approach; and now there are also brogues sneakers and brogues shoes made from canvas. There are mainly four types of brogue cap and closure styles, and men should be able to tell the difference between the diverse style options before they start shopping.
Brogue Closure Styles
Before buying brogues, men need to be aware of the types of closure styles that are available to them. The closure style that is chosen often depends on the occasion and the purpose of the purchase. The basic four styles are highlighted below.
Oxford
An oxford style brogue refers to a particular laced shoe that is defined by its V-shaped vamp with the shoelace eyelet tabs stitched beneath it. This is also called "closed lacing". The oxford style is sometimes called balmorals based on its Scotland origins and the name of the Queen's castle.
Ghillie
Brogue ghillies are also oxfords, but they have an open top with no tongue, and the laces are long in order to wrap around the legs above the ankles. They are sometimes used as dance shoes but are more often seen complementing Scottish dresses during a social gathering.
Monk Strap
Monk strap brogues are pretty popular; their large strap and buckle distinguishes them. No laces are added as the buckle is the main source of security. Men mainly wear monk brogues for formal wear, but oxfords are the more popular choice. Men who cannot be bothered with laces often choose monks.
Derby
A derby style shoe is also referred to as Gibson or bucks, and they are defined by their "open lacing" method, which includes the shoelace eyelet tabs sewn on top of single vamps. The derby lacing method is contrary to the oxfords, and although they started out as hunting and sporting shoes, they are now more popular as formal wear.
Brogue Toe Cap Styles
Toe cap shapes generally distinguish the different styles of brogues. Many stores will categorize them as such, but men should know their characteristics so that they can identify them without relying on a tag.
Wingtip
Wingtip brogues are also called full brogues, and they have a somewhat pointy toe cap and a wing shaped layer that peeks above the toe cap and runs off to the sides. To the man standing over the shoes and looking down, the design will resemble extended bird wings that wrap the sides. The toe cap for wingtip brogues generally has decorative serrations along the edges and in the centre of the cap.
Men may find wingtip shoes that are not serrated; they are called "austerity brogues". There are also brogues without the wingtip stitching but have the serrated wingtip and punching designs; those are called "blind brogues".
Semi-brogues
Semi-brogues are also called half brogues and can be identified by the decorative serrations on top of the cap and along the edges. This type of brogue is an oxford shoe that John Lobb Ltd. designed in 1937 to offer a style that falls between dressy and plain. Men can wear this type of brogue to a formal or semi-formal event.
Quarter Brogues
Quarter brogues are very similar to semi-brogues in that they both have decorative serrations along the edge of the toe cap. However, the quarter brogues do not have any serrations or decorative punches in the middle of the toe cap like the semi-brogues do.
Longwing Brogues
Longwing brogues are derby laced shoes that are similar to the wingtip ones. They also have characteristic wings that start at the toe cap and spread off along the sides. However, longwing brogues spread their wings all the way along the length of the shoes while the wingtip stops midway. This particular style is no longer as popular as the others, but it can still be found if needed. Many U.K. shops may also refer to them as "American brogues".
Men's Shoes Size Chart
It is essential for men to measure their feet before buying a new pair of brogues. Additionally, the measurements should be compared with the size chart and other details provided by the shoe's seller to ensure a comfortable fit. Below is a shoe size chart for men. Sizes may vary by brand and manufacturer.
| Size | Centimetres |
| --- | --- |
| 4 | 22.4 |
| 5 | 23.3 |
| 6 | 24 |
| 7 | 25 |
| 8 | 25.8 |
| 9 | 26.5 |
| 10 | 27.5 |
| 11 | 28.4 |
| 12 | 29.2 |
| 13 | 30.1 |
Men should always measure both feet because one foot is often a bit longer and/or wider than the other. If a man measures his feet and experiences that issue, he should choose the larger of the two sizes. It is better to have one perfect fit and one that is a bit roomy than one perfect fit and one that is too tight.
If a man often wears a thick pair of socks with his shoes, he should consider buying his shoes a half size bigger than his measured foot size to accommodate the extra padding. Additionally, he should measure his feet in the evening if possible because they tend to be at their largest in the afternoons. Men who often wear wide shoes should also consider buying their shoes a little bigger than normal if wide sizes are not available.
How to Buy Brogues on eBay
If you are still not sure of the type of brogue you need, you can start out by performing a general search from the eBay homepage. Simply type "mens brogues&", and the eBay search engine will return a large selection for you to consider. All types of brogues will be presented, and from that list, you can develop a preferred style and then perform a more refined search. For instance, if you develop a preference for wingtip brogues, you can change your search to "men wingtip brogues" or "mens longwing brogues" and subsequently reduce your results by probably over 50 percent.
If you do not have a preference for any particular style, you can use the general search and then select specific filters, such as colour or brand. Most brogues are considered formal wear, but you can add fabric or material filters to find shoes that could be worn casually as well. A filter could be added for suede, canvas, or synthetic materials, which would display a host of styles that are less dressy.
Once you have decided on a style, colour, material, and so on, try to pinpoint at least two options. Contact each seller if you have any questions. If one item is not available or the transaction falls through, you will still have another option to consider.
Conclusion
Brogues are extremely popular shoes with many style options, but when a man decides to purchase brogues online, he should have already familiarized himself with the various closure and toe cap style options. This allows him to easily perform an online search for specific brogue types to complement his wardrobe.
After selecting a brogue style, men should obtain a recent measurement of both feet and compare it with a size chart to choose an appropriate fit. He should also consider adjustment factors, such as the thickness of his socks and feet width, before setting on a particular size.
Men often shop at local stores because they can try the shoes on in the stores, but shopping online is often more convenient and provides more options. Men are not often avid shoppers, and some shy away from the task completely; however, eBay makes shopping online for brogues very easy by allowing men to perform general and specific searches and add detailed filters to easily refine their search.