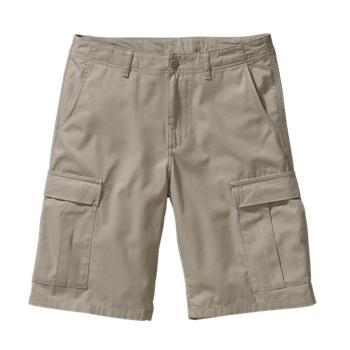 Military garb has been popular amongst a majority of men, especially cargo pants. The camouflage design, coupled with the utility of having numerous pockets to store items, made the pants a staple during outdoor activities. Designers who saw the potential of cargo pants decided to manufacture a version that men could wear during the warmer months of the year, and hence, cargo shorts were introduced to the male market. The shorts initially served the same purpose as cargo pants, but recent designs have incorporated a casual look that allows men to wear cargo shorts to social gatherings.
Men have many options when it comes to buying cargo shorts. They can shop the men's clothing department at large department stores or find good values at discount stores that offer men's clothing. However, men tend to find the best deals on high quality cargo shorts by shopping online at eBay. Before men buy cargo shorts, they should learn about the advantages of wearing a pair of cargo shorts, the cargo shorts questions to answer, cargo shorts styles, and the easy process for buying the right pair of men's cargo shorts.
Advantages of Wearing Cargo Shorts
For years, cargo shorts were perceived as clothing to wear in the great outdoors, mostly for camping, hiking, and backpacking. Men did not buy cargo shorts to wear during casual summer social events. Designers began to incorporate styles that appealed to men, and thus, cargo shorts became an accepted addition to summer casual wear. With the style issues settled, an increasing number of men began to buy cargo shorts for the distinct advantages the shorts provide.
Comfort
Cargo shorts offer men comfort in a number of ways. The loose fit around the thighs allows men to bend their knees without experiencing any restrictions. Moreover, there is more space for air to circulate at the bottom of cargo shorts, which reduces the amount of sweat that other types of men's shorts traps between the skin and the shorts fabric. Most styles of cargo shorts have excellent breathability qualities.
Durability
Cargo shorts derived from cargo pants that the military designed to hold up to rugged punishment. The construction of cargo shorts involves tightly sewn hem lines and heavier materials than those used to construct other types of men's shorts. Cargo shorts are less likely to tear if they snag on an object, such as a bush or fence.
Pockets
Ask any man why he chooses to purchase cargo shorts and the most likely answer is the number of pockets that allow him to store items. Cargo shorts provide men with storage space for their iPods, car keys, and mobile phones. Outdoor enthusiasts utilise cargo shorts to store compasses, fishing lures, and pocket knives. Cargo shorts also work great for home improvement projects that require easy nail and screw access. Cargo shorts pockets provide men with unmatched convenience.
Questions to Answer Before Buying Cargo Shorts
Men should ponder some questions before they begin searching for the right pair of cargo shorts. The questions, when asked in the correct order, provide men with enough information to make wise purchasing decisions.
Are Cargo Shorts Appealing?
The surge in the popularity of cargo shorts has led to a follow-the-fashion-leader mentality. Before buying cargo shorts, men should try a few on to see if the shorts match their body shape and size. Moreover, some men may not be comfortable wearing such a loose fitting pair of shorts. Cargo shorts appeal to men who like the casual look and feel of the shorts.
What Is the Purpose of Buying Cargo Shorts?
The purposes of wearing cargo shorts have expanded over the past few years. What was once solely the domain of outdoorsmen, cargo shorts now have additional wearing applications. Men can wear casual cargo shorts to summer dinner parties and at church picnics. Therefore, one of the first questions men should ask themselves is what the purpose is of buying a pair of cargo shorts. Cargo shorts manufacturers have created hybrid cargo shorts that serve more than one purpose.
Does Colour Matter?
Cargo shorts come in numerous colours that may make the buying decision almost impossible to make. Men who place a lot of weight on colour should list their three favourite cargo shorts colours and then move on to other buying factors. The number of cargo shorts pockets do not matter if a man is not pleased with the colour design.
What About Brand Shopping?
Men typically brand shop when it comes to buying auto parts or home improvement supplies, but they tend to dismiss brands when they shop for clothes. Shopping for a pair of high-quality cargo shorts involves looking for brand names, such as BKE, Hurley, Ralph Lauren, and Nautica. Not only do these brands sell the latest styles, they typically produce cargo shorts that have longer lifespans.
Popular Cargo Shorts Colours
There are hundreds of cargo shorts colours for men to consider before they make a purchasing decision. However, by only considering the following most popular colours of cargo shorts, men can be assured they are buying top of the line cargo shorts that have style staying power.
Cargo Shorts Colour

Descriptions

White

Eight cargo style pockets

Removable canvas belt

Zipper fly

Matches well with darker cotton shirts

Off-White

More colour flexibility for matching with shirts

Multiple pockets

Tailored for a classic fit

Khaki

Most popular style

Can be worn in almost every type of environment

Drawstring adjustments

Six cargo pockets

Olive

Popular with ex-military personnel

Multiple outdoor design theme

Multiple pockets

Navy

The most formal type of cargo shorts

Perfect for upscale casual summer social events

Six embroidered cargo-style pockets

Pull up tabs on sides

Black

Zipper fly

Drawstring on bottom hem

Nine cargo-style pockets

Canvas-style belt
Keep in mind that each of the most popular cargo shorts colours have numerous sub-styles that differ mostly in their designs. Olive and navy cargo shorts styles offer men more design choices.
How to Buy Cargo Shorts
Buying cargo shorts does not involve a tailor measuring the waist line. Men can measure their own waistlines by using a simple tape measure. Once a man understands his waistline size in centimetres, he is then ready to follow a few steps on the road to owning a pair of cargo shorts.
Consider the Purpose of the Cargo Shorts
Write down what you want from a pair of cargo shorts. Men choose from hundreds of styles, with each design presenting a different purpose. Choose from the most popular colour designs when purchasing the first pair of cargo shorts. Consider whether the shorts are used everyday during walks or bike rides, or if they need to be rugged enough to withstand the rigours of outdoor work. After defining the purpose, men can then move on to the features.
Decide on Cargo Shorts Pockets
The defining characteristic of cargo shorts typically entails accordion-folded pockets that are flat until they are filled with items. Cargo shorts pockets typically have one button, although manufacturers have created a two-button prototype. They can also be shut by a hook-and-loop device. Decide on how many pockets satisfy storage needs. Men who buy cargo shorts for outdoor activities may require more pockets than men who wear cargo shorts for social gatherings.
Consider Cargo Shorts Materials
Lightweight materials, such as synthetic polyester and nylon, are good materials for cargo shorts worn during some type of physical activity. Outdoor specialty companies that include North Face and Columbia produce lightweight cargo shorts that in many cases are UV-protected. Dickies manufacturers more rugged cargo shorts that men need to wear in construction environments. Higher-end cargo shorts are made with cotton and cotton blends.
Decide Where to Purchase Cargo Shorts
Since shopping for cargo shorts is not as involved as shopping for most other types of men's clothing, men should consider buying cargo shorts online. Men can find excellent deals online from brick and mortar stores and from wholesalers who sell exclusively online. A strategy used by many men is to try on a few pairs of cargo shorts and then go online to find the best deals. Even better, men should consider buying cargo shorts on the leading online auction site, eBay.
Buying Cargo Shorts on eBay
eBay offers the widest selection of cargo shorts, from high-end cotton designer cargo shorts to the rugged cargo shorts made with lightweight materials. Type a few keywords into eBay's search engine to find the style of cargo shorts that matches your shopping criteria. You can search for 'cargo shorts', although it is recommended that you type specific keywords to narrow your search and reduce your shopping time. For instance, type 'men's polyester cargo shorts&' or 'grey cargo shorts&' to decrease the number of search results pages. Review the product pages of the sellers that interest you. Each seller includes an enlarged product photograph, methods of accepted payments, and delivery terms.
Consider buying cargo shorts from eBay's Top-Rated Sellers. These sellers have established strong reputations for offering superior products and generous return policies. eBay places a ribbon icon by each top-rated seller. You can also review seller customer feedback on product pages. Look for sellers who have received positive feedback for the past year and have some experience selling men's clothing. If you develop a business relationship with a seller, you can buy other products directly from that seller at the seller's eBay store.
Conclusion
Cargo shorts have taken the men's fashion world by storm. Once considered a pair of rugged outdoor shorts, cargo shorts can now be found in casual social settings and even around the office on casual dress days. The increasing popularity is due to the comfortable fit, durability, and the multiple pockets that define cargo shorts. Men can choose from hundreds of cargo shorts styles that vary by colours and design. They should consider brand name cargo shorts that ensure high product quality and superior expertise. Cargo shorts are not for every man, so trying on different pairs is a good way to start the cargo shorts buying process.
While cargo shorts are available at large department stores and men's clothing stores, the best place to buy cargo shorts is online. Many big box retailers offer the same line of cargo shorts through their e-commerce stores. Men just need to know their waist size, have an idea of the style of cargo shorts they want, and know the features they want to accompany the shorts. The best deals of all can be had on eBay, the leading online auction site.