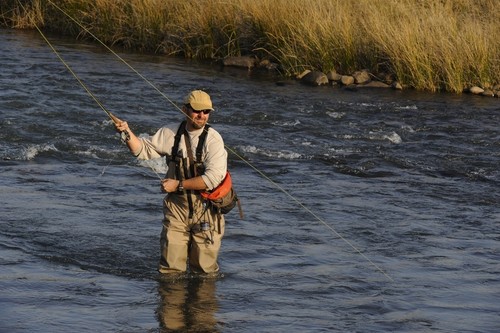 Anglers haven't always had the option of being able to fish for carp during the winter months. For a long time, it was believed to be practically impossible to catch carp in the cold season; the fish almost goes into hibernation over winter, its metabolism slows down and they barely eat any food.
However, advances in fishing technology mean anglers have access to better equipment and can keep fishing for longer with the help of camping accessories and specialist clothing, it is now nothing out of the ordinary to target carp whilst fishing during the winter. Any angler who is interested in winter carp fishing will require a different setup to one that they might use throughout the warmer months.
This guide will explain which rigs to use for catching carp over winter, as well as demonstrating how easy it is to find everything an angler could need for a cold-weather fishing trip on eBay.
Baits for Catching Carp in Winter
Anyone wanting to be successful whilst fishing for carp during the winter will have to adapt the bait that they would normally use during the summer. Due to the fact that the carp eat relatively little at this time of year, it's a good idea to simply halve the amount of bait that would be used in summer; if the bait is too large, it may fail to attract a carp. Here is a list of some of the different kinds of bait which have been used by experienced anglers to good success whilst fishing for carp during winter:
Boilies
Man-made boilies, which are usually made up of products like fishmeal, soya milk and whey protein are great for attracting carp all year round. If at all possible, it's a good idea to use spiced boilies in the winter; they give off a stronger smell which will give the carp a little extra encouragement to take a bite.
Earthworms
One of the most popular and traditional fishing baits, earthworms are a highly effective bait at all times of year, but they are extremely useful to the winter angler. During a season in which it's especially difficult to attract carp, a live worm is likely to tempt even the laziest of fish into taking the bait.
Maggots
Using maggots as winter bait to catch carp is effective for the same reason that earthworms are; the movement is more likely to trigger a response from the fish. Most expert anglers would choose red maggots for this job, as their vivid colour means they are going to be more attractive to the carp.
Luncheon Meat
One of the most versatile baits that money can buy, luncheon meat has been known to attract all kinds of freshwater fish and carp are no exception. The meat has a reasonably strong smell to it that has been known to tempt carp in wintery conditions. Many anglers also dye the meat bright colours to appeal to the fish (using dye that will not cause the carp any harm).
Using any of these baits during a winter carp fishing session is a great idea. Whether they are brightly coloured, strong smelling or attract fish for any other reason, these baits have been used time and time again by anglers all over the globe to trigger a response from carp during the winter months. It's also helpful to remember that eBay always have listings for boilies, earthworms, maggots and multiple other varieties of bait to keep anglers stocked up over the winter period.
Hooks for Catching Carp in Winter
It is likely that fishing in any river or lake, anglers will notice extremely different conditions during winter than are present in summer. What this means is that compensations have to be made for these new conditions.
One such compensation that has to be made is the hook that is used to catch carp with. The most important difference in water conditions is that in the winter, much of the plant life at the bottom of the pond will have died off. What this means is that any hook will now be resting on a relatively smooth bed and accommodations for this fact much be made.
Fisherman have the option to use longer hooks and stiff hook links, safe in the knowledge that they will not become tangled in foliage. The use of a stiff hook line and longer hook means that there is also less chance of losing a fish at a time of year when you may experience less bites overall during the day, meaning that it is possible to make the most out of the fish that do take the bait.
Leads for Catching Carp in Winter
Choosing the right lead is crucial to fishing whatever season it may be, in winter however there are a few things that are worth taking into account for anglers with regards to lead choice to make sure that their winter carp rigs are as effective as possible.
Winter is a time to be using the leads at the heavier end of the scale, anything up to 8oz could be used in cold weather conditions. The reason for this is that fish are likely to group together in a small, possibly deep section of the lake or river, and the chances are that the water in the area the fish have congregated in is likely to be deep also.
Using a heavier lead gives a fisherman the ability to cast over longer distances; they will also keep lines steadier in the poor weather conditions that are likely to be present during the colder months.
Additional Suggestions
Although not technically part of a rig, it is useful to take a carp fishing trolley whilst fishing during winter. It is sometimes hard to determine where the fish are on any given day during the cold season and fishermen may find themselves moving about a lot in order to track down the location of the carp. Owning a trolley means that anglers can move all of their equipment to different spots along the water in a quick and painless manner. Specialist trolleys for use by fishermen are commonplace and it's not very difficult to find a brand new model on eBay for between £15 and £20.
It is worth considering night fishing during the winter months, as there is more chance that the fish will give away their location under the cover of darkness. At a time of year when the carp are at their least active, it is worth taking the effort to fish at the time of day when the fish are most likely to take the bait.
Buying Rig Equipment for Winter Carp Fishing on eBay
Anglers who are looking for a simple, affordable way to collect the essential equipment for winter carp fishing will be pleased to know that eBay lists thousands of pieces of carp fishing tackle every week, meaning that it's a great resource for finding the ideal fishing tackle for any circumstances.
One feature that makes finding angling equipment on eBay particularly easy is the ability that the site gives users to browse by item categories. For example, if a buyer was looking for the perfect bolies to use as bait on a winter carp fishing trip, they could narrow down their initial keyword search even further by selecting "bait" from the category menu on the left hand side of the page, to eliminate any unwanted results.
From there, users can then narrow down their search even further by choosing to filter results by colour, brand and price as well as a number of other options. Using eBay to find equipment suited to creating the perfect winter rig for catching carp has never been easier.
Conclusion
Any fishermen who are contemplating spending their winter fishing for carp should be heartened by the idea that eBay makes this easy and affordable. By following the simple tips on rig setup and collecting the correct equipment that are outlined in this guide, carp fishing is as straightforward and enjoyable in the winter as it is at the height of summer.
Bait such as boilies, earthworms, maggots and luncheon meat are all ideal for winter fishing, although it is a good idea not to neither overload the hook or use excessive amounts of groundbait in the cold weather because carp remain relatively inactive during this time of year and they are unlikely to be attracted to a huge bait.
Aim to set your rig up with a longer hook and a stiffer hook link for winter fishing, as much of the plant life on the bottom of the water will have died off and there will be nothing for the hook to catch on. Always use a large lead on a carp fishing rig during the cold season, as it is likely that the fish will be sat in deeper water which will require a longer cast.
Finally, why not try night fishing to target the carp when they are most active during this time of the year. Enjoy fishing all year round by securing all the equipment for winter carp fishing the simple way with eBay.