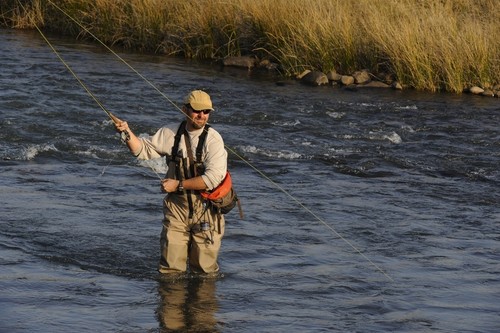 Carp fishing has become a popular pastime both in the UK and across Europe. Despite carp becoming threatened in the wild, it is still an activity that is enjoyed by many within the rivers and lakes of the UK.
This trend is reflected on eBay and there is a large selection of carp fishing equipment from tackle, bait, fly tying tools, bait tools, and other accessories.
About Carp
Anyone going freshwater fishing either by a river or a lake will find that there is a good chance that there will be carp present in the waters. The common carp is one of the most widespread fish in Europe and Asia and although it is considered to be in danger of becoming threatened in the wild, there are plentiful supplies in fisheries should you wish to try your hand at catching some.
In many parts of the world, they are considered to be extremely destructive animals, due to the fact that their feeding habits cause them to disturb a lot of sediment at the bottom of lakes and rivers and as a result, other wildlife is damaged. Despite being considered a pest by many, carp remain one of the most popular fish for angling and more are artificially bred for fishing purposes each year than all other fish combined.
Floats that are Ideal for Catching Carp
There are a number of different float setups that can be used on a rig that are ideal for catching carp. Each has their own particular strengths and weaknesses. Listed below are the varieties of float design that are generally believed to possess the best properties for carp fishing:
Carp Float
Due to the popularity of carp fishing, tackle manufacturers have now developed floats which are specially designed for catching carp. These floats are usually quite bulky and are brightly coloured for maximum visibility at long range and can be cast over 70 metres. Their heaviness means that they will keep a rig well balanced even in adverse weather conditions such as high winds. Any angler who enjoys carp fishing should certainly look into carp floats..
Quill Float
Quill Floats were devised in the 1800's and were originally made from porcupine quills. Now constructed from either wood or plastic, a quill float is an ideal float for carp fishing for a number of reasons. Firstly, the slender nature of the design means it is incredibly sensitive to even the smallest bites and will trigger enough movement to alert and angler. The lightweight nature of these floats will also prevent a fish from initially noticing tension on the line.
Stick Float
A stick float is another extremely lightweight variety of float which much like the quill float, can sense even the smallest bites. Designed for use in waters with at least a mild current, they are easy to control so they can be manoeuvred into a specific position on the water. Stick floats are also intended to float bait in a natural manner which carp will be more attracted to, increasing an angler's chances of getting a bite.
The Best Baits for Carp Fishing
Another key component of a good carp rig is the bait. There are a number of different baits which have been known to attract carp and each fisherman will find baits which he or she prefers to use. Listed below are some of the most popular baits used by anglers along with a brief description of why they are favoured:
Tiger Nuts
These nuts have been prized bait for many experienced anglers for a long time. Tiger nuts have a very strong but pleasant aroma, which has been known to attract large numbers of carp. These nuts however must be soaked for 24 hours in water and then boiled for at least 20 minutes, otherwise they are toxic to carp. If prepared properly however, tiger nuts are one of the most effective baits for catching carp.
Sweetcorn
Another type of bait that is often recommended by expert fishermen, sweetcorn is an affordable yet impressive carp bait. The carp are said to enjoy the colour, taste and texture of sweetcorn. There have been reports of anglers catching particularly large carp using sweetcorn. The only disadvantage of using this kind of bait is that it is also popular with unvalued fish such as bullheads, ruffes and gudgeon. Sweetcorn is fantastic bait for any angler on a tight budget.
Boilies
Boilies are man-made fish bait, which are usually made up of fishmeals, milk proteins and semolina or soya flour. The bait has a hard outer skin which means there is little chance of it breaking up in the water the same way that some traditional baits may do. Boilies are extremely popular with carp fishermen, especially brightly coloured ones, which are better at attracting the fish. There are thousands of deals on boilies which are listed on eBay at any one time.
Trout Pellets
As the name suggests, these fish pellets are traditionally designed for trout however, the bait is also popular with those who are targeting carp. Large carp are especially prone to eating pellets and it's a good idea to scatter a large quantity of groundbait into the water to provoke some kind of action near a rod. Retailers also list a large number of trout pellets on eBay, so there is a good chance of finding a bargain.
Hot Dog
Most experienced anglers will know about using hot dogs as bait, despite the fact that it may seem like an unusual choice to those who aren't that familiar with fishing methods. Hot dogs are not only affordable, but tinned varieties have a high salt content, which is something that is extremely appealing to carp. Many expert fishermen will always take some hot dogs with them if they plan on targeting carp during their day's fishing.
It is a good idea to take a number of different baits when planning a carp fishing trip. Depending on where intending to fish, the carp may have specific tastes or be more used to a certain type bait, whilst completely alien another. It's a good idea to keep bait varied until it is possible to determine what is attracting the fish best.
The Best Leads for Carp Fishing
Much like other fishing tackle, anglers will find no shortage of options when looking for lead sinkers to use whilst carp fishing. Leads are produced in a wide variety of shapes and sizes for various different purposes. There is no lead that is definitively the best for carp fishing use and many anglers have their own personally favoured equipment.
Many will use a pear lead, as it can achieve incredibly long casting distances. The streamlined shape of pear leads make them less likely to tangle around the fish, but they are unsuitable for use in silt or sand bottomed lakes and rivers because they have a tendency to imbed lines deep into the bed.
A distance lead is designed to achieve an impressive casting distance. These leads all well weighted and this has two benefits. Firstly, it allows straight, even flight during a cast to achieve a good distance. Secondly, it improves your hooking ability by giving the fish less time to realise that they have been hooked.
Although a distance lead will provide a good casting length, the best lead for long-distance casting is the tournament casting lead. Any angler looking to achieve the longest casting distance possible will want to use a tournament casting lead. The aerodynamic shape of the casting lead also means that it is easy to pull out of silt of mud.
If casting your line a short distance, a flat pear lead will be the ideal weight to use. These leads are perfect for using in rivers and lakes with a hard bed and will provide a great deal of resistance should a carp take the bait. Flat pear leads are also useful for use by anglers who are planning to fish for carp in the margins.
A good all-round option is the pyramid lead, which offers a number of positive features. Pyramid leads offer great stability in waters with a fast current and their shape allows them to dig into the ground and provide more resistance to any fish that may take the bait. Every carp fisherman should have a pyramid lead in their tackle box.
Buying Carp Fishing Rigs on eBay
Finding the perfect tackle to set up a great carp fishing rig is easy with eBay. Sellers list thousands of pieces of fishing tackle on eBay every week, so it's great place to find quality yet affordable kit for carp fishing. Shoppers can find exactly what they want quickly with eBay's search categories function, which allows users to narrow down their options until they have found what they were looking for.
For example, when searching for fishing equipment, eBay users can browse listings by the type of fishing they are designed for, the item itself (tackle, line, bait etc.), condition, brand and more. It is also worth remembering that most of the fishing equipment that is listed on eBay is brand new,, meaning that you will be browsing the same kind of stock that you would expect to find in a local tackle shop from the comfort of your own home.