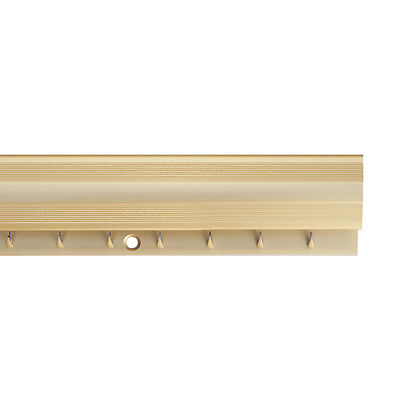 Carpet door bars are commonly used across door thresholds or across the joins where a carpet ends and another type of flooring begins. They provide a clean look as one transitions from one room to another with different type of flooring. Carpet door bars offer several benefits for both home and commercial use. Buyers looking to purchase carpet door bars should first consider their options before making final purchase decisions. The options include choosing between single and double carpet door bars, different carpet door bar materials, colours, and sizes as well as bar heights.
An individual who wants to purchase a carpet door bar may benefit from several options when it comes to choosing where to shop. Most carpet and flooring stores sell a wide selection of carpet door bars, as do home decorating stores, hardware stores, and select department stores. Online sites such as eBay also sell a wide selection of carpet door bars. eBay features reputable sellers, secure payment methods, and easy search options.
Benefits of Carpet Door Bars
Carpet door bars are designed to protect the edges of carpet flooring. Around the perimeter of a room where the carpet abuts a wall, the carpet is protected by skirting or beading. However, when the carpet ends and meets with other types of flooring, such as wood, laminate, tile, or linoleum, the edges of the flooring materials need to be protected. This is where most people choose to use a carpet door bar. As people walk over the flooring surface, the bar provides a protective and clean switch across the top of each adjoining flooring material.
When carpet is being run continuously through a doorway from one room to the next, it ideally needs to run continuously without being cut. However, there are various reasons why carpet must be cut and joined at the threshold of the door. In these instances also, a carpet door bar is useful. It helps to reduce the likelihood of the cut carpet ends becoming frayed and lifting away from the surface underneath.
When a carpet door bar is correctly used, it can increase the safety for those walking over it. Not all floor surfaces are of equal height. Many people find that the carpet sits higher above other floor surfaces such as tile or lino. Carpet door bars are used in order to reduce the likelihood of tripping over this small flooring height difference. They create a smooth transition between the different surface heights.
What to Consider When Buying Carpet Door Bars
Before heading out to purchase a carpet door bar, there are a few things that buyers should take into consideration so that they buy the right type of carpet door bar that looks aesthetically pleasing and is functional. Buyers have the option of choosing single or double carpet door bars, different bar materials, different coloured bars, as well as bars in varying lengths, widths, and heights.
Single and Double Carpet Door Bars
Single carpet door bars are ideal for use when ending carpet up against vinyl or linoleum, or for when the carpet ends on top of a flat surface, such as running floorboards or polished concrete. They are drilled to the under floor surface, and angled spikes hold the carpet edge in place by spiking into the underside of the carpet. A lipped edge sits over the cut edge of the carpet. Single carpet door bars are usually made from metal, as they need to be strong enough to hold the weight of a person stepping on the bar.
Double carpet door bars work in exactly the same way as single bars, except they have a flat spiked section on each edge and a central protective covering that sits over both flooring edges. Double bars are ideal for joining carpet to carpet or for joining carpet to another flooring surface that is of equal height.
Materials Used in Carpet Door Bars
Choosing the type of carpet door material depends on how and where the bar is to be used as well as personal preference and budget. The three main options include metal, wood, or laminate carpet door bars. Most materials are available in single and double bar style as well as a range of sizes and heights.
Metal
Metal carpet door bars are the more popular type of flooring bars as they are durable and hardwearing and tend to be less expensive. Metal or aluminium bars are able to withstand heavy foot traffic, including tough work boots and high heeled shoes.
Wood
Wooden carpet door bars are attractive and an ideal choice for joining wooden surfaces together. They also look nice when joining carpet and wood surfaces. Wood bars are not quite as durable as metal bars, and they are likely to be more expensive to buy. Manufacturers make wooden door bars in a range of woods to suit buyer's preferences.
Laminate
Laminate carpet door bars are relatively inexpensive. They are less expensive than wooden bars, although they are less durable. They can suffer damage from high heeled shoes, heavy foot traffic, or when moving furniture from one room to another across the bar. Laminate door bars are often used when adjoining laminate or solid wood flooring, although they can be used on carpet edges as well.
Colours of Carpet Door Bars
Carpet door bars come in a selection of colours. Metal bars tend to be available in silver and brass. However, some manufacturers offer a wider selection of colours to choose from, as the bars can be powder coated to different colours including grey, champagne, or black.
Sizes of Carpet Door Bars
When looking to purchase carpet door bars, it is important to understand what sizes are required. Door bars come in a range of lengths, widths, and heights.
Carpet Door Bar Length
The length of bar one requires depends on how wide the door is. Most bars are sold in approximately 92-cm lengths, or 3 feet. This length is usually sufficient for the average door width. However, some buyers need the carpet door bar to cover a longer length, such as across a double door, or across an archway between two rooms. In these instances, buyers are able to purchase long door bars, commonly available in 2.7-m, or 9-foot, lengths.
Carpet Door Bar Width
The width of a carpet door bar generally depends on personal preference. The wider the bar, the more durable it is likely to be. A 3.7-cm bar width is common. Those who want extra wide carpet door bars can find them in up to 6-cm widths.
Carpet Door Bar Heights
Not all flooring surfaces are of equal height. Carpet tends to sit above the height of other types of flooring. When adjoining two flooring surfaces of equal height, a simple carpet door bar should be sufficient. However, when adjoining flooring surfaces of unequal heights, one needs to ensure the door bar creates a smooth transition between each surface. These are sometimes called Z-bars or ramp thresholds.
Buying Carpet Door Bars on eBay
An individual looking for carpet door bars may choose to visit eBay to avail of the wide selection available on this auction website. Simply entering a basic search term such as "carpet door bars" into the search bar on the homepage can yield results that show the different types of carpet door bars available for sale on the website. Buyers looking for a specific type of carpet door bar, such as a wide carpet door bar or an extra long carpet door bar, may also type either of these specific phrases into the search bar. eBay also enables buyers to search via various categories, including door bar condition, price range, or buying format.
In order to help members get the most out of their eBay buying experience, the website offers useful customer support services. The "Find an answer" section enables buyers to enter a topic or keyword they wish to receive further information on. People who need to get in contact with eBay have the option of email, phone, or online chat with the website's experienced customer support staff.
Conclusion
Carpet door bars are used where carpet joins to other types of flooring surfaces, or when carpet cannot be run continuously through a doorway. Carpet door bars help to protect the flooring edges from damage. These useful flooring accessories come in a wide range of styles, including single or double bars. Carpet door bars are available in metal, wood, or laminate materials in a range of colours to suit different types of flooring. Buyers also have choices in the length and height of carpet door bars. The options available are dependent on personal preference as well as how and where one plans to use the carpet door bar.
When buying carpet door bars for the home or office, buyers may choose to visit eBay to avail of the numerous options offered on the website. eBay is an online auction site that enables buyers to easily search for different types of product categories such as carpet door bars at the desired price range. The website's search tools and functionalities can help a consumer locate the carpet door bar that is an ideal fit for the requirements involved.