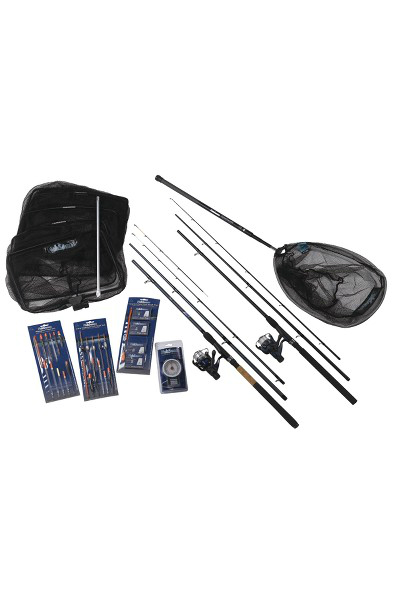 Fishing is a pastime enjoyed by people of all ages worldwide, and in the UK coarse fishing in particular is a popular type of fishing activity. However, there are many different kinds of supplies that must be purchased before the buyer can even begin to think about heading to the river. With this guide, buyers will be able to see the range of supplies available, what they are used for, as well as how to go about purchasing them on eBay.
Coarse Fishing
Coarse fishing is a kind of freshwater fishing, and it refers specifically to when anglers fish specifically for non-game fish (that is, trout, salmon and char). Popular methods involve float lures; however, some anglers prefer fly fishing, which requires entirely different lures and hooks, as well as methodology.
Fishing Supplies
There are many kinds of coarse fishing supplies available online, and the buyer should take care to select the supplies that will suit them, their rod, their target fish and location perfectly.
Lure
The lure is an important part of the fishing tackle, and there are many kinds used that are designed specifically to attract certain kinds of fish in very different rivers and environments. It is important that the buyer, who is purchasing the lure, knows the different types and which fish they are designated for, and also where they will be fishing. The main kinds of coarse fishing lure are:
Spinner
Spinner lures are so named after the small metal blades that are attached to the top of hook, which when in motion spin around, creating small flashes of light – mimicking the motion of small fish. These are very effective all year round and for many types of fish, but especially predatory ones that eat smaller fish. These lures sink quite quickly, so it is important that the user stays focused on the rod and reels in constantly.
Spoon
Spoon lures are much like spinners in that they are made of a shiny, reflective metal; however, they lack the spinning blades of spinner lures. Instead, these lures rely on the spoon-shaped, slightly concave shape of the lure to reflect light and create flashes to attract fish.
Plug
A plug is a type of lure that is designed to look like a small prey fish, but they come in many different shapes and designs. Some feature a 'lip' on the front of the lure that makes the lure dive to a certain depth – allowing for fishing in deeper water, as well as realistic motion – whereas others are designed to sit near the surface, which is the preferred kind of prey of many different fish.
Jointed
Jointed lures are much like plug lures, however, the fish-shape of the lure is articulated, allowing for a very realistic fish-like motion of the lure when being reeled in. They also usually feature two separate hooks, allowing fish to be caught whichever way it attacks the lure.
Shads
Another fish-shaped lure, shads are instead made of rubber, with a weighted head designed to draw the lure down to the bottom and a large hook on the back. These are lures aimed at bottom-dwelling fish, and the placement of the hook ensures that the lure can be drawn along the bottom of the water without getting snagged on weeds. The heads and hooks can be bought separately from the body, which is ideal as the plastic/rubber body can quickly become damaged from too much rough treatment.
Fly
Fly lures are specifically for fly fishing, and come in many different colours, sizes and even species imitations. If the buyer will be coarse fishing for a species that prefers insects then they may need to consider using flies for fly-fishing instead of a heavier fish-imitating lure.
Many buyers combine using bait with a lure, but using lures alone bring many advantages that bait does not have. Some species of fish only target bait and are being overfished because of the habit – resulting in a food chain weakness spreading in both directions. Fish are also less likely to be killed by deep hooking when using lures than when using bait.
Float/Bobber
A float can be a vital part of fishing, depending on the technique the buyer will be using, as well as where they will be fishing. A float or bobber is attached to the line at a certain point before casting, and is used to suspend the bait and hook at a certain depth, waiting for a bite. These floats can also function as bite indicators, with the brightly coloured top waggling when a fish has seized onto the bait.
Bait
There are many different kinds of bait used when fishing, and what is used often depends on the kind of fish being targeted. The main kinds of bait used during coarse fishing are:
Boilies – boilies are a boiled paste bait, made of several different foodstuffs that are attractive to fish, and pressed into a hardened small cake-like bait that lasts well in the water.
Pellets – pellets are much like boilies, however they tend to be smaller and made of different materials. Some are designed to break down in the water around the hook to attract fish, whereas others can be hooked onto or near the hook itself.
Liquid – liquid bait can be added to other store-bought bait or even homemade baits, like bread, to act as an extra attractor for fish.
Hooks
Many fishermen and anglers have several different kinds of hook to hand, all used for different fish, as well as different lures and fishing methods. Coarse fishing is done in freshwater; however, there are many kinds of hooks the can be used, such as:
Bait Hook – bait hooks are specifically made to hold live and other large bait, with the advantage being that the bait will be near the hook when the fish bites.
Freshwater Hook – freshwater hooks come in many different shapes and sizes, with one of the more common shapes being the treble hook attached to match large lure items, like plug lures.
Fly Hook – the fly hook is designed specifically for use with the fly lure, as it must be strong, but still lightweight enough not to pull the fly under the water.
Fishing Line
Fishing line is an important supply and it is usually a good idea to keep some extra line to hand, as the buyer will never know when a line will snap, snag or get tangled. When looking to buy fishing line, the buyer should consider the length and the strength of the line.
The length will decide how far and how deeply they can cast the line – often the more the better, as the user can always work the reel to control how much line is cast. The buyer should consider where they will be fishing as well – some rivers are deeper and wider than others and the line may need to be longer to reach the fish.
The strength is another important factor. This indicates how much tension can be put on the line before it breaks, and while it may not seem like a fish can harness much pulling strength, the buyer should consider that while the fish may be pulling, so will the angler to reel the fish in. Most freshwater anglers opt for at most 15lb strength line, though some larger fish may require a stronger line.
Job Lots
Job lots or bundles of coarse fishing supplies are an ideal way to purchase many of the necessary items all at once at a fraction of the price they would be in a brick and mortar store. When buying job lots of coarse fishing supplies, a buyer should consider the following two factors:
Set – what is included in the job lot should be very clear from the photograph and description provided in the listing; however, if the buyer is uncertain about what is for sale they should make sure to check with the seller for further details.
Type – the job lot may be a mixed bundle of items or a variety of pieces of a certain type of supply – the buyer should make sure before purchase that they know what type of items are being sold.
Job lots are an ideal way to buy fishing supplies and get a great deal, and popular job lots include items like hooks and lures. But the buyer should always make sure that they know what they are purchasing before paying.
Buying Fishing Supplies on eBay
Now that the buyer has an overview of the many kinds of fishing supplies available, they must begin to search for items online. When searching for coarse fishing supplies on eBay, the buyer should consider:
Price – the cost of items is an important factor to consider in any purchase, and there are many kinds of fishing supplies available online for a variety of prices. Buyers can adjust search results to meet their budget by using the search preferences and with items available at both Auction and Buy It Now purchase there is a great deal of flexibility.
Type – depending on the type of items bought, buyers should keep in mind that prices will change according to the design, materials and comparative scarcity of items.
Condition – there are many items available both new and used – particularly used job lots – and the buyer should consider what condition they would prefer their items to be in.
Local Seller – buying coarse fishing supplies from local sellers is an ideal way to keep prices down.
For even more guidance on searching eBay, buyers should make sure to check out eBay's Search Tips page for advice on how to achieve the perfect search result. If the buyer has any questions about the items they see listed, they should not hesitate to ask the seller.
Conclusion
Whether for sport or pleasure, coarse fishing is a popular way to get out into nature in the UK and abroad. The buyer will need a variety of coarse fishing supplies in the form of lures, bait, lines and hooks and this guide will help them locate all of these items for the perfect price on eBay.
When searching for coarse fishing supplies on eBay, buyers should bear in mind the additional security benefits of using PayPal, eBay's recommended way to purchase with added eBay Buyer Protection.