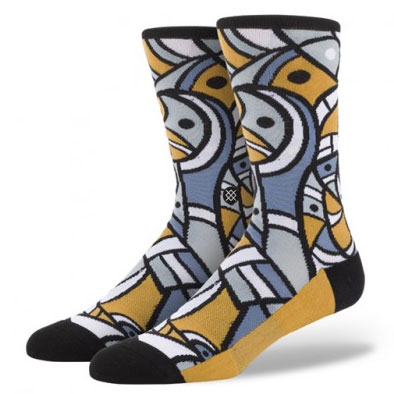 It is a common misconception to believe that men are usually not particular in the type of socks they wear. While it is true that some men do not consider to purchase new socks until they become low on wearable socks, there are still those that enjoy to look their very best head to toe. Socks are considered to be a small detail that has the responsibility to either make or break an outfit. They can be the last piece to pull together that perfect outfit or become an unwelcome distraction if not chosen correctly.
When it comes to choosing colourful socks to match your outfit, it is all a matter of choice and figuring out which best suits not only your clothing but also your personality. It can become apparent quickly if you are not wearing something that is best suited towards who you really are, even with colourful socks. Before making the decision on which style of colourful socks to choose from, you should understand all the important aspects to what is involved in making sure that last piece of clothing to your outfit is the right one.
Why Choose Colourful Socks?
Wearing colourful socks is a topic that men always approach with a great amount of scepticism. It even reflects on the market making dark single coloured socks predominant. However, there are plenty of nice colourful choices to be found and there are plenty reasons for men to wear them too.
Style
Socks are also a great way to express style, and personality. The great number of colourful patterns can be combined with your clothing in many clever ways. Paying close attention to the socks you wear might not be your thing, but it can help enhance the look you're trying to achieve. Also, if you pay close attention when matching your clothes, adding the socks to the equation is just one small step further.
Confidence
Women have always been attracted to a confident man. Wearing colourful socks is considered to be a very bold choice, making you shine with confidence. Even going for such a bold choice by yourself can inspire confidence within you. Still, all things should be done in moderation and this applies to the choice of colourful socks too, so do not overdo it. Another tip is to avoid socks with random text written all over them, unless the moment calls for them. In most cases, they just look silly, and draw attention to where you are not wanting it.
Identifying Which Colours Are Best
One of the most important things to do when it comes to choosing colourful socks is to identify the colours that are best suited for you. The needs are generally dictated by the other colourful clothing you own. Formal clothing must be considered with attention to detail. The majority of formal pieces require either dark or light socks, however from time to time the right look can be pulled together with a pair of colourful socks. On the other side of things, there is plenty you can do with your everyday informal clothes, and a great pair of colourful socks.
T-Shirts Or Shirts
One of the easiest clothes to match with colourful socks are your T-shirts and shirts. Revise your wardrobe and note their colours. Almost all people have a preference of colours or follow certain fashion trends. Either way, a pattern often emerges and you might find that a certain subset of colours can go well with most of them. This gives you the chance to buy more than one pair that matchs more than one piece of clothing.
Blouses
Blouses represent another area of clothing where you might find strong colours and colourful designs. The number of blouses you own might not be as big as the number of shirts, but you can still choose colours that go with both.
Shorts
All clothing worn in the summer tends to have more colourful designs. Shorts are always on the top of the list when it comes to informal clothing and the often involve colourful designs. The shorts themselves might not dictate a pattern that make you choose, but have in mind that it is quite common to match multiple pairs of t-shirts with the same pair of socks. In that case, pairs of socks that match combinations would be a good idea.
Trousers And Jeans
Bold colours among trousers and jeans are rarely found. That does not prevent you from wearing colourful socks. It only means that you'll have to match them to the other clothes you combine with them. If you own a colourful set of trousers, buying a few pairs of socks to match them is not such a bad idea. You probably go through more than one pair of socks until the trousers reach the washer.
Sweaters
Sweaters are also quite easy to match with colourful socks. You can find them both in the informal clothing and the slightly more formal clothing too. This leaves room for combining colourful socks in both areas. Wool colourful socks can even match the sweaters with a same texture.
Trainers
Almost all athletic shoes these days are made in strong colours. That makes trainers the perfect choice to combine with colourful socks. Even plain black and white trainers can be combined with colourful socks with the same base.
Choosing the right material
Once you have identified the colours you'll need, choosing the right material is key. The materials play a large role in the quality of the sock. Socks that are produced from materials of inferior quality do not last more than two or three trips to the washer. Fabrics that feel too thin to the touch are usually not very durable. Some of the materials might also prove to be less fitting for colourful socks the other. The most commonly used materials that you'll encounter include:
| Material | Description |
| --- | --- |
| | Cotton and cotton blends are virtually irreplaceable when it comes to socks. The price of cotton is fairly low making it a inexpensive choice. When combined with other materials such as lycra or nylon it becomes even more durable. When selecting colourful socks, a cheap durable pair is never a bad choice. |
| | Wool also makes a nice thick pair of socks. It is also inexpensive and good at preserving heat. This might pose a problem if you wish to combine it with summer clothing. All other clothes that are not used in the warmest season, can be combined with a nice pair of colourful wool socks. |
| cashmere | Cashmere is wool's more pricy twin brother. It offers mostly the same characteristics as the wool, but it gives off a much slicker look. That look comes at a price that people might hesitate to pay, especially when it comes to colourful socks. Still, matching materials make your socks blend in even better if you own a colourful cashmere sweater. |
| | Lycra is a synthetic fibre that is usually washed on lower temperatures. This prolongs the period before your sock's colours begin to fade giving them a longer lifespan. Still, all synthetic materials provide less comfort than cotton, and washing underwear on lower temperatures might not be such a good idea too. |
How To Find Colourful Socks On eBay
When you have reached the decision to shop for colourful socks, eBay is probably one of the best places to be. The selection is pretty vast and you'll save up huge amounts of time that would otherwise be spent on going from one store to another. Doing all your shopping in one place is always a good idea, especially when the place offers well sorted choices from all around.
Colourful socks do not really have their own category on eBay, so probably the only way you can list all available items is by using the search bar. Searching for a specific pair in the results might be a bit overwhelming, so try to enter as much information as possible within the query.
Using the filters can also save you a lot of grief. Almost all important features are covered and the results can be narrowed down to your preferences. The filters are especially helpful in creating a pretty small subset when you're going for the less obvious choice. When searching for features that belongs to the group of large tendencies like black base colour or cotton material, you'll find that filtering might not be needed at all.
Conclusion
The value of a right pair of socks is often underestimated. Most men consider shopping for socks to be a chore, rather than an opportunity to express their sense of style. With so many colourful socks available, it is not that hard to find the right one if you set your mind to it.
Assessing your needs for colourful socks is very wise thing to do, before you go out shopping. Most of your needs are dictated by the clothing you already possess. Finding patterns in your colour preferences can give you a chance to buy more pairs of colourful socks that you'll be able to use on regular basis.
Some knowledge of the materials used can be beneficial in the process of choosing quality socks. The materials directly influence the durability of the socks and the fading of the colours. Socks of low quality fade and rip after a few trips to the washer.
Shopping at one place for colourful socks is a real timesaver when compared with questing from one store to another. That is why eBay is a very good place to do your shopping. With careful filtering of the available products, anyone can find a pair that matches their criteria.