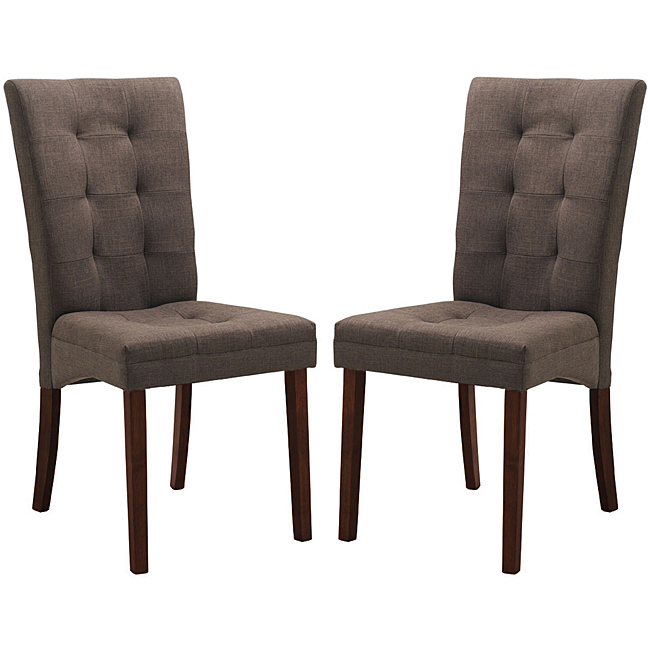 Once upon a time, tradition dictated that the dining room was a bastion of formality. Chairs and tables were often purchased in a set, and while the chairs were not exactly comfortable for sitting, they did at least appear to be elegant. Times have changed, and many homeowners no longer adhere to the stiff, formal rules of dining rooms. It is possible to create a dining room setting that is both elegant and comfortable by simply selecting the right chairs to compliment the dining table. For a comfortable and fabulous dining room, you should select chairs made from durable materials with relaxing seats, that fit with the style of the table. There are many styles, finishes, and upholstery options to pick from, allowing you to create a look that fits your needs. Dining room chairs can be purchased in furniture shops, and they can also easily be found online using a website like eBay.
Sizing Dining Room Chairs
Dining room chairs are designed for beauty, but their main function is for sitting at the table. Therefore, the chairs must be just the right size so that they can easily slide under the table and be pulled back. If you are buying a dining room set, then you do not have to worry about the chairs fitting with the table. The set itself fits together perfectly, so all a homeowner needs to do is measure the available area. Ideally, there should be 1 to 1.5 meters of space between the edges of the table and the walls. The chairs themselves need 45 to 60 cm of sitting space around the table.
Buying Separate Dining Chairs
If you are buying chairs separate from the dining table, then you need to make sure they can slide underneath the table. On average, most standard dining room tables are 71 to 76 cm high. Dining room tables with an apron, a lower rail underneath the tabletop that keeps the legs in place, are typically only 63 cm from the ground. Always measure your table to get the exact specifications and then find chairs that fit.
Chairs With Armrests
Chairs with armrests are quite comfortable, but they are not often sold as dining chairs because the arm does not allow the chair to slide under the table. If you simply must have chairs with armrests, then choose a style with a high seat and a low arm; otherwise it will be too small for the table. Make sure to measure the distance from the armrest to the floor to ensure that it fits under the table. Chairs without arms need to be measured from the seat to the floor.
Dining Chair Styles
Dining room chairs are typically side chairs, which simply means a chair without any arms. Choosing a side chair means forgoing the problem of ensuring that the armrest fit under the table apron, allowing the seat itself to be slightly higher. It is also easier for people to get in and out of a long row of side chairs. For example, most dining room tables are rectangular, meaning there is room for a single chair at the head and foot of the table, while the rest of the chairs have to squeeze in along the sides. Several chair styles are perennial favourites chosen for their beauty as well as comfort.
Parson's Chair
The Parson's chair is highly popular in many modern dining rooms. It has an upholstered seat and backing, ensuring that even slouchers are comfortable at the table. The high upholstered backs of Parson's chairs work best around big dining room tables. The legs are usually straight with little ornamentation, drawing the attention upwards to the seat and backing. Upholstery options allow these chairs to fit into almost any room. Choose a beige fabric for a feminine look, or dark leather for more of a masculine one. You can even add inspiring patterned fabrics, like a zebra weave, for a dash of fun in the dining room.
Wingback Chairs
The Wingback is characterised by upholstered sides, seat, and back. It also has extra partitions called wings along its back that extend down to the armrests. This is one of the few chair styles with armrests that work in the dining room, since the arms are very low. While installing eight wingback chairs at a dining table may be considered doing too much, design experts recommend using them as a host or hostess chair at the head and foot of the table. They also look charming for small, round dining tables that only have enough room for four people, bringing a sense of elegance to a small space. Like the Parson's chair, the upholstery truly defines the piece, so it is important to select a fabric that matches the rest of the dining room.
Queen Anne Chairs
True Queen Anne chairs originated in the 18th century, but unless you spent a fortune on your dining room set you probably don't have originals. However, the style itself was so popular that it is continually reproduced. A Queen Anne chair is defined by an upholstered seat, curving front legs, and a high crest rail on the back with a centre support shaped like an urn. These elegant chairs feel right at home in a formal dining room, and even though the back is not upholstered, its high shape provides excellent support. For Queen Anne chairs, the wooden finish is a paramount concern. Oak, mahogany, or cherry, pick one that matches with the dining room table.
Chippendale Chairs
Chippendale's also come from the 18th century, and they are a more elegant version of the Queen Anne chair. Where the Queen Anne has an urn-shaped splat, the centre support of the chair's back, Chippendale chairs are accompanied by finely carved splats. This Victorian habit of embellishment continues down to the clawed feet of the chair legs. The upholstered seat and high back, give the chair medium comfort, but some overly wrought splat designs can dig into your back. This is a style to pick when you want to sacrifice a little bit of comfort for a touch of luxury.
Dining Room Chair Construction
Most dining room chairs are made of wood, though some retro-styles call for metal chairs. However, the vast majority are wooden, so it is worth your time to purchase chairs made out of quality materials. Do not purchase a chair that is comprised of plywood, not even on the stretched portion underneath the seat. Chairs made entirely out of wooden beams are the best, but these are also the most expensive models.
Veneers
Budget consciousness shoppers may want to select a chair that uses veneers instead. Veneers are thin sheets of wood that are highly polished and patterned so that once they are installed on a chair they look just like the real thing. In fact, sometimes a dining room chair that uses beautiful chestnut veneers, may in fact look better than a more expensive chair made completely out of chestnut.
Upholstery Concerns
When selecting upholstery, try to find a medium between comfort and function. Leather, for example, is very stylish, but it is also quite uncomfortable to sit on during hot and humid days. Soft treated fabrics like suede still exude a masculine appeal, while feeling absolutely wonderful to sit on. Pay attention to how much padding is used on the seat and the backing as well. You should not be able to feel any of the bars, and the padding should only sink slightly once you sit on the chair. Anyone who has young children, or simply likes to entertain a wide variety of guests should probably look into purchasing stain-resistant fabrics.
Buying Dining Room Chairs on eBay
Some people feel comfortable buying furniture online without ever having viewed it in person, but others may have their reservations. With all the great deals just waiting to be found on a website like eBay, it is well worth your time to browse through their collection. One popular strategy for those who want to try out all their furniture before they buy, is to visit a local furniture dealer beforehand. Look at the different dining chair sets and styles available, and examine the ones that appeal to you. However, don't commit to actually buying the chairs at the store until you have visited eBay first. In all probability, eBay might have the same style for a cheaper price, and they may also have additional variations that you did not see in the store.
Finding Dining Room Chairs on eBay
eBay's search engine allows for users to search for auction in whatever way they feel comfortable. For example, suppose you already know what chair style you want, such as a Queen Anne chair. Simply type in "Queen Anne dining chair" into the search engine to pull up all results that match your terms. Perhaps you favour this style in oak, simply adjust your search by typing "Queen Anne dining chair oak" into the search terms. You can also limit the search by time period, such as "vintage dining chairs", or "antique dining chairs". Explore mixing and matching the different search terms until you find several auction results that appeal to you most.
Conclusion
Finding the perfect set of chairs for the dining room is all about matching style with comfort. There is no law of fashion that says elegance does not have to be comfortable. With so many different chair styles on the market today, it is easy to find the perfect match for any dining room. A modern room can use a completely upholstered Parson's chair, while a formal room would appreciate the strict yet luxurious Chippendale chair. No matter which style is ultimately selected, you need to always carefully measure the chairs if you are buying them separately from the table. The chair's construction is also a concern, since one hopes the chairs are going to last as long as the table. Pick chairs made from high quality materials such as genuine wood and fine upholstery. Use eBay to find a wide selection of dining room chairs at a fantastic value and enjoy meals with loved ones in pure comfort.