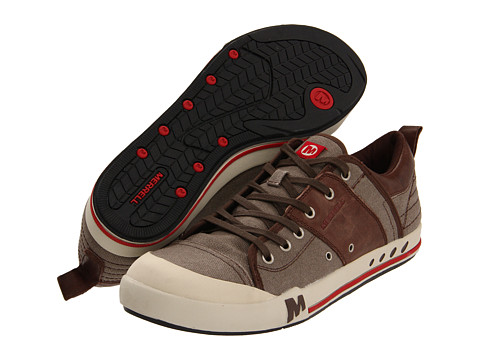 Casual shoes fill an important niche in fashion between formal, less comfortable shoes, and informal shoes that can only be worn in limited settings. Casual shoes make up a very broad range of styles that are suitable for fashion applications from beachwear to semi-formal dinner engagements. They have a broad appeal that makes them ideal for use in nearly any situation, and some types can be used in formal settings if required and others can second as informal attire if needed. Because casual shoes cover such a wide range of fashion, there are many different types and variations in styles that the consumer can choose from. This guide explores the origins of casual shoes, the various types that are available along with the materials used to construct them, and how to best shop for that next set of casual shoes. Casual shoes are an important accessory for any man and can complete any outfit.
Origins of the Casual Shoe
Perhaps more than any other article of clothing, the shoe is the most important. The shoe has served as an item that protects and comforts our feet for thousands of years. Examples of early sandals have been found dating back to 7,000 B.C., and it is widely thought that some form of foot protection existed long before this time. It is believed that early man wrapped pieces of animal hide around their feet in colder and more rugged environments for warmth and protection. Since that time, shoes have evolved from a simple piece of leather wrapped around the foot to a sophisticated and attractive fashion item that still serves the basic principle of keeping feet comfortable and protected.
As fashion became more of an important element of civilized society, the shoe was shaped into an article of clothing geared toward high fashion. They were crafted in high end materials and designed for high society. Eventually, shoes were designed for use in situations that were much less formal than those requiring high end shoes but were still nice enough where dirty work boots or sandals were inappropriate. The casual shoe was born and it immediately filled a fashion niche that continues to grow to this day.
What is a Casual Shoe
Casual shoes consist of a wide and varied number of shoe types with the common factor being they can not be used in formal settings where high fashion is required. On the other end of the spectrum, they are not used in informal settings such as sandals, flip flops, or slippers worn around the house would be. The casual shoe encompasses nearly every type of shoe in between formal and informal and they come in many different styles and designs.
Types of Casual Shoes
Casual shoes are designed for comfort as well as varying degrees of formality. On the less-formal end, sneakers and slip-on shoes are very common while loafers and oxford type shoes serve well in more formal settings such as business casual dress where a sneaker is inappropriate and expensive wing tips too much.
Oxford
The oxford is a lace up shoe that is unique because of its ability to be worn both in casual and formal settings. The oxford features the lace eyelet tabs on the underside of the upper section, which gives the shoe its clean looking and small eyelets holes. When oxfords are constructed with less formal materials such as suede or canvas along with rubber soles, they are ideal for nearly any type of casual event from a nice dinner to an evening stroll.
Loafers
Loafers are typically slip-on type shoes that feature no laces. Loafers come in a wide variety of styles and materials from leather to canvas and can be used in many different casual settings similar to the oxford. Loafers can also have various degrees of formal appearance depending on their design and the material used. Leather loafers with tassels are more formal and are appropriate for business casual and similar functions, where suede mocs are perfect for running around town or relaxing at home.
Boat
The boat shoe was invented by Paul Sperry in 1935 specifically for use aboard boats. They featured a non-marking sole that would not leave marks on the decks of white fibreglass boats. The Sperry Top Sider was the first boat shoe made, but it has been joined by several different shoe companies that also make boat shoes. Most boat shoes are slip-ons made of leather or canvas and always feature rubber soles that are either dark or light in colour with non-marking characteristics. Boat shoes are typically worn without socks and are still commonly used in any type of setting that revolves around boating. They are casual enough to be worn while sailing, and formal enough to have cocktails in the yacht club afterward.
Trainers / Sneakers
The trainer is one of the more popular casual shoes because of its lightweight and high level of comfort. Trainers can be made from nearly any type of material from leather to synthetics, and they can be used in any type of casual setting short of business casual. Trainers come in many different variations from designs with laces to ones with Velcro fasteners. Because of their flexibility and softer materials, they are ideal for active lifestyles and for people who are constantly on their feet.
Popular Materials for Casual Shoes
When purchasing casual shoes, there are many different types of materials to choose from. Men have a variety of preferences when it comes to what material they believe is the most comfortable, and can choose from styles made out of leather, suede, canvas, synthetics, and rubber.
| Material | Description |
| --- | --- |
| Leather | Durable and comfortable; most expensive of shoe materials; can be used in both casual and formal applications; longest lasting of all the fabrics; can come in various colours and textures; more difficult to care for |
| Suede | Durable and comfortable; good alternative to leather; excellent for all casual applications; less expensive than leather; can be dyed in many different colours; difficult to care for |
| Canvas | Soft and comfortable material; good strength qualities; lightweight and versatile; comes in many different colours; easy to care for |
| Synthetics | Features nylons and polyesters; popular with trainers; lightweight, flexible, and comfortable; inexpensive and durable; comes in many different colours; very easy to care for |
| Rubber | Used mainly for soles of shoes but can be used for uppers; inexpensive and comfortable; excellent gripping characteristics when used for soles; water resistant; comes in different colours and textures; very easy to care for |
No matter which material is chosen for a casual shoe, men should always make sure the pair they select is comfortable, durable, and supportive. High quality casual shoes should last a person many wears, and should be picked out with care.
What to Look For in a Comfortable Casual Shoe
The most important aspect of the casual shoe is that it be comfortable to wear. Formal shoes are very handsome and are enjoyable to wear on certain occasions, but they lack the comfort and versatility of the casual shoe. Sandals and slippers, while very comfortable, can only be worn in limited situations and can be completely inappropriate in others. The casual shoe fills the void by taking the best parts of both styles of shoes and blending them into functional and comfortable shoes that can be used in a wide variety of situations.
Comfortable casual shoes should be constructed from softer materials that tend to flex and breathe with the foot. The soles will almost always be made from rubber compounds that offer good traction capability but are still soft enough to cushion the foot during frequent everyday use. They should be lightweight and fit snugly enough so the foot does not slide around inside the shoe, but still allow the feet and toes to move freely.
How to Buy a Casual Shoe on eBay
One of the best ways to explore the many different types and styles of casual shoes is by using the powerful search tools available on eBay. Simply go to the eBay homepage and enter a keyword into the search box that describes the type of shoe you are looking for. If you enter the keyword casual men's shoes, a list of all available auctions with that keyword will be listed. You can choose to browse through each listing until you find the right shoe for you, or you can narrow the results by refining your search using the various categories provided by eBay. You can refine your search by brand, colour, and even material to help narrow the search down to a more manageable search.
If you know the type and brand name of the shoe you are looking for, you can enter that information directly into the search box and a list of auctions with only those keywords in them will be shown. The search tools on eBay make it easy for you to search and find just the right shoe for you.
Verify the Seller
Once you have found the proper shoe that suits your style, the next step is to verify the feedback rating of the seller on the listing. The eBay community provides feedback for every transaction that occurs that gives a rating to the seller according to how they performed during the transactions. The buyer rates the seller according to their actual experience and that rating is made public for all potential buyers to witness. If a seller has a positive rating, you can be sure that they have conducted themselves in a professional and honest manner when selling items on eBay.
Conclusion
The casual shoe has long served as the shoe most of us wear during the normal course of our day. While some men have a set of formal oxford or wing tips in their closet next to their sandals, the shoe they opt to wear most on a consistent basis is the casual shoe. Casual shoes offer comfort and good looks and the versatility to be acceptable in many different fashion situations where formal or informal shoes would not be appropriate. The casual shoe is available in so many different styles and materials that there is a design available to suit any and all personalities or fashion requirements. The casual shoe can be worn with nearly any type of clothing, making it one of the most versatile fashion items that men can own.
When shopping for the perfect casual shoe, it's important for buys to make sure and research the best deals available. Many great prices can be found by shopping around in various stores, but the buyer can also find tremendous savings by utilising certain websites and online auctions such as eBay where great deals can be found nearly every day.