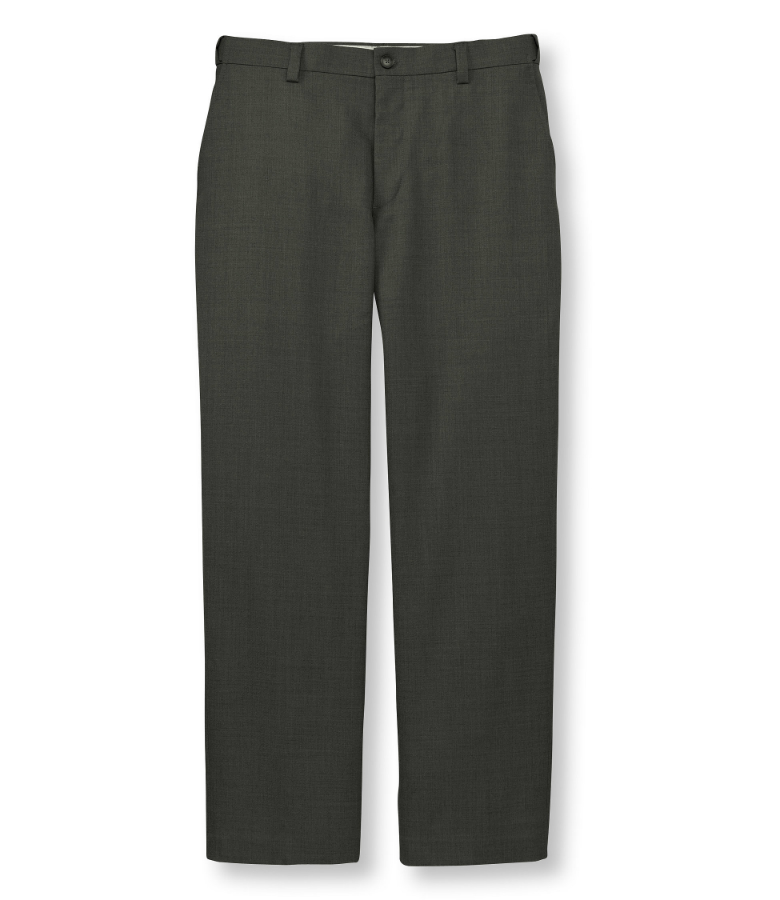 Travelling is a large part of many people's lives. However, wearing clothes which are uncomfortable, wrinkle easily, or do not feel good can make travelling less than pleasurable. Travelling in trousers does not have to be a miserable experience that ends with you walking off an airplane or getting out of a car with wrinkled trousers that just look awful. Eliminate wrinkled and uncomfortable trousers by selecting comfortable ones made with wrinkle-free materials which allow freedom of movement and still look fresh when you arrive at your destination.
Comfortable trousers do not have to be unattractive; there are many brands of stylish trousers that are perfect for travelling. It is simply a matter of personal preference when it comes to picking trousers for travelling. If you travel a lot, you need to know which types of trousers stand up to a long journey, as well as look great, including styles of trousers and the best materials.
What to Consider Before Buying Trousers to Travel In
Consider the colour and type of trousers which you like to wear. You do not want to pick a pair of trousers that you do not like simply because they are good for travelling. You want to get a lot of wear out of your trousers for travelling and otherwise, so look through your closet and get an idea of what colour trousers will complement your existing wardrobe and match tops you already have, so you do not have to buy entire outfits for travelling.
Think about a price budget, which is easier once you decide how many pairs of travelling trousers you need. Do you need a more neutral colour, such as tan, or a dressier business pair, such as black trousers for meetings or events? To serve as a guideline, first make a list of what colours and types of trousers you need before shopping. Think about travelling to and from your destination as well as any travelling you will be doing while you are at your destination. If you travel frequently, it might be wise to go ahead and purchase several pairs of trousers for travelling purposes and in various colours and styles.
Things to Look for When Buying Trousers for Travelling
When it comes to trousers for travelling, there are two main considerations: comfort and material. The material is important because it needs to be as wrinkle-free as possible, since travelling involves a lot of sitting. Comfort comes into play because you do not want a tight waist or uncomfortable pair of trousers pinching you while travelling.
The combination of the perfect style, fit, and wrinkle-free material creates the best pair of trousers for travelling. Do not go on a long trip in uncomfortable trousers which get so wrinkled that when you arrive to your destination, you look as though you slept in them.
Trouser Materials
The optimal materials for trousers meant for travelling are knit trousers, polyester trousers, and lightweight wool or microfibre trousers. These materials do not wrinkle as easily as linen or cotton trousers do. Trousers made with a little spandex for stretch also add some comfort. Lightweight trousers are the most comfortable to travel in, so select trousers made of one of the above materials.
Some trousers may even be specified as wrinkle-free, so you know that choosing those for travelling is the right choice. Any fabric that is comfortable as well as wrinkle-free is perfect. Also, consider clothing that is easy to pack and which does not take up a lot of space in a suitcase, and that looks fresh upon unpacking, so you do not have to deal with bringing an iron along with you on your journey.
Trouser Care Instructions
Do not buy trousers for travelling that are dry clean only. Select trousers which are wash and wear and easy to care for. The best rule of thumb is to purchase three pairs of trousers which are all wash and wear for travelling, so you can wear one pair, pack another pair, and wash the third pair at the same time. If you are on the move a lot, consider fabrics that dry quickly. Also, fabrics that do not stain easily are a must; if you do get a spill on your trousers, you should be able to wipe it up quite simply.
Trouser Styles
The best styles of trousers for travelling are womens flat front trousers and easy fit styles, which do not have a lot of fussy additions, such as too many pockets. You do not want to wear trousers which are too tight and uncomfortable when you are travelling. Look for relaxed fit trousers or easy fit trousers for the most comfortable fit. Straight leg or skinny leg trousers might be too restricting, so trousers that have a more open leg are the most comfortable. Since pleats get wrinkled, select trousers with a flat front for the most comfortable and wrinkle-free fit.
Opt for a natural rise as opposed to a lower rise so the trousers sit right at your waist, and make sure jeans are the right length for you. If you are tall or petite, make sure to purchase trousers that fit your height properly, because there is nothing worse than trousers that are too long or too short. That can ruin an entire outfit. Mid-rise trousers work too, but be sure to avoid anything low-rise, which is very uncomfortable and unflattering on some types of women's figures. Choose trousers which are classic, flattering, and conservative over anything too trendy that may go out of style soon. A classic pair of trousers in a neutral colour never goes out of style, and they can be worn for years.
Trouser Brands
Some common brands that make comfortable trousers for travelling include Marks & Spencer, Country Casuals, and Abercrombie & Fitch. The brand you select may involve what your budget is, because some brands of women's trousers are more affordable than other brands. Brands may also fit differently, so it is important to know your size before shopping for trousers. Take a tape measure and measure your waist and your inseam for the most accurate fit.
Topshop is another popular brand that offers an array of women's trousers which is perfect for travelling. This brand carries affordable trousers in many colours and styles, including high-waisted trousers, pinstripe trousers, and chinos that might be perfect for travelling, and they still look professional and nice for whatever you will be doing when you arrive.
How to Buy Comfortable Trousers to Travel In on eBay
To look for the best pair of trousers to wear on your next trip, input "trousers" on the the eBay search bar for the most general results and the widest variety of results. From there, you can alter the search by selecting "trousers", then search by either brand, style, size, or colour. You can also choose new or used trousers. There is even a box to select what material the trousers are made out of, so you can find the perfect pair of trousers in no time. Shopping for trousers to travel in on eBay eliminates time consuming trips to different stores and saves extra money from being spent; it is convenient, affordable, and easy to use eBay to find the right pair of trousers.
Look for sellers that are highly rated so you can purchase trousers with confidence. Try buying trousers from a local seller so you can do a personalized pickup. This creates a unique relationship between buyer and seller, and it may also alleviate shipping costs. Buy more than one pair of trousers from the same seller to get a bundled price and a lower shipping cost.
Conclusion
There is nothing more frustrating than arriving at your travel destination with wrinkled trousers or travelling in a tight, uncomfortable pair of trousers. You do not want to go on a long journey, airplane ride, or car trip wearing the wrong pair of trousers. It is important for the trousers to not only fit you properly, but it is also imperative that they are soft, comfortable, and maybe even offer a little give or stretch to make travelling more comfortable. There are trousers out there which are so comfortable; they make falling asleep on a long plane ride a painless experience.
If you travel a lot and you need trousers, especially for work, consider investing in several pairs of well-made trousers that offer everything you need for comfort, fit, and style while you are travelling. You do not have to sacrifice style in the name of comfort; plenty of your favourite brands offer comfort trousers that still look great. Most people may not even know you are wearing polyester trousers. Comfort is the utmost priority when you are travelling, and of course you need to look great when you arrive too. The perfect pair of trousers accomplishes both of those needs and still manages to look trendy, professional, stylish, or whatever look you are going for. eBay is the place where you can begin your search for the perfect pair of trousers to travel in.