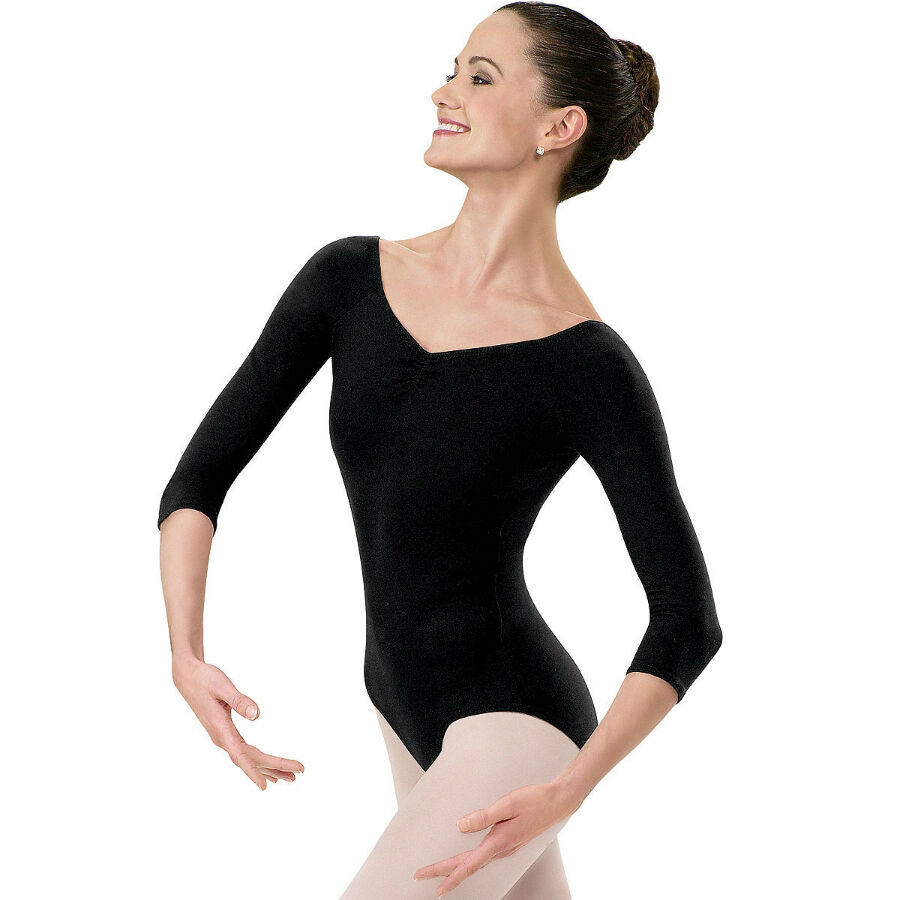 Having comfortable dancewear is important for a woman involved in dance, regardless of her skill level. Dancing is an enjoyable activity and is a fun way to stay fit and to meet new people. However, wearing inappropriate attire can cause discomfort, and can keep an individual from enjoying dance to its full extent. There are many factors to consider when purchasing women's dancewear, including the different aspects of clothing for various types of dance, as well as the wide variety of materials and styles to choose from. It's also very important to determine the appropriate size in order to ensure optimum comfort while dancing.
This guide covers multiple aspects of dancewear, covering a broad range of dance styles and different elements of dancewear such the fit, comfortable fabric materials and where dancewear can be bought. Wherever a shopper decides to purchase dancewear, it is important to consider size, material, fit and style. That way a woman can be comfortable in what she is wearing and be able to fully concentrate on her dance technique.
Different Styles of Dance
There are lots of different styles of dance. Before buying dancewear a shopper must know which style of dance they are interested in. Factors determining whether a dancer is comfortable are based on movement, length, and style of dance. A few popular dancing styles include ballet, modern, and tap and jazz.
Ballet is a very structured and technical type of performance dance. Modern dance is at the opposite end of the spectrum, and emerged as a more free-flowing style. Tap dance incorporates sound by the tapping of feet. In most dance performances, costumes and dancewear are decided by the instructor or choreographer. Before performances, it is best to practice in comfortable dancewear to allow the dancer to learn and memorise the movements before changing into the designated performance costume.
Dancewear for most styles of dance includes leotards, unitards, tights, leggings and warm-up garments, accessories, outer garments, and footwear.
Elements of Dancewear
Dancewear should never restrict the movements of a dancer, ordinary clothes used for dancing are likely to do. While dancewear should allow the dancer to move freely, it should also be figure-hugging in order for the movement of the dancer to be visible and expressive of the dance. If the dancer is in a dance class, it is important to check with the instructor about specific dancewear requirements.
It is also important to factor in the material that the dancewear is made from. Lycra, jersey, natural fibres and silk are all good options for dancewear as they stretch and are soft, allowing both movement and comfort. For footwear, it is important to have adequate foot support for the specific type of dance.
Basic Dancewear
All forms of dance require a warm-up period during which there are certain garments to wear known as warm-up garments. Warm-up garments keep dancers from getting cold, allowing the muscles to warm up and properly loosen. Warming-up is extremely important for the dance process as it ultimately assists with movement and mobility during the main dance sequence. There are ballet-style cardigans, or wrap-ups, for the core and upper body. Comfortable trousers can also be worn straight over tights and leotards to maintain lower body warmth. After the dancer has finished warming up, warm-up garments are easily removed, allowing for a quick transition between the warm-up and the dance.
Most types of dance necessitate wearing layers in order to create the proper dancewear ensemble. The underlayer is often extremely important, and once choices have been made with layering and comfort in mind other decisions can be made. Leotards are an important type of dancewear that cover the core of the body and the hips. Leotards are chosen more often than unitards because they allow for better freedom of movement. Unitards are similar to leotards but have long legs unlike leotards which end at the upper thigh. When unitards are chosen, it is often because they can be worn with nothing over them, allowing for clearer expression of the visual movements of the dancer.
Tights, which cover the legs and hips are also an important component of dancewear, especially when the dancer decides to wear a skirt or dress. This keeps the dancer covered and also enables more freedom of movement. Tights with a seam are typically worn with the seam at the back of the leg. Leggings are very similar to tights, but are typically thicker and end at the ankle, while tights cover the feet and toes. Another option for a dancer to keep their legs warm are leg warmers, which can fit over tights and leggings. Leg warmers are often worn in ballet rather than trousers as they allow the dancer to wear a tutu or skirt.
Dancewear for Different Types of Dance
Dancers can choose to wear a dress, skirt or trousers as an outer layer, depending on the style of dance. In tap dance, after the underlayers are chosen, the footwear, skirts and the accessories are also important. Tap shoes, because of their structure and ability to make a tapping sound are a key element of tap. Tap shoes have a hard sole that enables the dancer to make the tapping sound unique to jazz and tap dance. Top hats and short skirts with fringes are typically worn by tap dancers. The top hat is important as the dancer will remove it and utilize it as part of the dance.
In ballet, dancers will wear under layers but will also add tutus or shorter free-flowing skirts to dance in. It is usually important to keep warm, and leg warmers are a frequent choice for ballet dancing. They allow the dancer to wear clothing such as a tutu while still keeping their legs warm. Leg warmers are easily removed over ballet shoes. Pointe shoes are worn for ballet when dancers need to dance on the tips of their toes, whereas ballet slippers are soft, flexible shoes designed specifically for other types of ballet dance.
Modern dance incorporates more freedom of expression when it comes to clothing. Unitards are used mostly in modern and interpretive dancing for accentuating the visual aspect of a dancer's movement. Once the comfortable underlayer has been chosen the dancer has a lot of freedom in choosing what they wear, although many modern dancers choose to wear little more than the unitard. Going barefoot is the usual option for modern dance, so there is no need to be overly concerned with footwear. However, it is important to focus on the comfort and visuals of the basic garments. Pineapple clothing for women offer a great range of modern, stylish yet comfortable dancewear.
Performance Costumes
When in a performance, the costume of the dancers is typically decided by the choreographer or instructor. However, sometimes it is up to the dancer to decide on their performance costume. When this occurs, it is important to pick a costume that is comfortable and allows for similar movement as that which the dancer has already practiced. That way there are no unpleasant surprises caused by costume during the performance. It is also important to choose a performance costume that the dancer feels visually comfortable in to reduce anxiety.
Sizing Dancewear
When sizing dancewear it is important to choose a loose enough garment to allow movement and flow. It is also important to keep in mind that the clothing should be tight enough to allow the dancer's movements to be seen, and not so loose that it becomes awkward for the dancer. However, there are certain rules to follow when sizing for particular dancewear items. When taking measurements it is important not to wear everyday clothes, but to wear a leotard or some other item of figure-hugging clothing. Measurements should be taken of the chest, waist, hips, and girth. Leotards and unitards are comfortable items of clothing required for most dance. The table below provides a sizing chart for women's leotards as a starting point.
| Body Part | Small | Medium | Large | X-Large |
| --- | --- | --- | --- | --- |
| Chest | 81-86 cm | 89-91 cm | 91-94 cm | 94-99 cm |
| Waist | 58-64 cm | 66-69 cm | 69-74 cm | 74-79 cm |
| Hips | 81-86 cm | 86-91 cm | 91-97 cm | 97-102 cm |
| Girth | 137-142 cm | 145-150 cm | 152-158 cm | 160-165 cm |
Sizing the appropriate dancewear can vary depending on which item of clothing the shopper is buying. Sizing may also differ depending on the brand of clothing. Shoppers should check the brand's approximate sizing chart once they have decided on a specific type or item of clothing. However, it is important to have an approximate idea of what sizing to look for before starting shopping.
How to Buy Comfortable Women's Dancewear on eBay
eBay has a wide variety of comfortable dancewear for many different types of dance. For each article of clothing, eBay has a range of styles, colours and sizes. Begin your search by typing in the specific article of clothing in the search bar on the eBay home page. For example, if you are looking to purchase a leotard, type leotard in the search bar. You can narrow the search by looking in the dancewear category, and by filtering the results to your specifications.
You can explore the dancewear category on eBay to find dancewear or you can explore both the internet and brick and mortar stores. on eBay be sure to check for local sellers in your area as shipping may be faster. If the seller is located somewhere relatively close to you and both yourself and the seller are agreeable, a pick up could be arranged. You may even be able to try on the dancewear before you make your purchase if the seller is agreeable. To search for local listings on eBay, enter your postcode in 'Distance' on the results page.
Conclusion
Dancing can be a fun and rewarding experience, and a very social activity for women. Dancing can help to improve core strength and can improve self-esteem. It can also be used as a technique to assist with weight loss or keeping toned. Dancing is also a culturally rich activity with a lot of different styles and histories. It can begin with simple dance classes and evolve into community performances. It is important to be well equipped with a basic knowledge of dancewear to comfortably participate and enjoy dance. Being well equipped includes having warm-up garments, comfortable attire, footwear, and when the situation requires, being prepared with performance costume. There are lots of choices when picking out garments for warming-up and for allowing proper movement, along with accessories and footwear. Wearing the appropriate size is key to comfortable dancewear. eBay has a large variety of dancewear suitable for women interested in many different styles of dance.