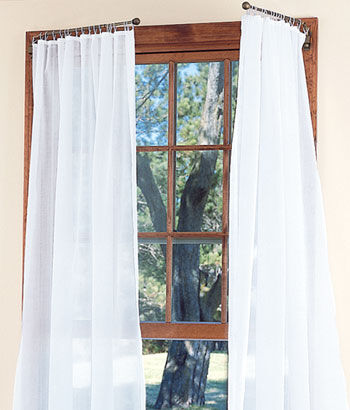 Curtains are an item that can tie a room together and their importance in the home is undervalued. Even though they appear to be no more than mere room dressing, they're actually multifunctional items with a variety of attributes. If they were not part of the home it would leave it feeling very different. In the past, homeowners haven't really given curtains proper thought and consideration, but times have changed.
This guide will look at cotton curtain fabric; however, there is something to bear in mind. Shoppers won't usually find pure cotton curtains on the market due to their rough texture, so expect to see blends with silk, wool and synthetics regularly for sale. When it comes to finding cotton curtain fabric, shoppers should have one destination in mind. eBay is the world's online marketplace and a respected resource in the world of textiles.
Curtain Uses
Curtains are constructed out of two single pieces of material that when blended together make the perfect addition to a rooms décor. They hang from a pole or track, and when pulled together cover a window or doorframe. They're perfect for blocking out light and keeping draughts to a minimum.
There is no doubt that curtains are a fixture of every home and are an essential item in areas where people sleep. Simply put, the right curtains are the difference between a relaxing sleep and a restless one.
Cotton Curtain Fabric Appearance
Creating a custom set of curtains out of cotton fabric has unlimited creative potential in terms of design. But when it comes to design, the choice will ultimately come down to the style and qualities a shopper requires.
Patterned cotton fabric is great for those looking to add vibrancy and style to a room.
When looking to buy curtain fabric for a children's room it's best to go for something bright, and should also be something that has a strong lining.
The sun can often be a disturbance, especially when trying to sleep. Utilising blackout fabric will block out sunlight even on the sunniest of days, while helping keep a room's temperature down.
Weight and thickness are also considered to be important elements. Heavy curtains generally hang better and can help maintain the temperature of a room, no matter whether it is warm or cold.
Types of Cotton Curtain Fabric
Unlined
Cotton curtain fabric in its most basic form is unlined.. It is a favourite of traditional curtain makers and is a great way to add a classic touch to a room's décor.
Often a thinner fabric.
Doesn't hold back light or draughts particularly well.
Affordable and budget friendly, easily the most cost efficient form of cotton curtain fabric.
When used correctly they are the perfect accompaniment to a set of blinds.
Adds a touch of basic colour to the home without denting a shopper's bank balance.
Lined
Lined curtain fabrics are thick, heavy and ooze quality. They may be more expensive than the unlined version, but their quality is well worth the extra investment.
They have a minimum of two layers, which means it offers an overall thicker product.
The additional weight means that it hangs beautifully from a rail or pole, and won't be disturbed by draughts and breezes.
The extra thick material means that lined cotton curtains are versatile in terms of style.
Blackout
Considered the premium cotton curtain fabric and has features that other forms just can't match. It's soft and luxurious to the touch and weighted perfectly enough that draughts are completely nullified.
When it comes to bedrooms and living rooms, blackout curtains allow light to flow during the day whilst blocking it at night.
Children often need to sleep during the day or during daylight hours; blackout curtains allow parents to darken the room without compromising style.
It has plenty of upsides, but shoppers will need to pay for those privileges, so expect blackout curtain material to set the seller back financially.
Amount of Material Required
Cotton is the number one fabric choice when it comes to creating a set of curtains, and it isn't difficult to see why. They allow for full customisation and tailoring, so no matter the size of window, you can create a set of curtains that fit perfectly.
eBay has become a leader in the world of textiles, as they cut out the middleman. It allows shoppers to get the exact amount of cotton they require (in a design they desire) at a fair price. Their product catalogue is large enough so that there is something to suit every type of home.
Some sellers offer professional curtain manufacturing services. This means that for a fee shoppers can get a tailored set of curtains delivered, without having to endure the hassle of the sewing process.
Buying Used Material
A great way to save money and stretch a budget is to buy used cotton curtain fabric. However, doing this can be a bit risky and requires shoppers to use a cautious eye. It is advised that shoppers open up a line of communication with the seller. Ask them the following questions to ensure that the used cotton curtain fabric for sale is right for you.
How much material is for sale?
From where on the roll is it cut from?
How has the material been stored?
Are the edges of the material frayed?
Was the material originally purchased used or new?

Cotton Curtain Care
After taking the time to construct a set of curtains you won't want to see them ruined. This means that they'll require the correct care and attention to keep them suitable for daily use. The following items are essential to the curtain cleaning process:
Soap
Detergent
Ironing board
Iron
Once you've got these items take the following steps in order to clean a pair of cotton curtains:
Take the curtains off the poll or rail and treat any stains with a bar of natural soap. This is a pre-treatment that will help tackle stubborn marks.
Put the curtains into a washing machine and wash them on a cold cycle with detergent.
Hang dry the curtains and don't tumble-dry them. This will help avoid shrinking.
Iron the curtains to remove any creases.
Conclusion
There is nothing more creative than making a customised set of curtains for the home. It can be an enthralling process that can be done by those of all ages. An important part of the process is finding the right fabric, and shoppers can't go wrong with cotton. There is no shortage of cotton fabric variations available, of which most are suitable for home curtain use.
Curtains are one of the key features of the home, so owners need to make sure they use the right material and design. Getting it right and creating your own from scratch isn't as difficult as it may seem. It's time for people to start getting creative, and eBay is a priceless resource when it comes to getting the material you require.