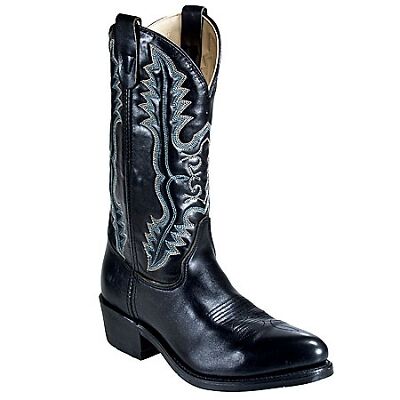 Cowboy boots are not the unusual purchase they used to be in the past. They are slowly becoming a part of everyday clothing and can even be seen on the feet of businessmen, politicians and pop stars. The cowboy boot has been more than a working boot for a long time. There are many fashionable designs and you can find even pairs made out of the most expensive materials used for shoes.
Now that their popularity has risen more and more people have the courage to consider buying a pair. Selecting a pair is not easy, especially for those new to this kind of footwear. Even people who have worn cowboy boots for a long time might experience difficulty in making the right choice and that is not surprising considering the variety of styles, materials, colours, and anc crafting that this type of boots appear in, No matter how much experience you have with the subject, this article is here to provide a helping hand by acquainting you with the basic terminology surrounding cowboy boots and giving helpful advice on making the right choice.
Knowing Your Cowboy Boots
Boots are not that simple and there are a couple of terms that will be used throughout the whole guide that need to be explained. Knowledge of the terminology is also of great importance if you are talking to a salesperson in order to inform yourself well about a certain pair. In the table below you will find the ones most commonly used to describe features of the boots.
| Boot Terms | Definition |
| --- | --- |
| shaft | The part that covers the calf. It can differ in style and height. |
| toe box | The toe region inside the boots is usually protected by a toe box made of many different hard materials. Originally the cowboy boots were used for work, and the toe box helped prevent work related injuries. |
| sole | The sole is the base of the shoe. It can be made out of many different materials and it is a very important part of the boot. |
| insole | It is the removable part inside the boot where your foot stands. |
| vamp or upper | This is the part in the boot that starts at the sole and surrounds the foot. |
There is a lot more to be known but this basic terms will suffice for any enthusiastic shopper. They are of great help when reading descriptions and are of importance if you wish to ask a question on the subject.
Types Of Cowboy Boots
Depending on how materials are combined and the level of craftsmanship applied on manufacturing the boots, four types of cowboy boots can be distinguished: fake boots, big name, exclusive name and no name.
Fake Boots
Fake cowboy boots are considered the once that imitate the style but lack the quality. In order to keep the price as low as possible manufacturers of this type of boots often use cheaper materials. In some cases the shaft of the boots is made out of vinyl, plastic or fake leather which provide almost no airflow. This will make any boots uncomfortable to wear even when worn for short periods of time. Most of the stitching done on fake boots is machine made. This also poorly reflects on the quality of the product. Two positive things can be said about the fake boots: they are often lighter in weight and they cost considerably less. One of the advantages of the materials of lesser quality is that they also weigh less.
Big Name Boots
Big name boots are a classic choice. They represent well made cowboy boots made in large numbers and sold under a well known name. Large quantities means more models to choose from and of course that once you have found a model you like, there will be a pair in your size. The big name cowboy boots offer more than just huge selection. They are made of high quality materials and are built to last. After all, the name of the company is at stake.
Exclusive Boots
The exclusive cowboy boots are considered the best money can buy. They are made following highest possible standards and come out in really small quantities. The designs almost always involve decorative hand-made stitching on the shaft which further enriches their looks. It is needless to say that if you are wish to own the best boots money can buy, you better be prepared to spend a hefty sum of money.
No Name Boots
No name boots are those made by individual bootmakers. They follow no standards, but since they really can't compete with the low price of the machine made fake boots, they are generally produced with better materials to compete with the big name and exclusive brands. Boots of this type are produced in really small numbers which adds to their appeal on people seeking something unique.
Selecting a Size
The most important thing you need to remember when selecting a right size of cowboy boots is that show size and boot size are often different. Even boots from different vendors can fit differently. That is why it is of great importance to try the boots and walk around a bit. If something does not feel right, try a different model. Do not settle and expect to find a pair that provides the comfort you need. Of course do not expect boots to be lightweight. All quality cowboy boots have a thick sole and more than one layer of material which adds to the weight.
Size Chart
If you buy them online it is a bit more difficult to get the right size. Sizing charts and printable foot sizers are provided for most of the models. If you have decided to rely on the information provided in a sizing chart, you need to measure your foot's length and width. The length is more important as the width does not vary a lot. Make sure to measure both feet. It is quite common for one foot to be larger than the other so use measurements from the larger one to get a good fit. Below is an example of a typical boot sizing chart. Cowboy boots are often made in the USA, so it can be useful to know your US size number too.
| Length of Foot (cm) | Boot Size UK | Boot Size Euro |
| --- | --- | --- |
| 22.0 | 3 | 35.5 |
| 22.4 | 3 1/2 | 36.2 |
| 22.9 | 4 | 36.8 |
| 23.3 | 4 1/2 | 37.5 |
| 23.7 | 5 | 38.1 |
| 24.1 | 5 1/2 | 38.7 |
| 24.6 | 6 | 39.4 |
| 25.0 | 6 1/2 | 40.0 |
| 25.4 | 7 | 40.6 |
| 25.8 | 7 1/2 | 41.3 |
| 26.2 | 8 | 41.9 |
| 26.7 | 8 1/2 | 42.5 |
| 27.1 | 9 | 43.2 |
| 27.5 | 9 1/2 | 43.8 |
| 27.9 | 10 | 44.5 |
| 28.4 | 10 1/2 | 45.1 |
| 28.8 | 11 | 45.7 |
| 29.2 | 11 1/2 | 46.4 |
| 29.6 | 12 | 47.0 |
| 30.1 | 12 1/2 | 47.6 |
| 30.5 | 13 | 48.3 |
| 30.9 | 13 1/2 | 48.9 |
| 31.3 | 14 | 49.5 |
When in doubt, select boots one size bigger. A lot can be done to improve the comfort in bigger boots. Changing the insole can reduce them even by a whole size. For smaller differences a good result can be achieved even with thicker socks. If the boots are smaller, not much can be done and you should be prepared to resell them. There are ways to make the material stretch a bit to allow more comfort, but you run the risk of damaging the boots. Also, there is no way to stretch the frame, so the end they might fit but they still lack the comfort.
Materials
When speaking about materials in cowboy boots the first taught that comes to mind is leather. Almost all cowboy boots are made out of leather. There are other materials used too, but the leather covers the vamp and the upper which are both very important parts of the boot. Many types of leather are used and among them you might encounter: alligator, buffalo, cowhide, crocodile, eel, elephant, lizard, ostrich and different types of snake leather.
The most common choice is the cowhide. The cowhide is a classic and it is easy to come by. It is also a very durable type of leather so it is very useful in rougher surroundings. This all makes for a quality boot of reasonable price.
Most of the different types of leather are chosen for their texture. All have different textures that have their own charm. The snakeskin makes for a good pattern and it can differ a lot by the type of snake used. Also, different parts of a same snake have different textures too. Popular choices are rattlesnake and python.
Some of the leathers used on boots in the past are now banned as some of the animals have become endangered species. This makes some boots quite the collector's items. Leather can last very long if properly cared for, so you may be surprised how many of those types of boots are still around.
Find Cowboy Boots on eBay
The selection of cowboy boots available on eBay is pretty large. You can find all sorts of new and used boots. Locating them is very easy by using the query 'cowboy boots' in the search bar. The search will return an amount of results that can be pretty difficult to comb through, but this is where the most important filters are there to help.
If you wish to purchase a new pair of boots, the wise approach is to only filter out those results. New boots are not usually up for bidding so there is no need for further specifications. It can also be helpful to adjust the price range within your budget to further personalise the search.
If what you seek are used cowboy boots, you can find most of them up for auction. Look for posts containing detailed information and detailed pictures to make sure what you are paying for. If the details offered are a bit sketchy, a good strategy is to make inquiries before bidding on the item. Make sure you get all the information that satisfy your criteria before deciding to buy.
No matter how careful you are, you still might end up with a pair that does not work for you. In a situation like that, if returning them is not an option, you can always take advantage of the eBay market and give them up for auction.
Conclusion
Cowboy boots cover a very big area of footwear and they do require some expertise in order to make the right choice. It is of key importance to be well acquainted with the basic terminology surrounding cowboy boots to make a nice informed decision. There are four main categories of boots including: fake boots, big brand, exclusive and no name. Craftsmanship and material are the main traits in which this categories separate and each category has its own merits in terms of price and quality. Selection is pretty vast no matter which category is of your interest. If possible always try the pair of boots you wish to purchase and walk around in them to get a good idea of how they fit. When buying online, always refer to the size chart. If there is any doubt about the size, choose the bigger pair. A size bigger boots is easier to fix than a size too small. When dealing with a smaller pair that you are unable to return, the best strategy is to try and sell them online. Following the advice in this guide will hopefully allow you to make a wise and confident choice, and turn you into a proud owner of a pair of cowboy boots.