Procter & Gamble introduced Crest, one of the most ubiquitous names in oral health, in 1955. Since then, the brand has developed pioneering dental hygiene products, including the first toothpaste with fluoride. Unlike their adult pastes and toothbrushes, Crest products for kids are available in stages designed for their constantly changing needs. Choosing the correct ones for your kids helps them maintain their oral hygiene better.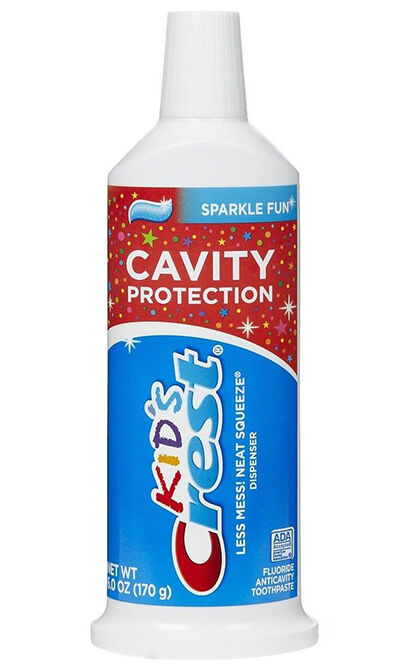 As children younger than two years of age should not use toothpaste containing fluoride, Crest toothpaste suit children who are older. The toothpastes come in three forms: paste, gel, or liquid gel. They contain Fluoristat to fight cavities while being gentle on tooth enamel. Most children's toothpastes come in bright colours and tasty flavours. The Pro-Health Stages line features popular characters that appeal to children of different ages. For example, the Disney Pixar Cars toothpaste has colourful images of characters from the animated movie. Some types are aimed at young girls, such as the "Disney Princess" and "Fairies" toothpastes, while others target boys. The Crest Pro-Health "For Me" line for children aged 8 to 12 fights cavities, freshens breath, and strengthens enamel. These toothpastes come in a vibrant and attractive package. All Crest children's toothpastes are milder than adult ones. However, Crest recommends using a pea-sized amount for children younger than seven to minimise fluoride intake if accidentally swallowed.
Toothbrushes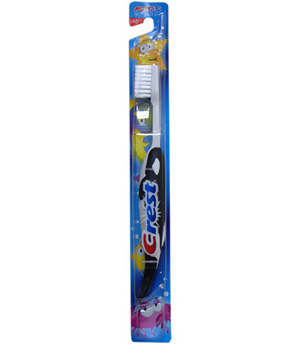 Crest toothbrushes for kids feature easy-grip handles and smaller tapered heads so small hands can handle them easily. For children under eight, consider the Pro-Health Stages brushes. These come in three types, all branded Oral-B. The first type has gentle bristles to massage gums of infants aged 4 to 24 months. Toddler brushes feature Disney characters and come in manual or battery-powered varieties. Finally, "Stage 3" brushes for children aged 5 to 7 are larger, but also feature characters from comic books and movies. Battery-powered models have a rotating "PowerHead" to reach and clean multiple surfaces. Older children can use the "For Me" line. Like the toothpastes in the same line, these are meant for children aged 8 to 12. The CrossAction model has bright colours and patterns and features soft "CrissCross" brushes. The Pulsar type adds battery-powered vibrating bristles to improve plaque removal.
Rinses and Floss
Crest also offers rinses and floss as part of the "For Me" line of dental care products for children older than eight. The anticavity fluoride rinse helps children reach areas they may have missed while brushing. Like Crest toothpastes, this alcohol-free rinse also fights cavities, freshens breath, and strengthens tooth enamel. Mint-flavoured floss picks give children a mess-free way to floss. Like other products in the "For Me" repertoire, rinses and floss feature colourful and attractive packaging.